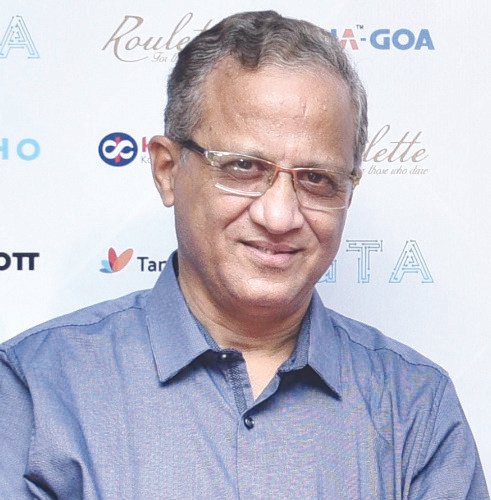 The writer extols the virtues of his guru by touching on the aspects of his professional and personal life
It is rare that I feel elated to write about any particular person. However, one such person who motivates me is the well respected Chartered Accountant in Goa, Vassudeo B. Prabhu Verlekar. He is my 'guru,' having taught me the ABC of accounting, in my early learning years at Dempo College of Commerce & Economics, Panaji.
Hence, in this article I will refer to him as Sir. This octogenarian, in his 56th year of professional practice, is full of life. He constantly looks for happiness in circumstances, things or in people. When I was interviewing him for this article, he took me by surprise by asking me, "On a scale of 1 to 10, how happy are you?" He likes to learn from people, however young the other person may be.
I recall one college professor, his then colleague, mentioning to me that whenever Sir used to enter the teachers' room, he used to virtually light up the place with his enthusiasm. He loves to meet and talk to people. I have observed that in any lecture programme or seminars, he can listen to the speakers for hours without losing concentration.
Sir began his practice in 1966 at Panaji, and has been working full time for the last 56 years. He commands a plethora of clients from various strata and fields of society.He has authored multiple books on diverse topics.
Beyond Accounting
His books on Sales Tax, VAT, and GST are extensively referred to by even the Taxation Departments and Courts of Law, besides practitioners.
Recently he has authored the book, '360 degrees for seniors for-bindaas living,' which I feel every person, young or old should read.
He specialises in turnaround management of institutions and businesses. As a government appointed administrator, he completely revived Goa State Co-operative Bank, which was on the verge of collapse due to heavy losses. As President of Saraswat Education Society, Mapusa for the last 12 years, he was responsible for developing the institution from a high school to a Junior College of Arts, Science, Commerce, Vocational courses and College of Commerce & Management.
He also contributed to the development of Shri Devki Krishna Ravalnath Saunsthan (his family deity), Marcela, Goa. His contribution to the Rotary Club of Mapusa is also laudable.
Sir is also a lover of the arts and has published a book on the renowned Goan artist, Vamona Navelcar-Art & Reflections, with a collection of selected paintings and thoughts on art and creativity.
He is happily married to Rasika who has been a perfect life partner for the past 50 years. His son Ashish, who is also a CA, has carved out his own practice and is very well known in Goan social circles. His daughter Tanya Kenkare is a qualified architect, now settled in the USA.
On being asked what his advice is for running a professional practice? He says that a client's trust and confidence along with good service form the foundation of a successful practice. Always give value addition to the client which is more than expected by the client. He points out the mistakes of the client only in a polite manner. He has cherished and followed principles in his practice in a very careful manner.
What about personal behaviour? He says that one should never give unsolicited advice, never compare yourself with others and always avoid conflict with others. He believes in finding happiness even in small things, which adds to a treasure of happiness over time. In everybody he meets, he looks for good qualities and is very compassionate and helpful. He never hankers after publicity.
He was a Chartered Accountant and sort of mentor to Late Manohar Parrikar. In my view, he was amongst the ten closest people to the former Chief Minister; so much so that Parrikar publicly admitted that several decades back, he had voted for Congress, only because Verlekar told him to defeat the formidable MGP candidate in that party's bastion. Back then Verlekar had taken charge of the election campaign in Mapusa Constituency in order to end the era of that party. But he never took any advantage of his proximity to Parrikar; instead he helped the former Chief Minister in stabilising the Mapusa Urban Co-operative Bank and Goa State Co-operative Bank. However, he kept himself away from contesting any election.
Several people have told me about his extensive range of interest in art, music, literature, education, banking, huge friend circle, yoga, travel, socialising, etc. I do not recall any other person who has a multifaceted personality like Sir. He has traveled extensively all over the world.
And how does Sir keep himself fit? He indulges in extensive yoga including pranayam every day.
When one looks at his ever smiling face, his bright eyes, and pleasing personality, one cannot but conclude that Sir is an embodiment of contentment having lived his life to the fullest, whilst taking it easy.
If I am asked to pinpoint one single person who has lived his personal, professional and social life in a most fulfilling manner, I would have no hesitation in naming my Guru, Vassudeo B. Prabhu Verlekar.