Thermo Shield by Jayashri Polymers speak about their venture into PUF Insulated Roofing Solutions.
Jayashri Polymers was launched more than two decades ago as a small unit that manufactured foam. From there on the company has made rapid strides. In the initial phase, they started manufacturing bus seats and now possess state-of-theart manufacturing assembly unit that produce bus and marine seats and are supplied to renowned companies across the country like Tata buses and among other auto brands. The current annual manufacturing capacity of this plant is 2,50,000 bus seating occupancy.
The rising global warming effect resulting in various roofing challenges due to heavy rains and extreme heat coupled with lack of availability of Polyurethane (PUF) insulated roofing options and taking into consideration their expertise in using polyurethane technology for a period of two decades, Jayashri Polymers decided to launch PUF sandwich panels in the Goan market, as it proved to be necessary.
Three years back, the company ventured into manufacturing and supply of PUF sandwich panels under the brand name Thermo Shield. In a short span of time, Thermo Shield has been well received not only in Goa but also in other states like Maharashtra, Kerala, and Karnataka. Their
strength is the quality of their brand along with a strong commitment towards their customer's requirement. Thermo Shield's PUF sheets are tailor-made, exactly as per the requirements of the clients.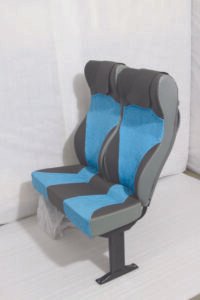 Recently, they have made a foray into manufacturing products for Indian Railways, where they have been empanelled as their suppliers for PUF related requirements such as sleeper berths, etc.
The Factor that sets Thermo Shield apart
Apart from the regular trapezoidal PUF sheets available, Jayashri Polymers have developed an exclusive 'Porto Series,' which is the tile profile with exclusive colour shades and textures to meet aesthetical and architectural requirements for the Goan market. They are the only Goabased company to manufacture PUF panels. Their quality is top-notch and hence they have been patronised by many companies based in Goa in various sectors like hotels and restaurants, corporates, industrial sheds, beach cottages, churches, temples, including residential projects such as private bungalows. Since they are based in Goa and have an efficient supply chain, they can
deliver their products faster than their competitors.
Products Manufactured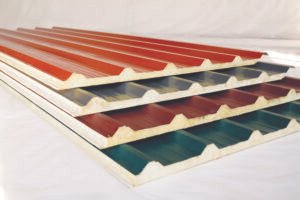 Thermo Shield PUF sandwich panels are available both in trapezoidal profile as well as in the Porto Tile series. The coating for these have been exclusively developed by global industry leaders. Attractive colour options are available which are best suited to meet every architectural and aesthetic requirement. The metal sheets used are Galvalume with 150 AZ Coating which gives additional surface protection to withstand any weather conditions. The Porto Tile Series are PUF panels in the shape of tiles and it is the company's premium brand which is ideal for premium
residential projects, renovation of ancestral houses, resorts, beach cottages, and the like.
They also manufacture Aluminium PUF sheets that last much longer than any other roof panels. Other products manufactured include PUF wall panels, which can be used for constructing walls, partitions, or even cold rooms.
Thermo Shield is perfect shielding equipment. These are energy efficient sheets which provide protection from excessive heat and are also sound resistant. They are a single point ready solution for sophisticated roofing requirements. They are easy to install, durable and add aesthetic appeal to buildings.
Global warming has led to extreme weather conditions, and thus to address this issue, Thermo Shield offers insulation against excessive heat during summers as well as the drumming of heavy rain during the monsoons. It also helps in saving energy due to the cooler environment inside
the premises.
Way Forward
Jayashri Polymers over the last two years, has diversified into verticals like insulated roofing solution and products for rail transport, apart from their current foothold in the manufacturing of the busseating system. Their designs and engineering team have relentlessly put in efforts to shortly introduce more innovative designs and products which would be ergonomically and aesthetically far advanced. Implementation of value engineering for cost reduction, that is supported with efficient market strategies to fuel growth
along with the establishment of a wider market base, will be the
key focus in the years to come.