ARJUN SHARMA has been straddling across various entrepreneurial ventures – from hotels and travel to malls and organic farms – and building them for success
A highly accomplished tourism expert and successful businessman, Arjun Sharma has been the recipient of the 'Travel Entrepreneur of the Year' Award in 2005 by South Asia's Travel & Tourism Exchange (SATTE).
He is presently Chairman and Managing Director of Select Holiday Resorts Pvt. Ltd., Partner in Vardan Agrotech and Vice Chairman of Nexus Select Trust. He is the person responsible for bringing Touristik Union International (TUI – AG), a German leisure, travel and tourism company to India. Arjun has been a council member of the World Travel & Tourism Council, India Initiative (WTTCII) since its inception in the year 2000 and served as Chairman of WTTCII for the year 2010. He has also served as the Chairman of Select Infrastructure Private Limited and as Chairman of Le Passage to India Tours and Travels Pvt Ltd.
Till 2001, his father, the late Inder Sharma owned and managed SITA Travel; India's biggest destination management company, which was subsequently acquired by Kuoni, Switzerland. It was through his vision that the inbound division of SITA World Travels was strengthened and a niche Free Individual Traveller (FIT) segment was created as a separate division to fill the gap of providing experience and attention-to-smaller-detail, for the high-flying traveler.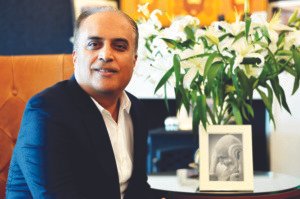 Early Years 
Arjun was born in New Delhi and studied in Modern School followed by Bachelors in Commerce (B.Com) Honors degree from Delhi University.
He began his journey in the world of travel and tourism. Having been exposed to travel from a very early age, Arjun joined the family business as a management trainee at the age of 18 for the longest period of 7 years. "I worked across all divisions of the business from bottom up which gave me deep insights into the functioning of the company," he says.
The Business Journey
In the late 80s Arjun helped develop and spearhead the family hotel business with two prime Heritage Hotels in Manesar and Goa which continue to be absolute jewels as fully privately-run family businesses. Heritage Village Resort Goa, at Arossim-Cansaulim in South Goa was India's first all-inclusive resort. Recently, the resort has also opened an award-winning restaurant, Mama Miso which specialises in pan-Asian cuisine. Very soon, the resort is also embarking on serving international fare to the people of Goa, at a new restaurant taking shape.
The Travel Titan
When he joined his father's travel business, Arjun had a natural inclination for the inbound business. In 2000, when SITA was acquired by Kuoni, he was heading the inbound division which was the largest incoming business in India at that time. His division contributed to more than 75% of the company profit. They also worked with the local industry in Goa to pioneer the concept of charter tourism to the state in the early 90s. In 2005, Arjun brought TUI, the world's largest travel company, and Le Passage to India, into a joint venture and created a new unbeatable force in the industry which once again became India's number one destination management company by 2007- 08. Subsequently, TUI also started outbound travel in India, and Arjun was its Chairman till 2013, when TUI bought out his share of the business as it wanted to go solo in India. Since 2013 (now a decade), Arjun has had no role to play in it, but his heart and soul remains connected to that business and its teams.
The Call of the Mall
In 2003, Arjun spearheaded the family to make an audacious bid for a land to create a shopping mall in the heart of South Delhi and went on to build Select City Walk, India's No. 1 shopping mall. 500000 sq.ft of cutting-edge retail with the best of Indian and global brands are housed at Select Citywalk. The mall was the launch pad for many global brands such as Zara, H&M, Tim Horton's, Burger King, Massimo Dutti and many more. In April this year, Select
City Walk also opened Apple's second store in India and the first in Delhi, where Apple CEO, Tim Cook himself came for the launch.
In May 2023, they merged into a portfolio of shopping malls owned by Blackstone and created India's first shopping centre REIT which was listed on the National Stock Exchange on the 19th May, 2023. Nexus Select Trust is now India's largest platform of shopping centers with a will and desire to grow and be a part of 'The Great India Consumption Story.'
Going Organic
Diverging from the Group, Arjun's company has also have also ventured on a journey of chemical and residue-free food, growing it hydroponically and set up a company, Vardan Agrotech under the brand name, Naturewala. The idea is to grow vegetables in a clean and sustainable manner.
The Industry Doyen
Arjun has also played a role in industry affairs by being part of World Travel and Tourism Council (WTTC), Confederation of Indian Industry (CII), Indian Association of Tour Operators (IATO) and served on its leadership committee to help grow the tourism pie. His late father would always say, "Grow the pie and the industry first" and this is a role he has thoroughly enjoyed.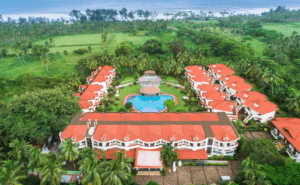 The Goa Connect
Arjun's relationship with Goa began when the family invested in a piece of land in Cansaulim, a stunning beach facing place in South Goa for their hotel, which was only 20 minutes from Dabolim airport, and which is now being repositioned into a boutique hotel. "The hotel was opened by an amazing colleague Clarence Farrell and is now run by Guitry Velho. A major part of our team, right up from inception till date, continues working with us and all our colleagues are locals and of Goan origin," he adds.
Before that in the late 80s, the company opened its first branch of SITA World Travel to handle incoming tourists and charter flights. "I was given the responsibility to bring in global charter flights to India and worked with my dear colleagues; late Lenny Pinto and Ernest Dias to make SITA Travels the No. 1 destination management company in Goa for charter flights and other incoming tourism. I am so proud that my colleague Ernest continues to fly high the SITA flag in Goa and India."
Arjun fell completely in love with Goa, its people and culture and went on to build a small house in Saipem where he goes for some quiet time and to reflect on his blessings. "Goa has always been dear and close to my heart and I have enjoyed a close relationship with several leaders from the tourism industry such as Anju Timblo, late Victor Albuquerque, Ivo Cardozo, late Captain Nair, Vivek Nair, Sunder Advani, Ralph de Sousa, late Norman de Souza, Aloo Gomes Pereira and many more. Each one of them has worked shoulder to shoulder to promote tourism in Goa, and although we may have competed with each other, when it came to promoting 'Destination Goa' we were a team.
I also found my brother from another mother in Goa – Sushant (Atmaram) Nadkarni here and I have so much and more to be grateful to Goa for."
Passion Project
Over the past year, Heritage Village Resort Goa has seeded a small initiative in planting mangroves and Arjun hopes that this initiative which he has propelled along with the people of Goa and Nisarga Nature Club, will go on to create a mini-revolution in the State so that together they can plant a million mangroves.
Arjun's wife Jyotsana is an avid animal crusader and along with many volunteers has sterilised scores of dogs and cats in Goa to help curb their growing population.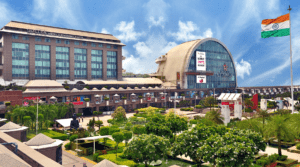 New Avenues
Recently, Select Citywalk and Blackstone promoted Nexus malls have merged and simultaneously been listed as India's first shopping center (REIT) on the NSE. The company, Nexus Select Trust has been Arjun's focus in the recent past; and as a family the Sharmas have not sold any shares in the IPO, as they strongly believe in the 'Indian Consumption Story' and want to be long term players in the same. The company is professionally managed, and Arjun serves on its board as Vice Chairman.
Future Plans
Arjun says that he would like to build another hotel in South Goa. He goes on to add, "We would love to expand our portfolio of both hotels and restaurants, however the closest initiative in our hearts is the million mangroves, a journey which has just started. I want to see Goa to improve on the value chain in targeting more high-end tourists and by creating some compelling propositions for a golf course / aqua tourism, theme parks, etc. We must also bring infrastructure to South Goa such as a Convention Centre, as well and some of the tourism products could be created in such a way that the benefit will not only accrue to the hospitality industry but will be shared equitably by the people of Goa.
PROTECT THE EARTH
Students and ex-students of St. Joseph Vaz College, Cortalim, under the guidance of Dr. Fr. Bolmax Pereira, take on a mangrove plantation drive along with members of Chicalim Youth Farmers Club
A mangrove plantation drive was held recently on the Nerul side mud flat at Saipem-Candolim by students and alumni of St. Joseph Vaz College, Cortalim, under the care of Dr. Fr. Bolmax Pereira, Assistant Professor of Botany, as part of the Come Let's Man-Groove project initiated by the college.
The project is a year-long program aimed at the restoration of mangroves in order to restore the coasts. "The mangroves are our friends; they're the guardians of the coast. With climate change, sea-level rise, tsunamis, storms and cyclones, we need more protection," states Fr. Bolmax.
Recognising the need to take steps towards the protection of mankind, the program encourages plantation drives carried out in cycles.
The mangrove drive, undertaken on the occasion of the World Oceans Day, was also joined by members of the Chicalim Youth Farmers Club (CYFC) and financially supported by Arjun Sharma, proprietor of Heritage Village Resort Goa, Arossim-Cansaulim. The Forest Department of Goa, the Goa State Biodiversity Board (GSBB) and the Diocesan Commission for Ecology are also supporters of the activities under the restoration program.
The initiative has resulted in the planting of 300 propagules of Rhizophora mucronata and Kandelia candel, both of which are species tolerant to salinity, on the Nerul side mud flat at Saipem-Candolim and 50 on the Saipem side. The drive was carried out throughout the late morning hours of 9:30 am and 11 am, during the low tide. This step, undertaken by the youth of Goa, has provided them with an opportunity to contribute towards the protection of Mother Nature through an enjoyable experience. "The mangrove plantation drive is real fun. Although I was initially reluctant to step into the muck, I didn't want the activity to conclude so soon," stated Muskan Kumari, a second year B.Sc student. 

The drive further fueled the passion of the youth and helped them develop a sense of responsibility towards the land. "I would be thrilled to see the outcome of this activity after the monsoons," added Xavier Mohan, a member of CYFC. The participants of the drive further appealed to the youngsters of Goa to band together and contribute towards the protection of nature against pollution, caused by plastic and other pollutants, through such initiatives. "This is a call not only to the Goans but people all over the world. Let us be responsible. It is our doing and we have to take care of ourselves. The Earth is our common home and we have a responsibility towards it," added Fr. Bolmax
TRUST THE MAN WHO MANS THE TRUSTS
Corporate Social Responsibility has always been in the DNA of Select Group philosophy. A family business and conglomerate, it supports and complements, the individual efforts and family Trusts in reaching out to people, planet and animals. Headed by Arjun Sharma, Chairman and Managing Director of the Group of Companies, the Select Group outreach focuses both on animal NGOs and children. The monitoring and support for animals comes directly under Jyotsna, the kind hearted, animal loving wife of Arjun Sharma, while the endless other charitable support, both through family charities and direct fund transfers from the Group Companies, is overlooked and guided by Arjun himself.
The Pt. Kanshi Ram and Pt. Kirpa Ram Charitable and Welfare Trust
This Trust was registered on 20 April 2004 by Arjun and his cousin, Balbir Punj, to honour their respective great grandfathers, with the purpose to develop, support and encourage charitable activities and inculcate/support religious teachings primarily in the ancestral village of Lalowal, Tehsil Dhariwal, District. Gurdaspur, Punjab. Inder Sharma, Arjun's father, was the main inspiration for the Trust and its existence as he was guided by his Guruji to reconnect with the family village through a charitable clinic, in the name of his late grandfather Pt. Kanshi Ram.
The Trust was a precursor to construction and activation of a charitable dispensary 'Guruji ki Dispensary' (named such in reverence to their spiritual guru and popularly known as GKD). Inaugurated in 2006, GKD has teamed up with The Salvation Army, Macrobert Hospital, Dhariwal, to provide a visiting general practitioner in the mornings from Monday to Friday
Inder Sharma Foundation
The Inder Sharma Foundation (ISF) was registered initially as International Fellowship Foundation of India on 17 December 1970. As a doyen of the travel industry, Late Inder Sharma, Chairman, Select Group, envisaged a role to
promote national integration, international goodwill and brotherhood, through the travel industry. Children being very close to his heart, ISF today also actively supports education of children (especially the girl child) from humble backgrounds at school, college and vocational courses.
Shakuntla – Ram Labhaya Educational Charitable Trust
This Trust was registered on 29 January 1998, in deference to Shakuntla Labhaya's will with four Trustees, but is managed by Dr. Aruna Sharma the first lady of the Select Group. The focus is primarily on education and support to students, institutions and the needy in the field of medicine, as well as supporting eye care, as her late father, Dr. Ram Labhaya was an ophthalmologist of repute.
(Late) Ghulam Naqshband (GNB) and Rotarian Naqshband Institute for Physically Challenged (RNIPC)
While not a blood relation, Naqshband has always been akin family, and his association goes back to working with Inder Sharma to 1945. To Arjun, Naqshband is the revered mentor, guru and guide, who nurtured and groomed him
in his formative years, into the visionary that he is today. Naqshband started RNIPC during his lifetime in August
2008. The focus was of the Charity has been to alleviate and support the cause of the differently abled. While
Naqshband donated a princely sum of Rs. One Crore at the onset, he left his entire life's earning, except a miniscule 0.5 percent, to be used only for RNIPC outreach. The amount is being judiciously utilised by the Trustees, in consultation with Arjun Sharma, to benefit majorly the rehabilitation program of the charitable St. Stephen's Hospital, Delhi, the Jaipur Foot Organisation, a self-sustaining bag making project of NGO Vishwas and NGO Family of Disabled. From the annual interest received on the invested corpus, RNIPC holds annual camps to benefit individual, deserving, differently-abled persons from humble backgrounds, with grant of aids and other support.