As the curtain rises on the 53rd edition of IFFI, Goa gears up to celebrate this unique event which showcases the best of cinema
The end of the year is filled with festivities and exciting activities. And one such event is the International Film Festival of India (IFFI). Since its inception in 1952, IFFI has been India's largest event of its kind. The IFFIs that followed were held in New Delhi. IFFIs turned competitive starting with the third event in January 1965. The non-competitive Filmotsav, which intended to be celebrated in other film making cities on alternating years, was first presented in 1975. Later, IFFIs and Filmotsavs were combined. Then IFFI moved to Goa in 2004 and since that time, it has been an annual event in the state. IFFI aspires to provide a common platform for cinemas around the world to showcase the best in film-making, to advance understanding and appreciation of various film cultures in the context of their social and cultural ethos, and to foster friendship and co-operation.
A gala ceremony marked the start of the 53rd International Film Festival of India (IFFI) in Goa. The opening ceremony took place close to Panaji at the Dr. Shyama Prasad Mukherjee Indoor Stadium. Alma and Oskar, directed by Austrian director Dieter Berner, premiered at IFFI, one of Asia's oldest film festivals. Spanish film director, Carlos Saura received the 'Satyajit Ray Lifetime Achievement Award' at the inaugural ceremony. Veteran actor, Chiranjeevi, has been chosen as the 'Indian Film Personality of the Year' for 2022. With over 150 films to his credit, Chiranjeevi has had a spectacular career spanning almost four decades as an actor, dancer, and producer. His heartfelt performances have made him a huge star in Telegu cinema. Anurag Singh Thakur, Minister of Information and Broadcasting, made a statement to this effect during the IFFI opening ceremony.
In his remarks, Thakur noted that IFFI has developed into a venue for film directors from around the globe to display their creations. He expressed optimism that India would develop into a major international centre for co-production, post-production, filming, and technological partners and urged the film community to turn India into a centre of global content. He stated that the government has plans to make India the most sought-after location for filmmakers, co-production, and post-production as the nation celebrates 'Azadi Ka Amrit Mahotsav'. Leading cinema stars from across the nation performed in cultural performances at the inaugural ceremony; where dancing and music groups from both India and overseas also performed. In keeping with the 'Azadi Ka Amrut Mahotsav' celebrations, the ceremony's topic was 'Evolution of Indian Cinema over the Last 100 Years.'
Over the course of the nine-day festival, 280 films from 79 different nations will be exhibited. The Indian Panorama section will present 25 feature films and 20 non-feature films, while the foreign programming will have 183 films. Eight films will be shown as part of the Country Focus package, with France serving as the 'spotlight nation'.
"We are keen to promote Goan culture and heritage at IFFI 2022"
Business Goa speaks to Swetika Sachan, CEO, Entertainment Society of Goa, who goes to elaborate on Goa being the entertainment capital of India and involving locals into making IFFI a people's festival
This is your first time on the Government Panel for IFFI. What are your thoughts on the same?
I am quite excited to be affiliated to ESG as it is my first time being involved with IFFI. I am a very creative person, I am into films and although I am not a Bollywood person, I do watch a lot of international cinema and good OTT content. It is a very exciting portfolio for me and it goes with my personality. It is my first edition and I am a bit nervous because it is a huge event and we are having plenty of domestic and international media present.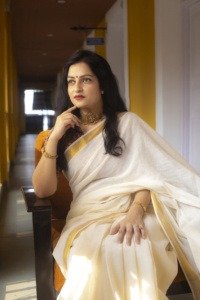 Goans have played a key role in cinema as actors, musicians, film makers. What is your opinion on the idea of a film city in Goa?
The government does understand the potential of Goa becoming a filming destination. We anyway are, but how do we make things better and how do we facilitate people to come and produce films in Goa. We have partnered with Planet Goem and they have a lot of Marathi content as well. So they will be having a Goa edition where they will put a lot of original Goan content. This is a starting point and shows the kind of sincerity the government has towards Goan cinema. We do want to set up some virtual studios here. Due to space constraints here in Goa we can't do an entire film city like in Hyderabad or Mumbai but yes we need to leverage technology. Technology where locals can be trained and employed, become a skilling hub from start to end, right up from production, editing to animations and 4Dl. Although we don't have anything concrete yet; the government is looking into a few processes.
Regional cinema, although full of talent, like the recent recognition for Waghro, still doesn't have more than a handful releases every year.
How do we encourage local talent for Konkani or Marathi cinema coming out from Goa?
I think some of the major issues that I feel plague regional cinema in producing Konkani cinema or Konkani content is finance. So houses like Planet Goem will float a lot of funds by buying scripts, producing good content and this is a step in that direction. I think promotion will be a two-way street, as in, the government will provide a platform for people to showcase their talent like in this edition, we have a Goan cinema section and we will be having master classes in acting and other workshops by our local talent.
Goa is unofficially the entertainment capital of India. How can we make this a sustainable industry in the state?
There is a need to build an entire ecosystem for production. For example, if somebody comes to shoot in Goa s/he needs to get a lot of things. If someone can provide all of this to them in-house, it will encourage locals to participate in such areas. The government is also facilitating ease of doing business and we have brought in a single window system where any producer can apply for permissions. We further need to sensitise locals because many times we get permissions but there are objections from the panchayat. A lot of work has to be done in facilitating and making film shoots in Goa a pleasant experience. Secondly, we also need to have local skilled talent so that they don't have to hire anyone from outside. We need to have a lot of creative resources based here who can be immediately employed and help locals secure employment, promote local talent and reduce the cost.
IFFI is also a great platform to showcase Goa's true heritage and culture. What's your idea on this aspect?
Sitting here, in this building, is a big example of Goa's heritage and culture. This Maquinez Palace is a beautiful piece of Goan heritage. From this edition, we want to promote Goan culture and heritage and we have made a local map of what we can do in different parts in Goa. We are having a show at Fort Aguada this time. These are some of the steps that we have taken to make sure that people enjoy a unique experience. The most unique thing about Goa is its heritage and I think that is what distinguishes Goa from any coastal state. The culture is very rich and this is what makes Goa stand out from the rest.
How is the government involving people to make IFFI a people's festival?
We will do the open air screenings at 3 locations in Goa. The moving caravan theatre will be moving around and showcasing the locally popular cinema here. We are opening the Film Bazaar for the public from 3 to 6 pm. So people can go around looking at the state pavilions, country pavilions and see the kind of technology that they have and what film houses in other countries are doing. It is a beautiful walk and it is free for the public. There is also going to be an entertainment zone, an amusement park and we are doing the carnival for one day, and having a shigmotsav on the next day. It is an opportunity to experience this as these are usually timed events. It is a glimpse of the carnival and shigmotsav which is good for the locals as well as tourists and delegates.