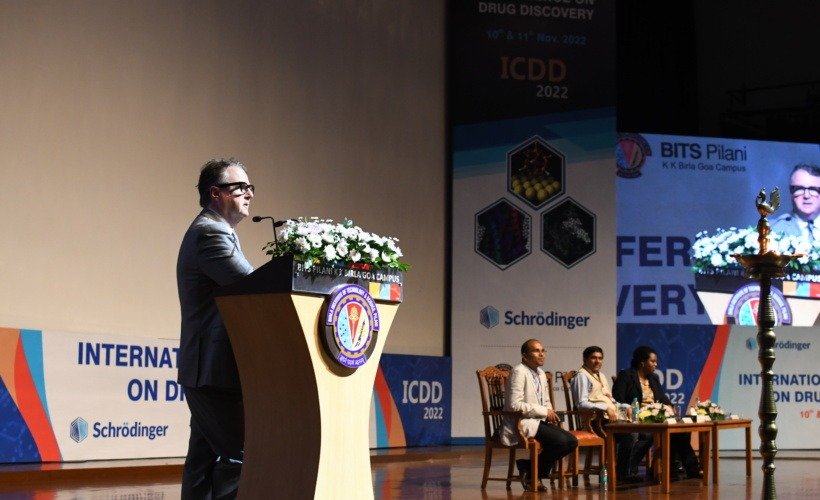 The fourth edition of The International Conference on Drug Discovery – 2022 (ICDD-2022): Success Stories – From Computation to Clinical Trials jointly organised by BITS Pilani, K. K. Birla Goa Campus and Schrödinger (www.schrodinger.com), opened to a grand audience of 1300 participants at the auditorium of BITS Pilani, K K Birla Goa Campus.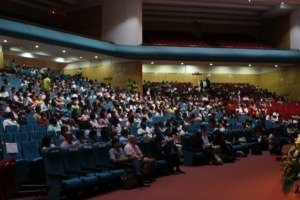 The conference was inaugurated in a glittering ceremony which was graced by Dr. Karen Akinsanya, (President, R&D, Schrodinger), Paul Davie (Vice President, Schrodinger), Dr. Raghu Rangaswamy (Vice President, Schrodinger India), Prof. Suman Kundu (Director, BITS Pilani, KK Birla Goa Campus) and Dr. Sumit Biswas, Convener.
In her address, Dr. Karen talked about the vast potential of drug discovery and the broad supportive platform provided by Schrodinger towards the same.
Prof. Suman Kundu, in his address, expressed optimism on the emergence of India as a drug discovery hotspot and stressed on the genesis of a centre of excellence in human disease and drug discovery in the state.
The conference is being attended by top scientists from pharmaceutical companies, such as Glenmark, Gilead, Eli Lilly, Syngene, Jubilant, Aurigene, Aragen, Sun Pharma etc. and leading academic institutions (like NCBS, NCL, InStem, IISc, IMTECH, Bose Institute, BITS (Pilani and Hyderabad campus).
The conference has also attracted a very interested audience with 700 thematic posters being presented over a span of 2 days. The speakers and panelists included Directors of CSIR-Indian Institute of Chemical Technology (IICT), CSIR – Central Drug Research Institute, North East Institute of Science and Technology (NEIST), Indian Institute of Integrative Medicine (IIIM-Jammu) and eminent chief scientists from organisations engaged in active drug discovery. Spread over multiple sessions, the conference was vastly popular with the unique theme and global participation. The conference highlighted the growing aspects of drug discovery platforms and the promise of a bright future in the years ahead