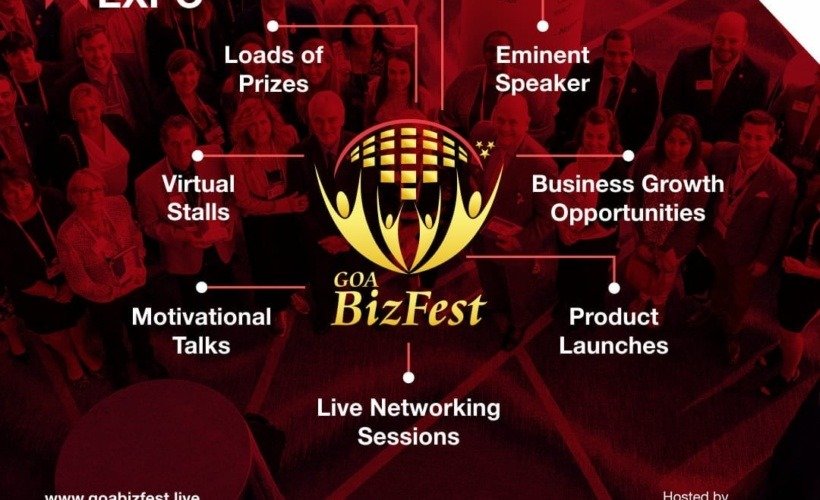 BNI -business network International, the world's largest referral organisation since 1985, is globally present in 74 countries with 3+lakh members
BNI Goa in its 10th year celebrations with 14 chapter and 625 members is organizing the 4th edition of the GOA BIZ FEST on 18th, 19th, and 20th February 2021.
For the first time ever, it will a mega virtual expo and summit with the vision being, Business beyond boundaries. Goa Biz Fest is presented by BNI GOA and in partnership with BNI Kolhapur, Hubli, Dharward and Mangalore region
Goa Biz Fest is hosted by BNI Goa's largest chapter, BNI Mathgram . Mathgram ranks in the top ten chapters amongst 900+ chapters of India. Mathgram has 110 members lead by President Arman Bankley, Vice President Mudit Agarwal, Secretary Chirag Majethia and Lead visitor Tanvi Kamat .
Goa Biz Fest will be inaugurated by Hon Chief Minister on 18th February 2021 available online for 3 days. There are over 100+ stall from members of Goa, Kolhapur Hubli and Mangalore from five major sector of construction, IT, hospitality, health and wellness, finance and other trades and services
The fest is open for all and mobile friendly too. Any visitor can log on as guest and visit online stalls, can chat or video call with exhibitors, download brochures and see product videos etc.
The fest aims to invite 5000+ BNI members across the globe along with open for all visitors from households to industries from Goa to get connected and explore vocal for local, products and services within Goa
BNI Goa Executive Director, Rajkumar Kamat with a vision to set up 1000 strong members and creating 10000 jobs is ably leading the Goa Biz Fest and exploring business potential avenues for business beyond boundaries . Ten executive directors from other regions of BNI have been invited for a tie ups and channel partnerships.
The summit will have an array of eminent speakers consisting of Amit Mathur, Asia head of Panasonic, John Nathany from Warner Brothers , Dr. Jagat Shah, Nitin Kunkolienkar, Sanjay Ghodavat, Graham Wheileimer, CEO of BNI Global, Mac Srinivasan, BNI Global President will be virtually present and mentoring the gathering via live online auditorium.
Goa Biz Fest has partnered with BNI Kolhapur, Hubli and Mangalore and will see the online presence of total 1200 members from participating regions and potential business tie ups.
Goa Biz Fest is sponsored by Planet Hollywood, who is their Hospitality Partner, Epee Kamat Group, Armines Industries, Gauravi Creations, Priyanka Row and AU Small Finance Bank
BNI Goa has warmly extended an invite to all t Goan Industries and small business houses to be a part of the online expo and explore potentiality during these tough times.