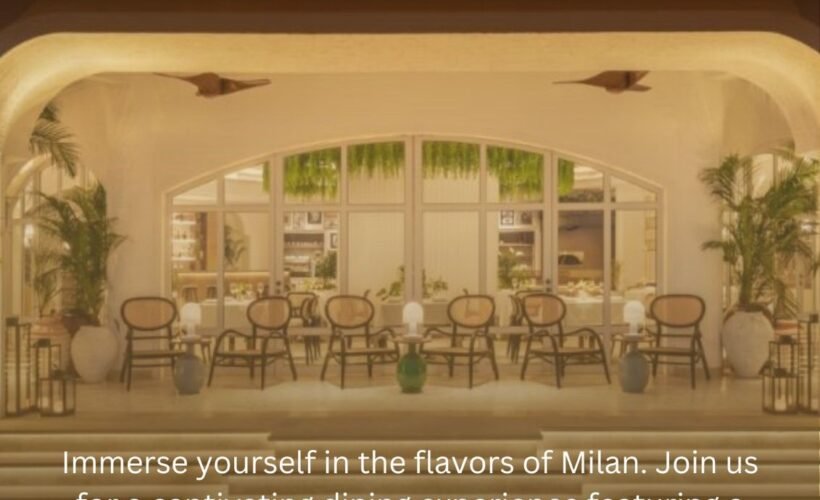 As Paper Moon at Taj Fort Aguada, Goa unfolds a sumptuous Italian Dinner with a symphony of flavours, showcasing Milan's culinary delights – the honest Italian food. The evening commences with antipasti, Milefiglie di melanzane alla parmigiana and baked eggplant with tomato sauce, mozzarella and basil to tantalize the taste buds. The first course boasts of Ravioli fatti in casa, ripening di formaggi e Crema tartufata pienontese; homemade cheese ravioli with Piedmont truffle cream.
As the feast progresses, the meal crescendos with a selection from :
Branzino alla griglia con spinaci saltati, patate al naturale e maionese; Grilled sea bass with sauteed spinach, boiled potatoes and mayonnaise
OR
Costolette di agnello scottaditi alla griglia con purea di patate e carotene glassate; Grilled New Zealand lamb chops with potato puree and glazed carrots
OR
Risotto ai funghi; Mushroom risotto scented with truffle oil
Dessert beckons with the allure of Ravioli D'Ananas, Sorbetto Al cocco e limone Verde grattato; Pineapple ravioli, white chocolate mousse, coconut sorbet and like zests
Enriched by shared laughter and lively conversations which is a unique Italian tradition of savouring food and company. As the evening draws to a close, espresso is served, awakening the senses with its bold intensity. The lingering essence of the elaborate Italian dinner leaves an indelible impression, a celebration of –  Honest Italian Food – embodied in each meticulously crafted dish.
Date : 17th Nov 2023 (Friday)
Time : 1930 onwards
Priced at : INR 3,200 + 18% tax per person.
To book your table please call : Gurvinder Singh 8894075294