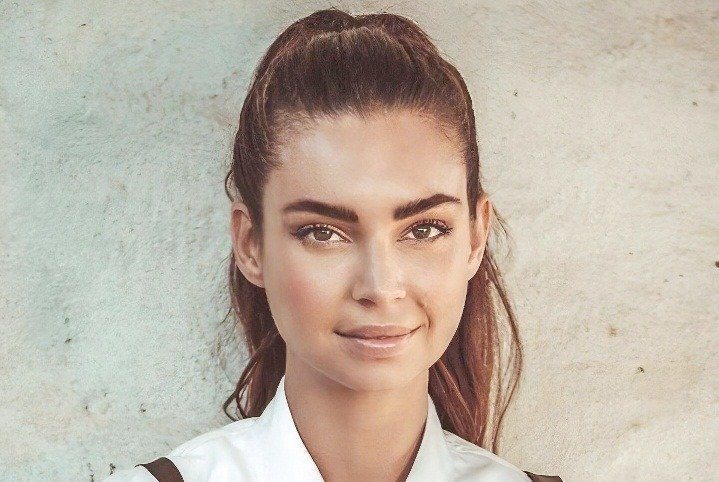 As a model, mother, chef, cookbook author, restaurateur and star of TV shows, Sarah Todd has a finger in every pie. She speaks on her rise from a contestant in MasterChef Australia, her first restaurant in Goa, Antares Restaurant and Beach Club and her recent stint on the AO Chef Series 'The Perfect Serve
You started your career as a model. What made you want to become a professional chef?
I did not have a clear idea of what I wanted to do when I left school. During the first year, I held down five jobs! Modeling was an 'accidental career'. I was in the audience at a fashion show in Sydney when I was approached by someone in the industry who suggested I contact a model agency. I was offered a contract on the spot. I was exposed to a world of travel and experiences that I had never dreamed of. During this time, I also studied various creative fields such as photography and make-up artistry, still searching for a career that I could be passionate about.
After my son was born, I developed a love of cooking. It was during a particularly monotonous modelling job in London that I decided to enrol in Le Cordon Bleu. I gave myself a year to make it in the culinary world and threw myself into it wholeheartedly.
How did MasterChef Australia happen for you?
I had not watched many episodes of MasterChef Australia, but I followed some of the past contestants and marveled at their success stories. I loved the camaderie between the contestants and the support from the judges. I decided to give it a go and sent off my application. Never in my wildest dreams, did I expect to get a call.
I flew to Australia for the audition in 2013 and a few months later, I was notified that I had made the top-50.
What brought you to India and made you pick Goa as your second home?
I prepared Aloo Gobi on one of the earlier episodes of MasterChef Australia. I instantly received a lot of love and following from Indians from all over the world but particularly in India. For this reason, I was keen to explore this country which had always been on my bucket list. I booked cooking demonstrations and appearances over a two-week period in Goa, New Delhi, and Mumbai. I felt an instant connection the moment I landed in Goa, "the pearl of the orient". The relaxed tropical vibe reminded me so much of my home state of Queensland (Australia) and I could see myself spending quality time in Goa.
What inspired you to open Antares in Goa?
When the opportunity arose to open a restaurant in Goa, I initially thought it was crazy. It was not until I visited the site, high on a sloping cliff overlooking the Arabian Sea, that I could envisage it. I truly believe there is no better place in Goa to witness a sunset.
Most interesting thing that you learnt from your travels in India and what attracted you to the culinary culture here?
Indian cuisine varies from State to State, even village to village. I have been welcomed into the homes of locals who have generously shared recipes and meals with me. I marvel at the history of food and how home cooks can perfectly balance a meal with their advanced palates and vast knowledge of spices. The people of India are generous, especially with their time. I feel truly blessed to be welcomed with open arms by a country that I call my second home.
What is the best and worst part of owning restaurants in India? The biggest challenges faced by you in the Indian culinary business?
Starting a business from scratch is difficult but doing it in a country where you do not speak the language is insane. I struggled with being a boss and had to learn to trust my own judgment. My situation was unique in that – the build of Antares, from inception to the opening, was documented in the television series "My Restaurant in India".
I developed my first menu in Melbourne and quickly tore it up after spending time in Goa to learn about the local produce and cuisine. My staff eventually learnt a little English and I learnt a little Hindi. However, they often laughed at my pronunciation. Being away from my family was probably my biggest challenge. As time passed, the staff became family, my confidence as a leader grew and I now call India and Australia home.
How was the entire experience with the AO Chefs Series?
The AO Chefs Series is one of Australia's most prestigious culinary events. It was an honour to be invited but also a little intimidating when you consider the long list of prominent international chefs from previous years. It took months of preparation. My cooking style evolved during my time in India and I was nervous and excited to present it to the discerning guests at the AO Chefs Series. It was also the first all-female line-up which included food stylist and Australian icon Donna Hay, Hobart restaurant Franklin head chef Analiese Gregory and Thai chef Duangporn 'Bo' Songvisava.
The exhaustive process to conceive, source and test our menus was captured in The Perfect Serve a five-part documentary series. It follows us as we undertake the daunting task of serving five-course menus. Viewers get an insight into the behind-the-scenes preparations and follow the journey across different countries, cultures, and cuisines.
Your views on the AO Chefs Series on the side lines of the bustling Australian Open?
The Grand Slam season starts at the Australian Open in January. The buzz and excitement is palpable and there is something for the whole family from activities for the children to the dining experience for the adults. Oh, and of course, the tennis!
What's your signature cooking style and interests?
I am trained in French culinary techniques. However, I have drawn inspiration from the robust flavours of Indian cuisine. My signature cooking style is an eclectic mix of modern, French, and Indian. I believe that food should engage all the senses, so plating is very important. I love making my creations look beautiful. During lockdown, I spent time honing my photography skills. I now pride myself in being able to cook, style and photograph my dishes.
Who are your culinary muses that you draw your inspiration from?
When I visit a country, I like to eat where the locals eat. You will often find me at authentic eateries away from the tourist hubs. I draw inspiration from cooks and chefs cooking traditional recipes handed down from one generation to another.
How did your cookbook 'The Healthy Model Cookbook' come about?
As an ex-model and cook, I am often asked how I stay fit and healthy. I believe balance is the key to a good diet and healthy lifestyle, whether it's food or exercise. Eating healthy is not just about eating salads. Food must be packed with robust flavours just as I believe exercise should be fun. It's OK to indulge in something we love on occasion to prevent that craving.
Elaborate on your collaboration with renowned chefs like Heston Blumenthal, Marco Pierre White, George Calombaris and Ranveer Brar, as well as lifestyle and food brands such as Mercedes Benz, Curefit, CRKD, and Grey Goose amongst others.
Working with renowned chefs like Marco Pierre White, George Calombaris, Heston Blumenthal and Ranveer Brar are 'pinch me' moments. I love that they are willing to share their knowledge. In an ever-changing world, I believe in the concept of constant learning and the need to expand our knowledge and gain new skills. As a female chef, I hope to achieve the same level of success one day so that I can inspire other aspiring female chefs.
I choose collaborations carefully and I am proud to be associated with Mercedes Benz, Curefit, CRKD and Grey Goose.
Being a single mother and a boss lady, what would you like to tell the 'mompreneurs' out there?
Women possess unbelievable inner strength, but it is inevitable that we have a sense of guilt when work takes us away from loved ones, particularly our children.
Overcoming this guilt has been my biggest challenge, especially in the early days. It is important to master the art of work/life balance. I am still working on this but when I am with my son, he has all my attention. Now that he is a little older, he understands I must be away sometimes, and technology allows us to talk face-to-face.
As mompreneurs our blood, sweat, tears, heart, and soul go into making our business a success, but we must also take time out for ourselves. If we are happy and healthy, that will have a positive effect on our personal and business relationships