An Eccentric Artist and his Canvas
Destiny sometimes deals you a winning hand. In the case of 41-year-old ace chef Jason DeSouza, this twist of fate came in the form of two envelopes delivered to his home via snail mail. After he completed his early
education, Jason (he wasn't a chef then) who was still in his teens, had two choices, either to lawyer-up or hit the
kitchen with a vengeance. "I applied for both and even got through the admission processes for both the fields. My hotel management letter came through first. I paid the fees and did everything required, but once I came back home, a letter about my admission to a law college was also in the mailbox. It was destiny. After joining the Institute of Hotel Management (IHM) in Goa, I knew from day one that I wanted to be a chef. Most candidates sign up and figure out what they can do, but my heart was already set on being a chef. I was firm that I wanted to learn, grow and do more than just be a stereotypical chef who has graduated with a degree in hotel management," says Chef Jason, who has just launched 'White Plate', a niche restaurant that is redefining a molecular fine dining experience in Candolim village along North Goa's prime beach tourism strip.
A white plate for a chef, according to Jason, is what a blank canvas is for an artist. A blank space which awaits a
masterpiece. "So basically, the White Plate is a blank canvas. Even the logo has a story behind it. It is a white plate, where the plate is white, but the words written on it are in black ink. There is a reason why the words are written in black on the white plate. That's where the dark elements of an eccentric artist come into play," he explains.
The professional journey of Chef Jason had taken him away from Goa and has now brought him back to his roots.
There were many pit stops along the way, after his early work stint with the Taj group.
"I travelled to London. I worked extensively in London and came back to India where I worked in Bombay as a Food
and Beverage Director, but I always felt that opening a restaurant was extremely important. Because Goa is a leading
Smoked Salmon Jalapeno Motichur Compound holiday destination in the country, there is a constant inflow of a wide variety of tourists.
Goa is also emerging as the food capital of the country. So, I decided to launch White Plate here. And now could not be a better time," he states. But Goa's culinary landscape has a wide range and a large number of premium and exotic restaurants already, so how would his restaurant, White Plate, stand out in the sea of competition? According to Chef Jason, the fundamentals of his restaurant revolve around stamping his own brand of innovation and uniqueness in the dishes which White Plate proudly boasts off.
"To be honest with you, when people start restaurants and create cuisines, you look at the relationship between them, their food and what they serve. Those dishes have invariably been made by some other chef ages ago before them. That is copycat. It is the style, the finesse and the eccentricity of the chef, which should create their dishes differently. Chefs are mad scientists, experimenting is something which should come naturally to them. This is what most people don't do," he laments. Chef Jason's belief is rooted in a school of thought which believes that chefs should not copy creations made by others, but should create new signatures and flavours themselves. "That is
because food is so versatile and allows you to exploit it in an ocean of umpteen possibilities. The marrying of flavours, the merging of ingredients, playing around with smoke scents, it's all very appealing," he states.
"For example, one of my creations, the Yam Torched Eclair, is an Indianised smoked yam pate that goes on top of an
eclair with a date and tamarind relish, mint coulis and bubble burst of caviars. Now, if you look at it, it's got the pillowy softness of a choux éclair.
The key earthy aromas of the yam, that is your sweet and savoury note that has a really good balance and it's got the mint which gives you a hint of spice. In conclusion, playing around with flavour is what needs to be done and you will never get that dish anywhere else unless someone copies this. With White Plate, the plus points are many, but each of its dishes has a story. Each of my creations is a story," he adds.
Chef Jason's confidence in his abilities as well as the quantum of ambition and his plan and vision stems from years of training under some of the best names in the business globally. Gordon Ramsay, one of the most popular chefs in the world, has been his mentor. He has also had the 'privilege' of having been the target of Ramsay's ire, combined with a can of potatoes.
"Believe it or not, the Gordon that you see on TV is Gordon on a good day. In reality, he is a lot worse. I have had a can of potatoes flung at me, because I over-boiled them, but if he calls, I will still be ready to assist, because you learn at every given step of your life. With Gordon, I learnt the cooking temperatures, the constant need to perfect what you perfected yesterday, because you don't need to compete with somebody else to be better, however, you have to compete with yourself. Being a better version of what you were yesterday is what Gordon refines in you," he said.
"I have actually lost track of the number of times he has scolded me, because you anticipate his need for perfection and towards the end you get it done. I have been scolded a million times by Gordon," he recalled.
Chef Jason's other pillar of inspiration, French ace chef Alaine Ducasse, taught him the finer nuances of molecular gastronomy.
"He is a pioneer in molecular fine dining. That's where my interest peaked, because I was curious to know and liked playing with snow, scent, spheres and smokes. He instilled in me the need to have the freshest ingredients at every given time at hand," he said.
In India, Chef Jason draws inspiration from Chef Arvind Saraswat, who encouraged him to go ahead with whatever he wanted to create; a bit of advice which may have contributed to his 'eccentric behaviour', he quips.
"He allowed me to be myself and supported me to try out crazy flavours that people have never heard of. Even during my finals in the TMTP Program, wanted to create a soufflé and everyone knows that you shouldn't do that because it is so complicated. There was always the easy route. But when I submitted my menu, he just pushed me to train harder," he said.
Chef Jason's fascination for the culinary universe began with the colours and smells which emanate from the narrow, but packed lanes of the Mapusa market, which is in its full glory on Fridays. It is at this market that his fascination for food and flavours blossomed.
The first dish which he ever made with his own hands was a Black Forest cake, a dessert, which still holds a place in his heart.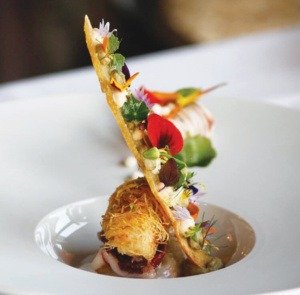 "I used to take orders for Black Forest cake when I was in the 9th grade in Bombay and here's why. My sister had gone for a baking course at IHM and one day she came home with a Black Forest cake. I haven't stopped being in awe of it till date.
Even now, I always make a Black Forest cake. It has been a critical element in several celebratory occasions, including my 21st birthday. It is a cake that's been associated with me and I have tweaked and redefined the Black Forest to the epitome of its due diligence – gone is the stereotypical old layered cake and in comes the new – A Walk In The Forest – that features in my menu at White Plate," he said.
When asked if he has had to face stigma because of the meteoric rise in his career, Chef Jason says: "When I was the youngest executive chef in the country at the age of 25, my battle was not with the city, it was with standing out in my own kitchen at work. I was trolled by some, who claimed that because I was young, I was inexperienced. That is when I realised I am going to prove that I belong here as much as they do. The way I made a difference was when I went and cooked along with the staff, because every chef is only as good as his hands, the rest is all fluff. Rarely does an executive chef actually cook in the kitchen with their staff. I instantly gained their trust because I was a threat to them (his peers), but I wear it as a badge of pride". Back home, which Goan food does the chef love the most?
"Although I am extremely allergic to crabs, prawns and lobsters, I love mussel rava fry, recheado
pomfret, shark cutlet, pork vindaloo, beef and tongue roast and a mean fish curry". Globally, with good food coming to the centre-stage of people's lives, on dinner tables, in restaurants and even social media channels, does the world really need more chefs to add to the explosion of the culinary universe? Chef Jason has an interesting take. "Yes, but the world needs chefs who can really get out of their comfort zones and be open to exploring and experimenting different ingredients, at White Plate I will be changing my menu every six months so I constantly ensure that I redefine my yesterday and stretch the limit with the team, because I am only as good as my weakest link so
training them is strengthening me".