Dr. Emanuel Gracias, obstetrician, gynaecologist and minimal access surgeon at Gracias Maternity Hospital shares an insight on his vision to transform healthcare, redefine doctor-patient relationships, all while navigating a legacy and manoeuvring his own tryst with destiny
It's all that I know, all I am, and all that I will ever be, remarks Dr. Emanuel Gracias, reflecting on the genesis of his calling as an obstetrician and gynaecologist. Not a vocation, not a profession, but a 'calling'. While that does sound like a philosophical punch line meant for lyrical relief, one would see through the sentiment if they jogged down his memory lane.
"Doesn't everyone live at a hospital?" A young, wide-eyed Emanuel would ask his friends at school. As absurd as it appears, this interrogative streak stemmed from his home, which quite peculiarly, was the hospital itself. "With a family of gynaecologists, frequent emergency calls were scarcely surprising, and attending to patients promptly was easier if you just lived at the hospital", says Margao based Dr. Emanuel, attempting to explain why it seemed bizarre that none of his friends lived at hospitals, or at least, on the top floor of one like he did until the age of five. Besides, this homely maternity hospital was a happy place – a haven of healing; a space where countless first cries clamoured through the corridors – a promising place where good news had no closed doors. "Who wouldn't want to live at this hospital?" the OB-GYN chuckles with childlike wonder.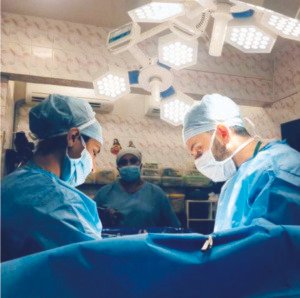 So occupied were his parents with running Gracias Maternity Hospital in Margao, tending to patients, and partaking in the miracle of birth, that he was startled every time someone told him that their parents spent plenty of time with them at home. "It's a 24-hour commitment", he adds with a matter-of-fact interlude, "Not a mere job that wraps up with the sun at dusk." While his grandfather and father ran their usual errands as gynaecologists, his mother oversaw the administration of the entire hospital, right from handling patient queries to handling accounts, as well as managing all the staff.
In the course of all these commitments, an aspiring doctor was sprouting under the wing of his dear nanny Philomena. Recollecting his fondest memories of his nanny and the hospital, he reminisces, "There was a special chair for me in the OT, on which I would fall asleep only to be carried home, wrapped in the arms of Philomena, who is now no longer with us."
Being the youngest of the five children of Dr. Carmo Gracias and Mrs. Fernanda Gracias; a young Emanuel found refuge in the idea of using medicine to bring joy into the lives of people. So when he says that medicine is all he knows and all that he is, it is not just the legacy of his family, but his time old tryst with the wonders of medicine that forged him a path in the footsteps of his father and grandfather.
While subconsciously, he always knew where his destiny would lead him, Dr. Emanuel once considered the thought of becoming a pilot – a thrill-seeking pursuit of his travelling mind that sought to travel the world.
"For me, nothing compares to the gush of happiness on parents' faces when a baby is delivered", he adds, "Not even the electrifying thrill of flying a plane." The wholesome feeling of spreading joy in itself is a truly rewarding yet grounding experience that inspires him every day and pushes him through the hardest of days. Addressing this aspect, he says, "It can get incredibly challenging sometimes, but it's the path I've chosen and ultimately, the juice is worth the squeeze."
Knowing what he always wanted to be, he left for the prestigious Jawaharlal Nehru Medical College (JNMC) in Belgaum at the age of seventeen, only to return when he was twenty-seven. A six-year MBBS degree didn't deter him from running to be an obstetrician and gynaecologist for the next five years. "Those eleven years in Belgaum were extremely crucial," he shares, "they taught me everything I know."
In those eleven years, Dr. Emanuel observes that his professors had the most profound impact on him. "Your professors can make you or break you, mine certainly made me who I am and I owe them my life for that," he remarks. So cordial is his relationship with his mentors that one of his professors from JNMC even attended and spoke a few words of worth at the conference of The Margao Obstetric and Gynaecological Society organised by Dr. Emanuel last year. His time in Belgaum was definitely not a dalliance. For him, a deeper connection with the city springs from poignant patronymic ties. "Incidentally, my father is also an alumnus of JNMC, having joined the very first batch of the institution even before Goa attained liberation from Portuguese rule," he reveals.
It wouldn't be wrong to say that he has a Belgaum shaped hole in his heart, would it?
One would assume that his family was overjoyed when he decided to pursue his super specialisation in OB-GYN. They were well aware of how strenuous it could get and they were concerned and insisted that he should rethink his choice. His father, being one of the first gynaecologists in Goa to perform minimal access surgeries, was well aware of how strenuous it could get. "They knew the pressures that came along with this line of work," he explains, "But I was firm in my resolve. I knew the price I'd have to pay, and so did my family."
Dr. Emanuel spent a year both in Germany and France training in minimal access surgery and IVF (In vitro fertilisation).
Things were different back in the day when his parents ran the maternity hospital. With come-of-age systems and networks in place along with a reliable support staff, managing the hospital has become a whole lot more convenient now. He is ever-grateful for the graces bestowed upon him; those graces that help him do his best.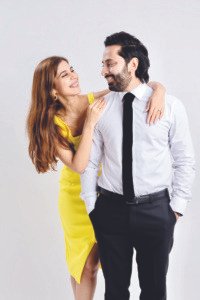 Striking a work-life balance is hard, but when you have the right support system, it all falls into place. On the edge of his seat to pour his heart out about his biggest ally, Dr. Emanuel exclaims, "She is the best thing that has ever happened to me." This steadfast pillar of strength is none other than Jessica Gracias, his wonderful wife.
"She's helped me through the most difficult of times," he says with promising eyes, shedding light on how Jessica became his rock and refuge, his emotional centrifuge. "During my residency in Belgaum we had to do 800-900 deliveries in a month, sometimes 25 in a single night; All this by just 4 resident doctors followed by piles of paperwork. We also had to assist new doctors pursuing an MBBS degree. Fatigue took the better of me. I suffered from post traumatic stress disorder (PTSD) for months after my return to Goa. Even basic sleep was a luxury," he reveals. However, it is with Jessica's unconditional love and support that he got past that daunting phase. In a demanding line of work like his, the line between personal and professional life often gets blurred. He attributes his mastery of this delicate balance to the worthy efforts of his wife.
Jessica Gracias is literally and figuratively the elixir of his life. A Stanford trained dietary counsellor, she synthesises her passion with his calling, whilst nurturing both, their relationship and her individuality. She administers the Gracias Maternity Hospital in Margao, along with the peripheral clinics in Canacona and Quepem. Her natural managerial instincts have infused new life into the hospital affairs. From new management techniques to boost productivity and encourage responsibility to building personal relationships that make both patients and employees feel valued. Because of her amiable nature, Jessica is adored by the patients and staff alike. "They love her more than me!" he exclaims with an ever-widening grin, "If there's anyone in this world I envy for their beauty, wit, and pure kindness, it's Jessica."
Well, Dr. Emanuel isn't less of a favourite. His spirited camaraderie with his patients has played a major role in establishing a firm foundation of fidelity. It all boils down to personal relationships – connecting, bonding, and understanding. It is this dynamic with patients that build trust and loyalty. Re-inventing this very dynamic; this doctor-patient relationship, has always been the conscious effort of Dr. Emanuel Gracias and his team.
"When meeting a doctor doesn't feel like meeting a doctor, my mission will be accomplished," he ascertained. No judgement, no fear, and no embarrassment – this involves the development of a mutually respectful yet friendly equation between him and his patients. In this safe space, patients' judgment and choices are never questioned or ridiculed. They are free to express all their concerns and worries, joys and sureties.
With a 21st century ethos of sorts, not just the technology, but also the thought trajectory at maternity home is an avant-garde manifestation. "We believe in women having complete control over their reproductive rights," he says, "Their choices have to be respected under all circumstances." That means, whether or not a woman wants to have a baby – that's her choice. It also entails her choice in the outcome of pregnancy – a normal or c-section delivery. While normal deliveries are widely encouraged, Gracias Maternity Hospital, that prides itself in being Pro-Normal in its delivery approach, never critiques a woman if she opts out of it and chooses a c-section.
Moreover, these contemporary considerations, combined with world-class technology, coalesce to conceptualise new ways of enhancing patients' convenience. 'Gracias Connect' is one such initiative that seeks to enable seafarers and partners away at home to "never miss a moment" of their wives' pregnancy journey. The use of video-conferencing and visual aids to demonstrate the progression of pregnancy or complications, if any, has helped so many fathers get involved in the process despite being miles away. Similarly, another pioneering initiative called 'Birthing Buddy Program' allows mothers-to-be the option of having a birthing buddy accompany them in the labour room and assist with the birthing process.
All in all, a holistic approach is adopted in all avenues. "Besides the medical courses of action, several non-pharmacological therapeutic modalities are incorporated into our functioning," Dr. Emanuel explains. These include dietary guidance, lifestyle modifications, mood elevation practices, and counselling among other things.
Along with deep, evidence-based medicine, the constant availability of doctors and careful attention to patients' needs is what draws many to the Gracias Maternity Hospital. Additionally, in an attempt to mitigate the woes of patients coming in from remote regions, Gracias Clinics were set up in Canacona and Quepem. This made reproductive healthcare accessible to those women who would have to take a day off from work to travel to Margao for consultation.
A paradigm shift is what he seeks to bring about in the medical landscape. "Let's make healthcare affordable, accessible, and enjoyable- that's the motto," a hopeful Dr. Emanuel exudes.