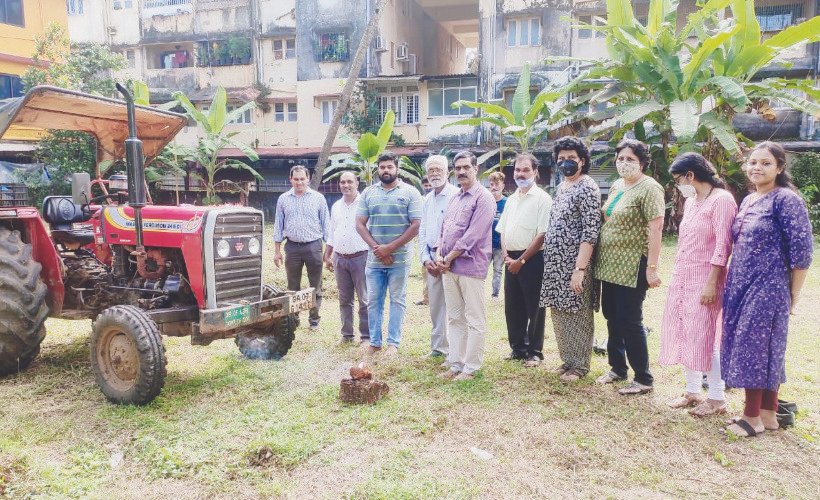 V M Salgaocar College of Law, Miramar, as part of its green initiative has kickstarted the second phase of horticulture in the college premises with great enthusiasm.
Ploughing of land was carried out on the field behind the college campus followed by a ritualistic 'pooja' that was performed by Prof. Dr. K. Srinivasa Rao.
Principal, V.M. Salgaocar College of Law, Dr. Shaber Ali G; Head of Department, Dr. Kim Couto; VMSCL Administrator D. P. Pednekar; Instructor in Physical Education, LavuGovekar; and other teaching, non-teaching staff and students at the institution were present on the field to witness the event.
In this new phase of horticulture, completely organic vegetables and fruits such as radish, amaranth, spinach, cluster beans, carrot, beetroot, green chili, Goan chili, sweet corn, turnip, watermelon, fenugreek, cabbage, etc. will be cultivated and marketed to all the staff members and to the students of the college wherein an estimated revenue of approximately `50,000/- is expected to be generated for the new academic year.
---
GIM commences admissions for PGDM 2022-24
Leading B-school Goa Institute of Management (GIM) has increased its seat intake from 480 to 540 seats. The new batch of 2022 – 24 will see 540 students embark on a learning journey with the prestigious management school across its various programmes. "After 11 years we are increasing the intake capacity of our flagship PGDM programme from 240 to 300. The total number of students we will be taking in for all our full-time PGDM programs this year will be a little over 540 students, up from 480 last year," confirmed Ajit Parulekar, Director, GIM.
GIM offers multiple programmes which include the Post Graduate Diploma in Management (PGDM) which is the B-school's flagship programme, the Post Graduate Diploma in Healthcare Management (PGDM-HCM) as well as a Post Graduate Diploma in Big Data Analytics (PGDM-BDA). With the aim of developing future-ready, data-fluent managers who are fully prepared to handle the next stage of data-driven decision making, the PGDM-BDA was established. In 2020, GIM introduced Post Graduate Diploma in Management in Banking Insurance Financial Services (PGDM-BIFS)
Applications for admission for the academic year of 2022-24 commenced on 7th October and will continue until early-January of 2022. GIM's teaching- learning process is unique. While the 75+ core faculty members, with their strong credentials, strive to apply innovative techniques, the visiting faculty members, drawn from the industry and leading MBA colleges, ensure that the course is in sync with industry requirements.