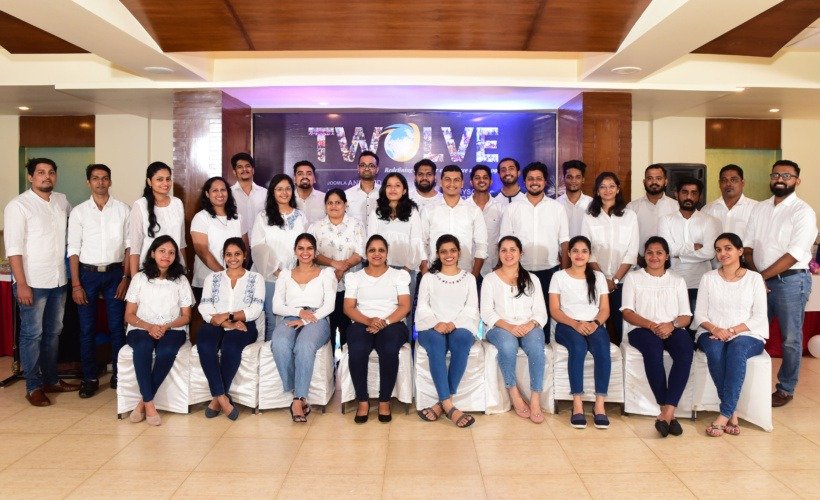 UMANG Software Technologies celebrates its 12th anniversary of unwavering support from devoted clients and dedicated employees.
The word Umang (उमंग) has its roots in the ancient Indian language of Sanskrit. Umang has myriad meanings such as triumph, jubilation, exultation, energy, verve, and zeal.
At the core of these connotations are enthusiasm and passion, the very sentiments that caused Uma Talaulikar and Mangirish Salelkar to set up UMANG.
Reflecting on 12 years in business Mangirish Salelkar, CEO of UMANG said, "We take immense satisfaction in what we have accomplished. Our focus has always been on meeting and surpassing every conceivable expectation that our clients have envisioned. We are relentlessly innovating to deliver the extraordinary for our clients. I am privileged to work with talented colleagues. This milestone is an endorsement of trust from our clients, vendors, current and ex-employees."
On accomplishing this milestone, Uma Talaulikar, COO of UMANG said "UMANG serves clients located across the world. They converse in various languages and are based in diverse cultures. They have varied business practices, technologies, and work hours. Our teams have overcome all these impediments to deliver quality products and services. This is also a triumph for our robust infrastructure and operations. We are delighted to frequently receive commendations from our valued clients. "
Since its launch in 2009 in Goa, UMANG has grown exponentially and has offices in San Jose in the USA, and San León in Mexico.
UMANG has cultivated myriad long-term relationships with numerous clients globally. They have clients in Norway, Canada, United States, Netherlands, Ireland, Australia, Venezuela, Brazil, South Africa, New Zealand, Netherland Antilles, France, Italy, United Kingdom, Indonesia, Austria, and India.
UMANG has domain expertise in fields such as Marine Engineering, Travel and Tourism, Healthcare, Hospitality, Entertainment, Banking, Finance, Logistics, Retail, Defence, etc. This enhances their ability to grasp client requirements and deliver comprehensive solutions.
Reflecting on the advances on the technological front, Poonam Narvekar, CTO said "The only constant in technology is its unceasing evolution. We continually evaluate newly available technologies to best serve our clients. This milestone is a huge accomplishment for our able and driven technical team. We are proud to have delivered Tele-medicine solutions to our healthcare clients globally. We are also having solutions in Blockchain technology to enhance application security"
UMANG has received numerous glowing testimonials from clients who laud us for surpassing their expectations and value our dedicated teams. Also valued are our robust information security and integrity practices since we often deal with confidential or sensitive information.
UMANG ranks its people among its primary assets.
"Our people tell us that our workplace presents a unique balance of challenges, learning, growth, and excitement. We are delighted to learn that the inspiration and guidance from our leadership has caused our people to exceed the estimation of their potential," says Poonam.
The recent Covid-19 pandemic has created a global climate of uncertainty and has changed the manner in which business is conducted.
Speaking about the impact of the pandemic, Uma says, "UMANG has always focused on maintaining a robust Business Continuity strategy. This has empowered our teams to seamlessly adjust and be highly productive during the pandemic as we deliver solutions. All our teams have shown great commitment, versatility, and adaptability. Our clients have been highly appreciative that there was no interruption in services during the pandemic. Consequently, there have been no lay-offs, cost-cutting and no pay cuts for our employees"
Since its foundation, UMANG has regularly been involved in philanthropic and volunteer endeavours in areas such as education, environment, health, art and culture, child and rural development.
Recently, UMANG delivered Telemedicine application that facilitates easy online medical consultations for patients from the safety of their homes. This has been invaluablefor those in need of medical attention during lockdowns.
UMANG prides itself on having trusted advocates and advisors worldwide who have been our ambassadors globally and have contributed significantly to the growth globally.
As UMANG completes twelve years there is deep humility and much gratefulness towards all those who have made this remarkable journey possible.
Looking towards the future, Mangirish says, "UMANG looks to the future with high hopes. We intend to build stronger ties with our existing clients while also serving newer clients. Our goal is also to broaden our domain expertise. We also intend to augment our global outreach by developing strategic partnerships with like-minded organizations globally. Our journey continues as it did since our inception, with considerable enthusiasm and boundless passion".