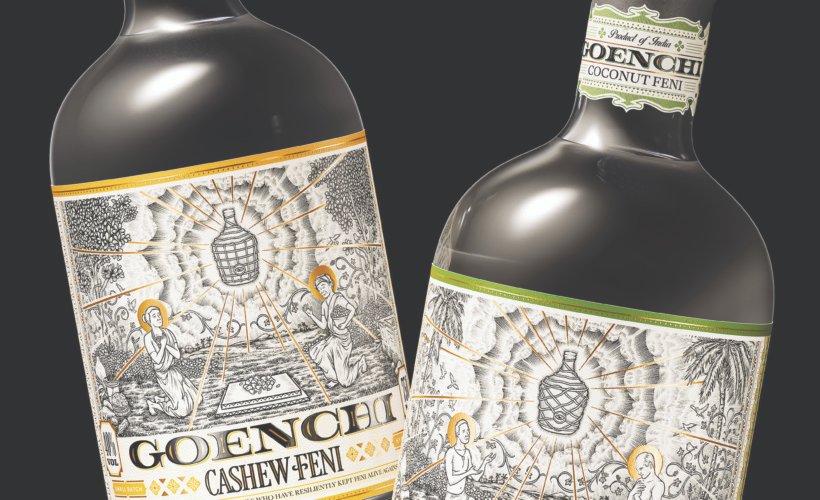 Goenchi Feni crafted by Yash and Tulika Sawardekar, celebrates the spirit and cultural heritage of Goa
Goenchi was founded by sibling duo and first-generation entrepreneurs Yash and Tulika Sawardekar, natively Goan, but born and raised in Bombay. Yash is a software engineer by qualification but has been a flight attendant with a major international  airline in the Middle East. Yash is a hobby street photographer and passionate home-chef and enjoys crafting cocktails in his free time.
Tulika is a business graduate with a major in marketing, with a flair for art  and a special love for design. Prior to Goenchi, she handled the branding and marketing for an indie all-natural hair care brand. The journey of how Goenchi came to be is an interesting one. The siblings set out on a backpacking journey to travel across India towards the end of the pandemic; and the last leg of their journey happened to be Goa, where they first tried Feni and instantly fell in love with the spirit. "After delving deeper into  the culture of Goa and meeting several indigenous distillers who have practised the craft for generations, we realised that Feni was just as stellar as any other spirit sold commercially today." In spite of having centuries worth of history associated with it, the siblings were surprised that feni hadn't gotten its dues. "That inspired a vision we call Goenchi today. The term 'Goenchi' is a Konkani word that translates to 'of Goa' – when one says 'Goan  Feni'  or 'Feni from Goa' in Konkani, they inadvertently have to say 'Goenchi Feni' since it is a demonym," say the siblings.
The tagline of their product is 'Feni Konnank Bhienam' which translates into 'Feni Fears None'. The duo elaborates on the inspiration behind the tagline. "The inspiration came from the last line of a Konkani song by Goa's beloved Alfred Rose called 'Goenchi Feni.' In this song, the singer talks about how each country is proud of its heritage and national spirit. We started Goenchi to challenge the colonial mindset of drinking foreign liquour, and bring the deserved spotlight back on Feni, characteristic and proudly Indian spirit."
Goenchi follows the 1-2- 3 formula when it comes to distilling. It stands for: Single Ingredient, Double Distilled, Thrice Filtered. They take a single, hyper-locally sourced ingredient: the juice of handpicked cashew apples or the nectar of coconut flowers, and ferment it slowly and naturally. This ferment is then distilled in their 100% copper pot-stills in small batches to produce a first distillate called Mollop in case of coconut and Urrack in case of cashew. The first distillate is then distilled one more time with additional fermented juice for extra flavour into the second distillate we all know and love, Feni. This Feni is distilled to cask strength. Goenchi Feni is then bottled with the addition of  demineralised  ater at 40% Alcohol by Volume (ABV) at a state-of-the art bottling facility, where it undergoes a thorough filtration process three times. This 1-2-3 formula helps the duo produce the finest Feni that consistently  delivers great taste and smoothness.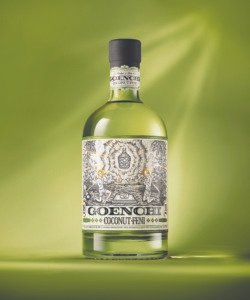 All of the raw material is sourced hyper-locally from Goa which includes their own farm and a few partner farms from neighbouring areas. Goenchi has unique labels on their bottles and a lot of thought has been put into their designing. "While designing the visual identity and labels for a Feni brand like Goenchi along with Aniruddh Mehta from Studio BigFat, we deep-dived into Goa's history and indigenous  culture, and decided to represent the concept in the stylisation of currency notes. The label is divided into three sections –the left side covers mandatory information and features three illustrations showcasing crucial stages of  he production process relevant to each variant – Coconut and Cashew Feni. The middle section presents a theatrical piece where the 'garrafão' takes centre stage, cracking open the skies while 'Renders' and 'Cazcars' look above with a delightful and elated demeanour, welcoming the Ancestral Spirit. Finally, the right side celebrates the people behind Feni with a beautiful portrait of proud 'Renders' and 'Cazcars' holding their tools." Goenchi  Feni is available in 100+ premium retail outlets and wine stores as well leading bars across Goa.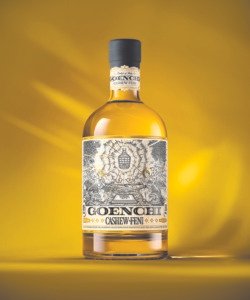 The Feni industry, like any other, comes with its own unique set of challenges. "The biggest challenge would have to be the 'Country Liquor' classification of Feni. This tag not only limits the entry of Feni into other state markets, but also propagates the false idea of Feni being an inferior spirit when compared to foreign liquor. We at Goenchi work diligently toward challenging and changing the mindset toward Feni that permeates the country today. We wish to educate our audiences to drink local, and to drink better," add the sibling duo. Yash and Tulika follow a business philosophy that is very closely linked to their ethos that is, to strive for perfection in everything they do and to always put Feni first. "To choose the right path, even if it is the more difficult option. Our passion for Goa,  its people and the vision we have for the future of the Feni is the driving force behind all our decision-making process," they say.
Their future plans include introducing feni to newer palates. "Feni is much unexplored as a  spirit and it presents itself as a very fresh canvas. We want to express our creativity through this medium and cater to not just the Feni purists, but also open it up to newer palates. We want to make Goenchi available across the nation and change the outlook towards Feni from 'desi' to 'swadeshi.' We also wish to put Feni on a global stage and have it represent India on the global spirit map."