AUTHOR: SANAT PAI RAIKAR
PUBLISHER: BLUEROSE PUBLISHERS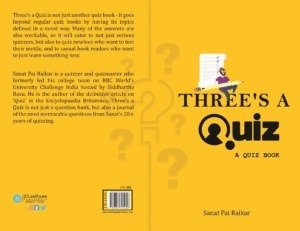 Three's a Quiz is not just another quiz book – it goes beyond regular quiz books by having its topics defined in a novel way.
Many of the answers are also workable, so it will cater to not just serious quizzers, but also to quiz newbies who want to test their mettle, and to casual book readers who want to just learn something new. The book covers diverse topics such as love, cricket, comics, the Cold War, among others.
Sanat Pai Raikar is a quizzer and quizmaster who formerly led his college team on BBC World's University Challenge India hosted by Siddhartha Basu. He is the author of the definitive article on 'Quiz' in the Encyclopedia Britannica.
Three's a Quiz is not just a question bank, but also a journal of the most memorable questions from Sanat's 20+ years of quizzing.
Sanat was a regular contributor of crosswords for Business Goa.