Prajay Maganlal's venture, Champagne and Cigars offer an array of the world's finest products
Growing up in a family of entrepreneurs, Prajay Maganlal had been exposed to a variety of business ventures from a very young age. He stated, "I think entrepreneurship runs in our blood. Right from my great grandfather who came from East Africa to all the subsequent generations, everyone has successfully created a niche in their own line of business."
Prajay mentions that he was never really one to sit in a classroom. He rather preferred to learn through experience. Hence, he decided to complete his graduation through correspondence while simultaneously pursuing a Company Secretary course. While studying remotely for these courses, he constantly dabbled in some side venture or other. One of his most memorable experiences was bar-tending at the then famous Ingo's Saturday Night Market at Arpora for two entire seasons. This is where he got to meet people from all over the world and understand their different perspectives on life. His primary focus was always on the family's main retail business (Magsons Supercentre), which was expanding rapidly. After qualifying as a CS, Prajay briefly intended to take up a role as a professional but as fate would have it; he ended up remaining in the family business as the exposure he got was unparalleled.
Champagne and Cigars was launched in November 2022. Prajay decribes the marketing strategies used by this high-end store. He mentions that, cigars are a niche product, especially outside the developed world. They are also misunderstood. People often compare cigars with cigarettes, when in fact they are nothing like each other. You smoke a cigarette, whereas you taste a cigar.
A challenge that they constantly face is when marketing their products is that it falls under the Tobacco category and there are strict restrictions against promoting such products. Hence overt marketing efforts are extremely restrained, and they have to rely on word of mouth and marquee events to promote their products.
Prajay is also very conscious about the people that he sells his products to. No one under the age of 18 is allowed to purchase a cigar from them. The entry range that he stocks starts around Rs.750 per cigar and the premium range goes up to Rs.6000 per cigar. Champagne and Cigars only sells premium 100% tobacco leaf, hand rolled cigars. This allows a wide spectrum of customers to come try out cigars, from first time novices wanting to experience their first taste to cigar veterans for whom it is a passion.
Prajay goes on to speak about the inspiration behind opening this store. He states, "We recently redeveloped the first ever Magsons store, which was at Miramar, into a mix-use complex and the project was completed in early 2022. We knew we had to have some presence of our own in the project, since we had such emotional attachment to the location. Rather than set up a usual supermarket, we decided to do something niche, keeping with the entire premium elevation of the new building. While brainstorming, my father introduced me to Anish Trivedi, who is a cigar connoisseur. We discussed the business potential, and I was convinced that there was an opportunity available. Soon thereafter, I decided to open a boutique store which sells premium cigars and a wide range of alcohol and spirits from all over the world."
Many people associate cigars with Cuba and not without good reason. Cuba was once the heartland of cigar making but since the Cuban revolution, many of the top cigar makers fled to newer countries such as Nicaragua, Honduras, Dominican Republic and the like. Today, these countries produce cigars which parallel and often surpass Cuban cigars in terms of taste, consistency, and quality. Champagne and Cigars stock cigars from all the 'New World' countries, as they are called, as well as the traditional Cubans.
The famous Cuban brands that the store stocks, are the Cohiba, Partagas, Montecristo, Romeo Y Julieta, among others. From among the New World cigars, the Rocky Patel series has some of the best cigars that one can lay their hands on. Prajay mentions that the store has exclusive distribution rights from their partners, Cigar Conexion, for the Rocky Patel and other New World cigars in Goa.
Apart from cigars, Champagne and Cigars also stocks a wide variety of exclusive Single Malts like the Paul John Mithuna, Aberlour, premium French gins, vodka, the original Bacardi from Cuba; and the entire range of Scotch and IMFL products.
Amongst the Cubans, the Romeo Y Julieta is the best selling, and it is his personal favourite, as well. Their Single Malts range also does exceedingly well.
Since the store is located in a tourist stretch (Miramar Road), Prajay introduced products related to Goa, such as souvenirs and other accessories which are a hit with the tourists.
One major roadblock that he faces is, overcoming the taboo surrounding tobacco use and smoking. While he affirms that he definitely does not promote smoking, he believes that those looking to try cigars and for those whom cigar smoking is a habit, should have a space where they can come and be assured that they get a 100% genuine product. "There is so much fake stuff going around in the market. I ensure that all our stock comes through official sources only, with all the government mandated labels and tobacco warnings."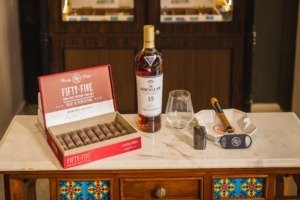 Prajay points out that it is difficult to suggest a cigar that will sit with everyone's tastes because each cigar has its own unique flavour profile. It is also important to pair one's cigar well, either with a single malt, rum or cognac. For those who don't prefer alcohol, a good coffee or even a glass of water would do well. "Experienced cigar aficionados compare the experience of tasting a cigar to doing meditation, and I cannot really disagree with that. For those who do plan on purchasing their first cigar, just keep in mind that it is something to be savoured with good friends and a hearty conversation." When asked about the response of the customers, Prajay says, "Frankly, I have been happily surprised with the overwhelming response that the store has received. Initially there were doubts over whether this new concept would work because it is one of the few standalone cigar outlets in India, let alone Goa. It is clear now that there is a growing demand from people looking for new experiences as well as those who were regular smokers but had nowhere to buy cigars from."
He further goes on to talk about his future plans and mentions that it is still a big question as to where this path would lead to. He states that, "Just 6 months back I had absolutely no idea I would be here running my own store, selling cigars. It has been a great learning curve and I am very excited to see where this path leads. I am fortunate to have met some really amazing people during the last few months, over a cigar."
The real challenge for him is to educate people. Prajay plans to host events for like-minded people in the hospitality business, where people can spread awareness amongst their target market.
Champagne and Cigars are also hosting a marquee event on the 26th of January, where he and his partners are bringing the cigar legend, Rocky Patel, himself to Goa. They will organise a meet and greet with his fans and fellow cigar aficionados and Rocky will personally autograph memorabilia.