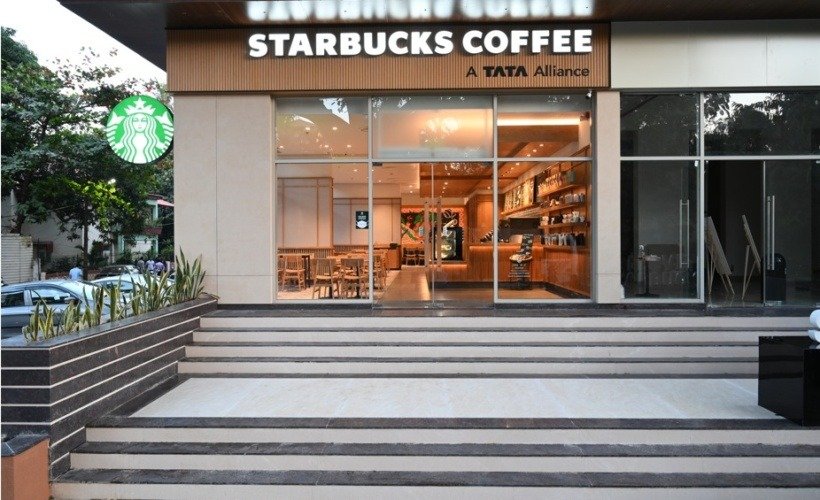 Tata Starbucks Private Limited today announced the launch of its first store in Goa. Located at the plush Magsons Towers on DB Road, Miramar, Panaji the store will offer Starbucks signature beverages and food options and a warm and welcoming third place for all.
"Goa is known for its hospitality, and we are glad to extend our premium Starbucks experience to the people of Goa. Our aim is to deliver an iconic coffee house experience to all our customers and create a welcoming 'Third Place' for the communities we serve." said Sushant Dash, ceo, Tata Starbucks Pvt. Ltd.
The store design takes inspiration from the architecture of the Fontainhas streets – the Latin Quarter of Goa, with its vibrant and colourful rhythm of façades and windows which is translated into the store through the rhythm of wall panels and mouldings. A large, commissioned mural by a young emerging Goan local artist – Osheen, depicts an empowered siren image that complements the design, serving as a backdrop for the café area while adding an extra layer of storytelling about our Starbucks heritage.
Another artwork that takes centre stage is inspired by the bio diversities (Quetzal bird, Elephant, Tiger) that are found in coffee origins, as well as the depiction of coffee botanicals. The artwork serves as an introduction for our new customers to the world of coffee, while celebrating the Portuguese influences.
In addition, customers will be able to select from a range of Starbucks beverages including the all-time favourites such as Java Chip Frappuccino®, Cafe Mocha, Signature Hot Chocolate and Caramel Macchiato.
Customers can also enjoy the winter offerings such as Smoked Butterscotch Latte, Chocolate Truffle Cold Brew and Cocoa Chai Almond Latte. As an accompaniment to the array of coffee offerings, customers can choose from a range of food items such as Egg White & Chicken in Multigrain Croissant, Dutch Truffle Gateau, Red Velvet & Orange Cake, Chilli Cheese Toast, Basil Tomato & Mozzarella Cheese Sandwich, Butter Croissant, Kakori Kebab Wrap etc.
Starbucks will also bring My Starbucks Rewards™ loyalty program to the city, which provides members with rewards and personalized benefits as they make Starbucks a part of their daily lives. Starbucks merchandise and free Wi-Fi is available at the store.
Starbucks stores across the country have re-opened for dine-in and takeaways in line with the guidelines issued for the respective cities. With safety being of utmost priority, Tata Starbucks continues to observe round-the-clock cleaning, sanitizing, and additional precautions such as floor markers for social distancing in waiting areas, temperature checks for all partners and customers, and facial coverings and gloves for delivery executives and partners.
Tata Starbucks has also introduced contactless order and payment methods, such as Mobile Order and Pay through the Starbucks India mobile application, so customers can enjoy a safe, familiar, and convenient Starbucks Experience.
About Tata Starbucks Private Limited
Starbucks entered the Indian market in October 2012 through a 50/50 Joint Venture with Tata Consumer Products Ltd and currently operates 253 stores in India across 26 cities, Mumbai, Delhi NCR, Hyderabad, Chennai, Bengaluru, Pune, Kolkata, Chandigarh, Ahmedabad, Surat, Vadodara, Vapi, Lucknow, Amritsar, Kochi, Ludhiana, Bhopal, Indore, Kanpur, Jaipur, Siliguri, Thiruvananthapuram, Nashik, Guwahati,Bhubaneshwar and Goa through a network of over 2,000 passionate partners (employees). Starbucks stores are operated by the joint venture, TATA Starbucks Private Limited, and branded as Starbucks Coffee – A Tata Alliance.