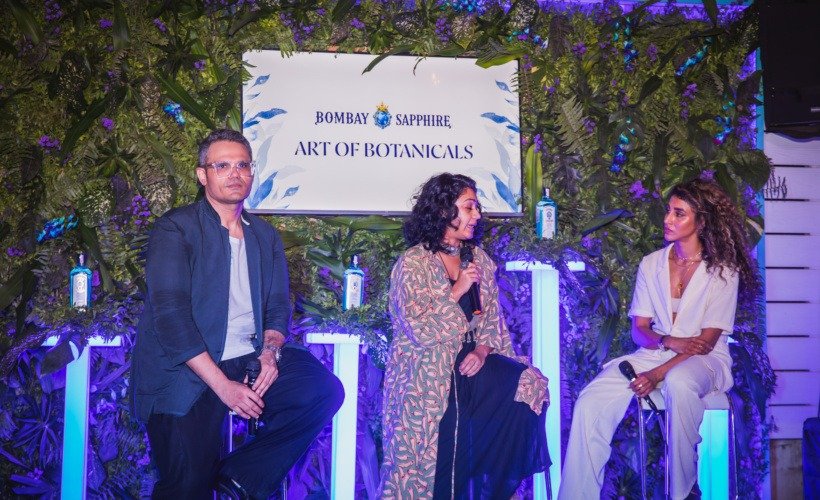 Chef and entrepreneur Tarun Sibal, co-owner of Titlie, the renowned culinary destination, joined forces with BOMBAY SAPPHIRE's Art of Botanicals that offered a unique experience to its audience, last month. The evening witnessed an innovative program that brought thought leaders together to celebrate sustainability.
Art of Botanicals by BOMBAY SAPPHIRE aims to highlight its botany-driven narrative. In association with BOMBAY SAPPHIRE and Vnya Organics, Chef Tarun Sibal took the guests on a culinary journey through the depths of the forest at Goa's iconic culinary bar, Titlie.
Each plate crafted by Tarun was a blend of exotic ingredients from Vnya, to bring forth the various facets of sustainability combined with creativity – a notion represented by BOMBAY SAPPHIRE. Through waste-free and produce-forward plates, paired with BOMBAY SAPPHIRE cocktails featuring Vnya's organic produce, the 'Art of Botanicals' association was an ideal amalgamation of creativity and sustainability.
Partnering with Vnya, a renowned Goa-based organic produce brand, and BOMBAY SAPPHIRE, Tarun aimed to inspire creativity, self-expression, and a purpose-driven future. Vnya's commitment to organic and wholesome goodness, directly sourced from across India, made them an ideal partner for the event. Their products are personally collected and curated, and the brand aims to keep the chain clean and waste-free, benefiting those who work hard to produce them.
Tarun Sibal, Chef and Entrepreneur, Co-Owner, Titlie, Goa said, "The association with Vnya, and BOMBAY SAPPHIRE, aimed to showcase the story of botanicals while emphasizing brands that are committed to sustainable practices through a unique culinary and bar experience that perfectly blended with BOMBAY SAPPHIRE's botanical-driven narrative."
 Adtnu Tiwari, Sr. Manager, Premium White Spirits, Bacardi, India commented on the association, "Art of Botanicals showcases the craftsmanship & creativity that goes into every bottle of BOMBAY SAPPHIRE. We believe that gin-making is an art form and a truly creative pursuit when combined with sustainable practices. We are thrilled to collaborate with brands built around a similar ethos and look forward to bringing our botanicals to life in exciting and unexpected ways."
The event showcased the practice of mixology as an experimental art that can incorporate sustainable practices while still providing fresh, high-quality ingredients. The partnership between Tarun Sibal, Vnya, and BOMBAY SAPPHIRE produced a one-of-a-kind experience that inspired change for a better tomorrow. The evening witnessed the best of Goa with *insert names* at Goa's iconic culinary bar, Titlie, co-owned by Kartik Dhingra, Shyam Khurana , Bipin Sibal, and Chef Tarun Sibal.
About Titlie:
Titlie is a culinary bar in Goa offering an eclectic mix of craft cocktails and beach bites overlooking the best sunset views in town. It is where Chef Entrepreneur and co-owner, Tarun Sibal, displays some of his most innovative work. In his own words, "Titlie showcases the best of Indian International hospitality. It is a beachfront culinary bar where collaborative cuisine takes the centre stage and celebrates the priceless luxury of life's moment-to-moment pleasures. An imaginative blend of local and international recipes is brought alive by sublime seasonal produce, along with regional spirits and signature tinctures prepared in-house. Titlie, translating to butterfly, symbolizes the sensorial memories of our daily, transformative journeys through life. Goa's multifaceted spirit: the enigmatic expanse of the ocean inspiring relaxation and romance and the most unforgettable sunset views represent so much more than just the sum of all ingredients.