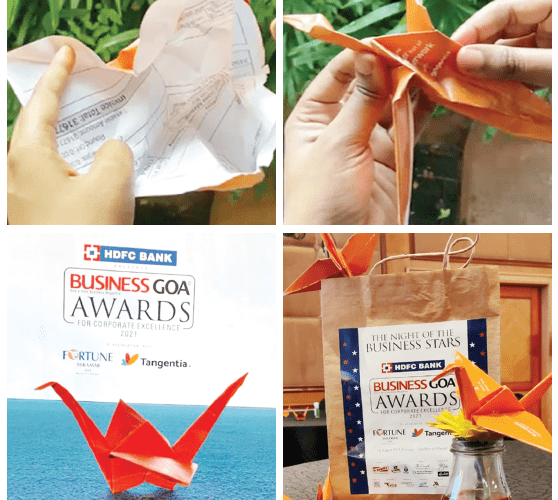 Global digital transformation company, Tangentia creates an impact with its latest campaign lauded at Business Goa Awards
Tangentia, a leading global digital transformation company recently launched their newest campaign – 'Take the Paper out of Paperwork' at the prestigious Business Goa Awards 2021. Tangentia was an associate partner of the Business Goa Awards which honoured leading Goan business professionals for their outstanding achievements.
Conceptualised by Dranding Consulting, a branding and marketing firm, the first phase of the campaign saw the launch of innovative leave-behinds in the form of origami paper cranes which were created from used invoices and purchase orders. Those who opened the cranes were surprised with a hard-hitting and powerful message urging businesses to do away with tedious paper processes and use automation to soar one's business. Placed at strategic locations during the award function, the activation generated a buzz amongst the audience in attendance and on social media.
As the business world navigates the challenges brought on by the pandemic, digital transformation is at the forefront of revolutionising this new normal. The campaign was conceptualised to address the needs of today's business world and highlights the importance of automating for better business opportunities over using monotonous and outdated paper processes. The use of automation in business operations reduces the use of paperwork processes, thus saving time, money and resources, while increasing productivity, growth and ROI's.
Vijay Thomas, CEO & Founder of Tangentia said "To make an impact using digital transformation, businesses need to take the risk and innovate for their future. Adopting agile digital solutions will not only give them the opportunity to scale higher but make an impact that matters."
The 'Take the Paper out of Paperwork' campaign ties two key visual elements – Paper Origami and Animals. The thought process behind choosing paper was that paper processes are time-consuming, and by replacing these processes with automation, the results are considerably faster and superior. Origami is a Japanese art of innovatively folding paper to make decorative figures. The campaign focuses on paper animals because their previous campaign 'Aim for Impact', celebrated the wonders of the animal kingdom. It celebrated the animal's natural instincts to – survive, adapt, thrive and transform. Instincts that are relevant to the modern business world.
Ashley Nathan, Director of Marketing for Tangentia said "While retaining the essence of the previous campaign – Aim for Impact, the new campaign asks customers to take the Paper out of Paperwork processes and use technology to innovate for impactful and measurable results."
"The 'Take the Paper out of Paperwork' campaign was conceptualised to reflect Tangentia's vision and their aim to help clients digitally transform from obsolete processes for better business outcomes. The use of origami builds great engagement both online and offline", says Floyd Tavares, co-founder, Dranding Consulting.
Tangentia has an experience of over 17 years of delivering agile digital transformation solutions to a diverse global clientele. The company assists their clients in transforming and making an impact in their business by bridging the most challenging technology gaps