Global to Local is a well thought out social entrepreneurship venture by Asha Arondekar to support women and their livelihoods in Goa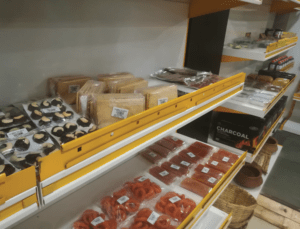 Asha Arondekar, describes herself as a self-made woman who has her fingers in many pies. She comes from a defense background and is a first generation entrepreneur in her family. She started working at the age of nineteen and 27 years later, she has been part of different ventures. She began her career in the pharmaceutical industry and later switched to wellness, and was responsible for the getting the brand VLCC, to Goa.
She also owns 'Tatva spa' and has been part of many programs that help uplift women, which includes travelling to remote areas and meeting with the local women and encouraging them to follow their dreams.
Asha elaborates on the idea behind Global to Local. "Many women in rural areas make excellent homemade items, but it is difficult for them to sell their wares, given that they are homemakers, and it is not possible for them to come to the city every day. I wanted to provide them a platform where they could put up their offerings for sale and people in cities could reach out to them. Finally, during Covid last year, when my salons and spas were shut, and I was free for six months, that's when I decided to give shape to my ideas of having a store exclusively for local women to stock their produce."
The Unique Selling Point of her store is that it's the only store in Goa, which is selling authentic, Goan produce. Secondly, all of Asha's suppliers are women.
"I have made at least 70 plus women independent and all these women are in the age range of 17 to 70." When tourists come to Goa and visit her store, they get to know that Goa is so much more besides, cashews, feni, bebinca, and kokum. "When people visit our store, we make sure to educate them about each product. Like our Kokum butter, we explain what it is used for, how it is obtained, thus making them appreciate our suppliers and the hard work that they put in."
Asha's store has a wide variety of local items. You name it and it is available. "We have products right up from farsans to sweets, local eggs, bakery items, masalas (both for immediate consumption and export), pickles, spice powders, desserts, oils, vinegars, grains, agriculture produce which comes directly from the farms like rice and alsandes (kidney beans). We have kokum and all its by products, a lot of chutneys and seasonal produce, like pattolyo leaves, tirphal, and akur. People wouldn't even be aware of such products, but when they visit our store they get to know about such items and are able to savour them."
Covid is a time where people prefer to eat home-cooked food and Asha wanted to give people the idea of authentic, local food. "When fish curry is made, one should know that this is the tirphal that goes in it; this is the solan that goes in it."
Asha sources her products from all over Goa. Right up from the corner of Pernem to the tip of the Canacona border. "I think it is safe to say that we have a producer in every village of Goa. Name the village and we have somebody there who supplies his or her products to us. The whole of Goa is there in my little store here."
The store is also associated with a leading nutritionist, Dr Joline Fernandes, with whom they do an episode every fortnight on healthy eating. Asha conducts many workshops by women in her store to promote their talents.
For Women's Day this year, she had a week long exhibition showcasing two different women and their products, every day.
The response to her store and its products have been excellent, so far. Most of her clients are tourists while the rest are locals and given the fact that she is active on social media, people come from different parts of Goa and India to visit her store.
"The feedback has been so good, especially from tourists, as many who have taken the products from here, have called up, placed their orders with us and I have shipped it to their states. I would like to add that we have been very fortunate to collaborate with the Goa Biodiversity Board to develop products for this project called Govan, with all these women from self-help groups. We have got all the products and we will be launching these products in a week's time and we are the retail partners for these products."
Asha describes her store as a place 'of Goans, by Goans and for Goans' as well as non- Goans who love Goa and all it has to offer, in terms of local produce.
As far as her future plans are concerned Asha says that her roadmap includes having a store in the coastal belt of North Goa. "I'd like to open a store in the South too and one at the airport coming up at Mopa. We have clients like the Taj Group where they buy from us in bulk, which they make into hampers and keep in their rooms for their guests, in order to display the products of Goa. We are looking at all the starred hotels and resorts in Goa to give all their visitors a little bit of Goa."
Asha concludes with a message to aspiring business people, as far as going local is concerned. "Vocal for Local is the vision of our Prime Minister and our Chief Minister's vision of 'Swayampoorna Goa' and we all can definitely be a part of this.
Especially during this pandemic, where many of us have a lot of time on our hands, we need to come up with different kinds of businesses involving local people and products. Inspite of all its setbacks, it has been a very motivating period for us, where a lot of research has been done in different areas and people have come up with different ideas and innovations.
If you really want to do something, there are people who are eager to reach out and be a part of this. You only have to get motivated and have a little fire in your belly to start it and it gets going"