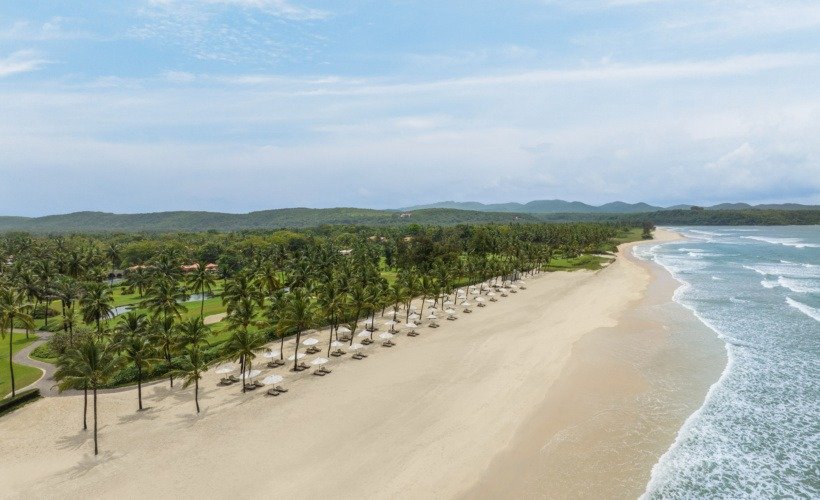 With a host of green initiatives, St. Regis GoaResort is committed to their green pledge
The St. Regis Goa Resort is an idyllic sanctuary nestled between the gently flowing Sal River and the Arabian Sea in
South Goa.
Famed for its palm-fringed tropical beaches, historic Portuguese-era architecture and distinctive culture, the resort's lush green spaces are a nod to its commitment to preserve nature's abounding gifts. The lily dappled lagoons, more than 2000 coconut trees bearing tender fruits filled with sweet water serving as a welcome drink for its guests, 300,000 flourishing trees and a lush golf course are all testimony to the nurturing spirit of the resort.
Adjacent to the orchidarium with 100 plus orchid varieties, is the botanical garden and a small pond filled with a little school of pet geese. Nearly 300 year old banyan trees with ancient, gnarled branches grace the winding pathways around.
Guests staying there have a view of the beautiful lilies in the lagoons from most of the rooms. A short walk away, along the beach is a magical place where the Sal River and sea meet… an emerald green estuary which is a prized location and elemental feature of the resort. This estuary is a unique and mystical formation of nature's iterations and their resort benefits from this extraordinary location.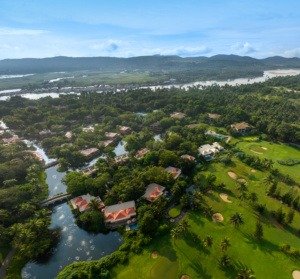 Truly in step with a range of thoughtful initiatives, they are committed to their green pledge. The interconnectedness
of processes ensures that there is a harmonious ecosystem with a balance within all living organisations; be it humans, the fish in the lagoons, migratory birds, pet rabbits and geese which are all part of the landscape. The green spaces are watered by either drip irrigation or a sprinkler system to conserve power. Of course, all the water used is from the sewage and already recycled and treated. Food waste from the main kitchen is converted into manure through an organic waste converter.
The composted organic food waste is nutritious manure and serves as a soil conditioner for the nursery, vegetable, spice garden and the great lawn. The on-site bottling plant and compost-making units are two giant steps in the
direction of conservation. Their 9-hole executive golf course, manicured green lawns and abounding gardens are
irrigated using the 500 KLD sewage treatment facility that recycles wastewater from all of the guest rooms, laundry, and kitchens. The recycled water is also rich in minerals thereby reducing the use of fertilizers. Hot water is provided via solar hot water geysers in each of the guest rooms. These geysers utilise the shell and tube heat exchanger theory and are made up of a glass panel that absorb solar heat and brass tubes that allow water to flow through. When compared to conventional electric geysers, installing a solar geyser reduces electricity consumption by 30%.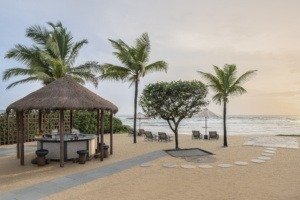 The organic vegetable garden serves as a creative crucible for chefs and bartenders who use the herbs and spices from there, breathing soul into the term, 'farm to table'. Aloe plants growing here make for a beautiful evening ritual for guests sunbathing through the day. The picturesque Mobor Beach is a coveted location for the beautiful resort and periodic, daily beach clean-ups ensure that the place retains its un-spoilt character.
The St. Regis Goa Resort is an emerald green oasis and its quiet, nurturing spirit has allowed for a harmonious blend
of life to co-exist and thrive. These green initiatives are not just cosmetic but inherent in the mindset of the teams and therefore, continue to be the resort's quiet force and strength.
Visit The St. Regis Goa Resort, for more information