Antonio@31, situated in Goa's colourful lanes boasts of memorable cocktails, vibrant music and a menu with a refreshing spin on the recipes of yore, writes SYBIL RODRIGUES
If there is one thing that Goa's Latin quarters is known for apart from its pretty houses, it is the mushrooming of eateries in all its little lanes. Antonio @31 with its rainbow coloured shutter is no exception with its reverberating latin music, crowded community tables, the tavern is a throwback to what the Panjim of old used to be.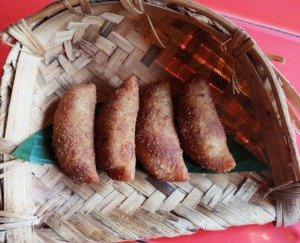 Chef Pablo Miranda's eatery situated on Panjim's 31st January Road, which was once the commercial street of Panjim, was started off as a cloud kitchen during the pandemic. A passion project borne out of the dedication to local flavours both, in small plate style food (TAPAS) and drinks (COPOS). I dragged my partner in crime, Keegan on a hot August afternoon to this pretty little eatery with its un-missable canopy of candy-coloured party streamers.
Their cocktail menu has drinks like Smoked Pineapple Margarita, Urrak and Kokum, Guava Chilli, Feni Mule, Fontainhas G&T while their in-house infusions boasts of names like the Butterfly Pea Tea Gin, Whiskey Cigar and Cinnamon Gin to name a few.
We tried the Feni Mule which was a mix of Goa's famous Cashew Feni, Ginger Ale, mint and bitters and gives one a heady feeling. The Guava Chilli is a concoction of Vodka, guava juice, lime and chilli whose spicy notes hit all the right spots on one's palate.
Apart from their cocktails they have wines, whiskey, single malts, gin, rum, brandy, Feni, shooters, beers and mixers.
Their Tapas menu is pretty extensive and has delightful names like Mushroom Mardol Bunny Chicken (Mushrooms cooked in coconut milk and Goan spices), Bingtakar (Boiled whole peanuts), Stir fried Sannas (in a sorpotel glaze), Prawn Bhel (Miraman bhel with crispy baby shrimp), Truffle mushroom Rissois (Mushroom empanadas with truffle oil), Stuffed Squids (Baby Calamari stuffed with recheado prawns), Butta (Char grilled ribs of corn with a side of chilli aioli), Banana Leaf wrapped Black Emperor (Fish marinated in Sri Lankan black pepper sauce), Cafreal Squid, Aad Maas OssoBucco (15 hour sous vide ossobucco with Goan spices and red wine jus), Pork Ribs (in tamarind old monk glaze spicy slaw) and Beef Tongue (salted beef tongue, with mustard and greens).
We had the truffle mushrooms, butta and stuffed squids. Every bite of the truffle mushrooms were a delight while the butta, a vegetarian option to the famous pork ribs, served charred with a side of chilli aioli was a delightful surprise. The stuffed squids were packed with recheado prawns and the filling with the right amount of masala was lip-smacking.
We then decided to try the beef tongue which was thin slivers of salted beef tongue with mustards and greens. A little chewy the salty notes made the perfect accompaniment to the Feni mule.
Their dessert menu is small but has interesting choices like the Biscuit Cake (chocolate mix with orange and cashew nuts), Carrot Cake with cream cheese frosting and the Pinacolada which is a coconut panacotta topped with smoked pineapple, coconut crumb and rum syrup. We tried the biscuit cake and pinacolada. While the Biscuit cake was crunchy with the perfect amount of chocolate and cashew nuts; the pinacolada tops the list of desserts. The creamy panacotta with its coconut crumb base topped with smoked pineapple makes for a scrumptious finale. Every bite of this creamy creation was gorgeous with the smoked pineapple balancing it out perfectly.
In the old days, the small bars and eateries were the perfect place to gather with old friends and make new ones. To hear popular phrases like 'Bossuya mare?' (Let's hang) or 'coppak kenna bossuya?' (When can we sit for a drink), in the days of yore was not uncommon. Antonio's was built with such aspirations in mind. Do step in for a drink and staples of Goan cuisine extended into experimental territory with mouth-watering results. It is just what you need after a hot day of walking and posing (for the insta influencers) in this delightful neighbourhood