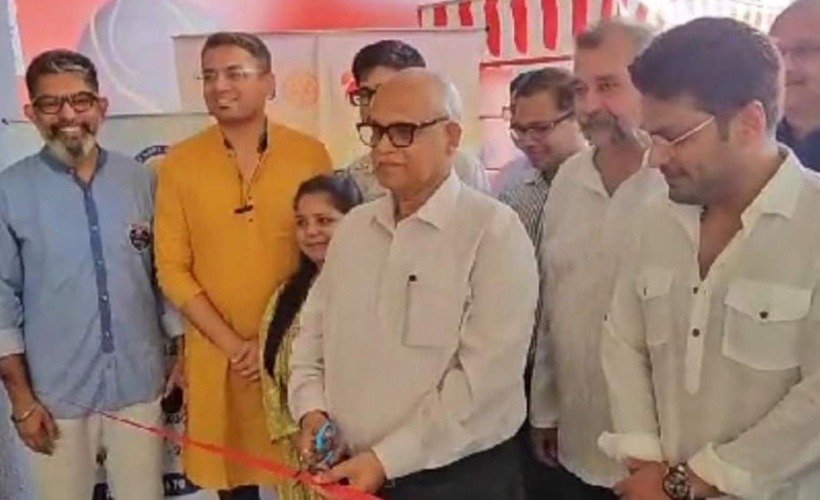 The Rotary Clubs of Margao and Dona Paula have joined hands to present 'Save Our Looms', a remarkable pop-up flea market aimed at preserving and celebrating traditional craftsmanship. This unique event, held in association with venue partner Umiya Mercado, took place on Sunday, 3rd September, in Margao. The inauguration of 'Save Our Looms' was graced by Digambar Kamat, Margao MLA and Former Chief Minister of Goa, who lauded the Rotary Clubs' collective efforts in supporting local artisans and preserving the cultural heritage of Goa. Among the esteemed guests present were Chirag Naik, President of the Rotary Club of Margao, and Rajesh Kakodkar, Secretary of the Rotary Club of Margao. "Their presence underscored the collaborative spirit between our two Rotary Clubs and their shared commitment to community development and cultural preservation" – said CA Gaurav Kenkre, President of Rotary Club of Dona Paula.
Viresh Vazirani, Vocational Director of the Rotary Club of Dona Paula, Atithi Gupta Dalvi, Treasurer, and Saurabh Dalvi, Literacy Chair, were also in attendance, representing the Rotary Club of Dona Paula. Their dedication and passion for making a difference in the community were evident throughout the event.
The 'Save Our Looms' pop-up flea market offered attendees a chance to connect with local weavers and artisans while indulging in a delightful shopping experience. It was also a platform for the Gujarati Samaj School for Special Children, who showcased their unique products and talents, fostering inclusivity and community engagement.
'Save Our Looms' is more than just a market; it is a movement. Every purchase made during the event directly supports local weavers and artisans, ensuring the continuity of their traditional practices and livelihoods. "We are thrilled to have united with the Rotary Club of Margao to bring 'Save Our Looms' to Margao, and we are grateful for the support of our distinguished guests, including Digambar Kamat," said Viresh Vazirani "We extend our heartfelt thanks to Umiya Mercado for being our venue partner and to the Gujarati Samaj School for Special Children for their inspiring participation. Together, we are weaving a brighter future for our artisans and preserving the essence of our culture."