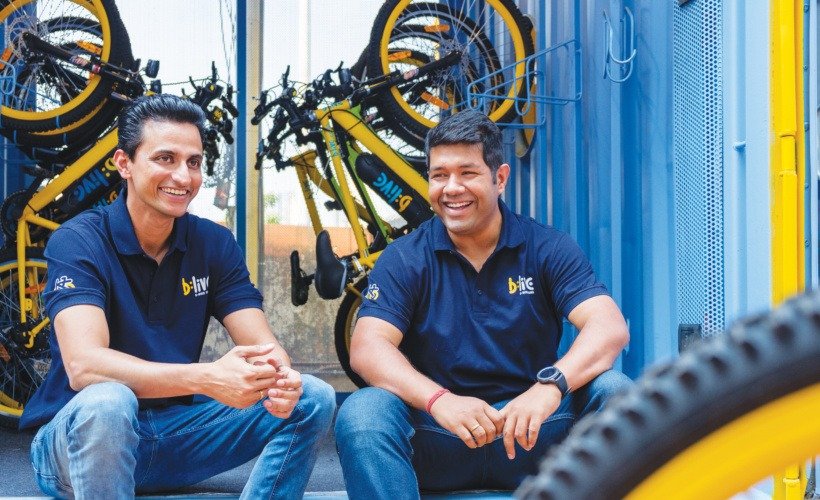 Sandeep Mukherjee and Samarth Kholkar have gone on to revolutionise the EV space with BLive in order to encourage sustainable mobility in India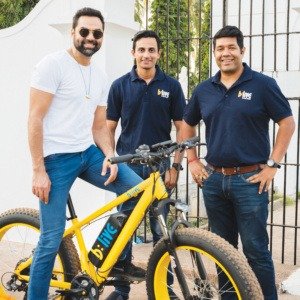 The story of BLive started way back in 2018 when two friends, Samarth Kholkar and Sandeep Mukherjee decided to build an organisation which would encourage the adoption of sustainable mobility in India.  It began with a purpose, to create a cleaner future by driving adoption of EVs through awareness, accessibility and affordability!
Friends for over two decades, the duo met in Pune during their pre-MBA days. Through the years they have known each other, they would always evaluate ideas which would deliver impact and often connected over the same. After Sandeep returned to India post his stint with Nokia in Finland, he and Samarth connected over the concern of increasing pollution across India and the impact it had on even small places like Goa (Samarth's hometown) and Jamshedpur (Sandeep's hometown). Through his time in Finland, Sandeep had seen a mature ecosystem of EVs. This gave birth to the idea of BLive, India's first multi-brand omnichannel EV platform. BLive is a proud Born-in-Goa startup. It is founded and headquartered in Goa with a second office now in Bangalore and the company has a presence in over 15 cities in India.
Samarth is a Goan brought up in Ribander and studied at People's High School. He has a Bachelor of Engineering degree from Pune University and an MBA from Goa Institute of Management. Prior to founding BLive, Samarth led multiple businesses through his decade-long career at IBM including being the founding team member of IBM India's Cloud Business. He also worked with Mojo Hospitality, in the challenging F&B industry, wherein he led a chain of outlets across 4 cities. Samarth is a first-generation entrepreneur like his elder brother, Tanmay Kholkar who is the founder of Manas Developers. His father Ulhas Kholkar, was a lifetime banker with Syndicate Bank and mother Bhavana was a school teacher.
Sandeep has completed his Post Graduation in Marketing from SCHMRD, and has been a marketing professional for over 13 years, having worked with companies like Nokia, Microsoft, and SABMiller. Sandeep spent his early childhood in Jamshedpur where his father Samir Mukherjee served with Tata Steel and his mother Seema Mukherjee is a homemaker. Sandeep then pursued higher education in Pune. As part of Nokia's marketing team, he was a key member of multiple initiatives including IPL. He was part of the Global Marketing team in Finland before he returned to India to partner with Samarth to co-found BLive.
Through their friendship, they had always discussed the prospects of creating an enterprise which will not just deliver business results but also create a positive impact on society. Both felt EVs can be the right sustainable form of mobility that India would need and benefit from. EVs in India in comparison to Europe were fairly a new concept in 2018 and there was lack of information and awareness. Additionally, the rising pollution in India and its impact were a constant cause of worry. When the duo began to research more, they realised there were 3 key problems from day one – lack of awareness, accessibility and affordability of EVs which create a barrier for adoption of EVs and they set about addressing the same.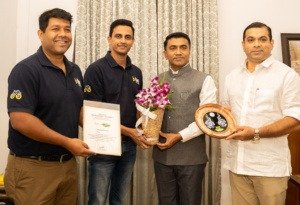 BLive is a short for BE ALIVE. When the founders saw the impact of pollution across India and how EVs can actually offer a new lease of life to the environment, they realized that non-polluting EVs can make our cities and its people feel ALIVE once again. And BLive chose to do just that while making each EV user and every Indian city feel and Be Alive again!
Speaking on the mission of BLive, the duo says that their mission and vision is to see an EV in each home. "Our efforts are dedicated in that direction as we onboard new partners and expand our services to accelerate the adoption of EVs in India. BLive is a one stop shop for not just finding EVs but also understanding and deciding which EV suits you better. We try to help our customers throughout the process of creating awareness, consideration, purchase, service and loyalty. We understand that the EV technology is fairly new in the country and people have a lot of questions and BLive is here to answer all of their questions by providing information and solutions," says Samarth.
BLive started off with their EV tours with an aim to create awareness about e-bikes while offering an offbeat experience on electric cycles. In 2018, people did not have much knowledge of electric vehicles and hardly any people had experienced them. The duo felt that tourism would be a great way to showcase the same. They have a 20-year exclusive contract with GTDC, as their official EV Tourism Partner, which helped them launch their tourism venture in Goa. Goa being a tourist destination, sees a lot of influx of tourists during peak season. This makes the destination a hotspot for increase in CO2 emission, but also a place where people are willing to try out new things. Hence, the Goa government decided to capitalise on the idea to find a solution to the problem of CO2 emission by associating with us. They gained immense popularity since it was the first EV tourism initiative in India. BLive E-Bike tours is in various locations around India such as Coorg, Madikeri, Pondicherry, Ooty and Goa. BLive tours offer an immersive experience into the local culture and life of these locations while enjoying the ease of riding an ebike.  So far they have conducted over 30000 EV tours.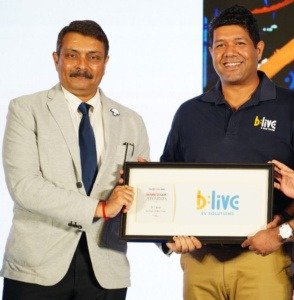 Both Samarth and Sandeep were clear from day one that the company would be headquartered in Goa, as it presented a great ecosystem of talent and industry. The Goa Startup Policy had also just been launched under the leadership of former CM late Manohar Parrikar and Rohan Khaunte, IT Minister, giving a tremendous opportunity for startups like BLive to set up base in Goa.
BLive is one of the first certified startups under the Startup Policy of Goa. When BLive began its journey, they presented their business plan to Goa's leading industrialists Shrinivas Dempo and Shivanand Salgaocar. Both appreciated the vision and came on board as angel investors. "For BLive, there could have been no better place than Goa to begin our journey. We had seasoned professionals like Vijay Hede who gave us guidance while setting up the business and then mentors like Rajesh Khaunte and N. Sriram, who have coached us through this unique entrepreneurial journey of ours. And of course, we had Tanmay who was our in-house guru to lend his guidance and experience all the time," says Sandeep.
In the last few months, BLive has raised pre-series A funding from a clutch of marquee investors and angel networks like Mumbai Angels, LetsVenture and Others. DNA Entertainment is also one of the key investors of the pre-series A round.
BLive today offers a single EV platform for individuals and enterprises and is a one stop shop for all EV solutions. It is a unique 'Experience to Commerce' platform helping customers adopt sustainable mobility solutions (electric vehicles). BLive, on its platform offers, Electric 2 Wheelers, Electric 3 Wheelers, charging infrastructure, EV finance, insurance, EV Fleet Management Services, EV Roadside Assistance and other services – all on one platform. BLive is India's first omnichannel multi-brand EV platform with a digital store and with multiple Experience Stores across India.
BLive is addressing the challenges of lack of  awareness, accessibility and affordability of EVs by offering consumers a choice of EVs, expertise and ease of ownership. A BLive customer in his or her buying journey is offered multiple brands of EVs, BLive EV Experts to guide through the purchase and varied options of ownership through loans, subscription, lease etc. BLive brings together the entire EV ecosystem of manufacturers, finance partners and service partners on one platform to offer the same.
Since BLive started in December 2018, there has been a constant effort towards creating awareness about electric vehicles with EV Tourism. Due to the pandemic, this initiative was severely impacted. But it gave the duo an opportunity to build the BLive platform, where they offer Electric 2 Wheelers, Electric 3 Wheelers, Charging Infrastructure, EV Finance, Insurance, and EV Fleet Management Services, all under one umbrella. Post pandemic, they also launched their first offline Multi-brand EV Experience store and have received great demand for the same from EV enthusiasts who are their franchise partners. "The challenges of a new category persist and so do the challenges of a Multi Brand platform as none existed ever before in the automotive industry. But our customers love what we offer which is one platform to discover, experience and own an EV and that keeps us going," adds the duo.
Being a new and ever evolving category, EV education is extremely important. BLive understood this early on and started developing training modules for their team. "There are two types of training: Technical and Non Technical. All BLive team members have to undergo the same. Similarly, when a BLive Experience Store is slated to open, we begin training the on-ground team almost a month prior on various aspects. This includes product training, service training and also maintaining hygiene both in store and once a customer buys the product. This is very important as we are seeing few cases of battery overcharging etc leading to untoward incidents. Even post the opening, we conduct regular online and offline training which helps our team to remain updated about new technologies and also helps reiterate the basic details," the duo adds.
BLive, through the last 4 years, has developed a strong pool of EV experts. Their EV expert team comprises industry veterans as well as young engineers with a keen interest in EV Tech. These experts primarily address 3 key areas – build rich and easy to understand content for EV consumers, guide the online customer through the buying process; and train the EV Experience Store teams to give the best experience to the store customers.
BLive works in the segment of creating awareness, accessibility and ensuring affordability of electric vehicles in India. Since the EV market is very nascent and individuals as well as enterprises are still adopting the technology, the target audience for BLive is very huge. "If we look at the India 2Wheeler market, India sells about 2.2 Cr units every year. EVs are about 1%, our presence in the tourism sector and online and offline commerce avenues make all of India our target audience. We are focussed massively on Tier 2 and Tier 3 cities where we feel the real India growth story for EVs exists. Enterprises across India have been reaching out to us to help them electrify their fleet and also help their employees' transition to electric," says Sandeep.
BLive operates as a platform for the entire EV ecosystem partners from manufacturers, charging companies, EV Tech providers, accessories, finance and insurance. When a customer buys at BLive, he gets choice, expertise and ease of ownership. BLive earns revenue from every sale that happens on the platform. The BLive EV Experience Stores work on a franchise model to deliver the best EV experience to the customer, where they can experience the EVs and then purchase the same at the best price and after sales support.
The duo explains the technology behind BLive. "We have built a strong platform which is a click to brick model. The entire consumer journey from discovery to education to experience to owning is kept on the digital platform. We are also launching an EV lifecycle app which will be AI-enabled to capture the usage, battery life and also provide the user access to charging and service. At the stores we have extended the platform which helps the store staff to give the best experience to the customers who walk in. There is a strong Dealer Management system and CRM which is integrated with the platform."
BLive addresses the needs of the B2B and B2C customers to address their EV requirements. Their online platform helps consumers pick the right EV and get it delivered to their homes or they can pick it from the nearest EV Store. Similarly, enterprises look to either electrify their delivery fleet or want to offer their employees EVs to achieve their goal of driving clean mobility. They help such enterprises to put the entire end-to-end EV solution together. To name a few: Magsons, Heritage Village Club, Salarpuria Sattva, Wellness Forever, FAE Bikes and Club Mahindra are some of the clients to whom they have provided these solutions.
Blive currently has over 50+ brands on board including e-bikes, e-scooter and 3 wheeler, Insurance and Finance options and electric cycles. Their e-bike partners are Epick, Svitch, Hero Lectro, Motovolt, Coppernicus, Nexzu, Falidae, E-Motorad and Tata strider. Their 2 wheeler partners are Kinetic Green, Gemopai, Detel, LML, Hayasa Mobility, Battre, Ampere, Hero Electric, Evminda, Esprinto, Cosbike, Techo Electra, Jitendra EV, Ather, Miracle, Boom Motors, Bgauss, Crayon Motors, Odyssy, Evtric, and Dexpress. Their 3 wheeler partners are Euler, Omega Seiki, Mahindra electric, Save electric and Piaggio.
All the brands mentioned above are available on their online platform. Apart from that, they have almost 15+ BLive EV experience stores are present in various states across India – Maharashtra, Telangana (Hyderabad), West Bengal, Goa, Karnataka and Rajasthan. The South Goa store was recently launched in Arlem and is already seeing brisk sales.
They have partnered with financial institutions like IDFC, Kotak, Bajaj Finserv, HDFC, ICICI, Zest, Pine labs, Loan Tap, and Mannapura while their insurance partners are Reliance, Kotak, Go Digit and HDFC Ergo.
The duo elaborates on tying up with different brands. "Being a digital-first platform, brands are always looking forward to connect with us as they understand the reach that an online platform offers. To add to that, we also have BLive Experience Stores, currently across 15+ locations in India, this gives an additional benefit to our partners. We are also a one stop shop for EVs, which brings all different brands and services under one roof – making it a go-to place for customers. Since this, an omnichannel multi-brand platform, is a first of its kind initiative in the Indian automotive industry, initially the brands were apprehensive. But when they saw the quality of the experience that BLive was delivering, their confidence in us grew," says Samarth.
BLive goes on to list out their USPs over that of their competitors. "We have a wide choice of brands – online and instore, we have exclusive offers that help customers save around 2- 5k along with EV expert's advice to guide the customers to choose the right product. Apart from, this our premium experience stores offer the best ambience while our easy finance deals and EMIs make EVs affordable as easy to own. Also, we have EV Solutions like EV Chargers, accessories to ensure the use is hassle free."
Like all other businesses, BLive had their fair share of challenges especially when it came to Covid. "Covid was a great course correction to our business. It gave us an opportunity to go back to the drawing board and see how we can drive more impact. That's where we decided to don the role of the EV Expert and help intenders turn to EV users."
The BLive team has been setting up BLive multi-brand Experience Stores all over the country. "The idea of BLive Multi-brand Experience stores is to ensure ease of accessibility for consumers intending to purchase an EV. Being a new category, while customers need the touch and feel, they also need to be handled by an EV Expert through their buying journey.  We wish to offer our customers an experience of the EV and the privilege to make an informed decision with multi-brand options to explore under one roof. We have over 15 stores currently across various states such as Goa, Maharashtra, Hyderabad, Kerala and Karnataka and we aim at opening 100 stores by 2023."
Samarth and Sandeep see Goa as a great place to be the 'EV Capital' of the country as it offers unique EV opportunities which no other place does. "Goa has a huge number of 2W population which are used by individuals as well as in the tourism sector, through rentals. We want to enable the same to go electric by launching a complete EV ecosystem battery swapping network which will take away any range anxiety. Similarly, we want to also engage with enterprises who would want to switch to electric for their logistics or in campus mobility. Another interesting use case is the rise of electric boats across the globe. We are in talks with international players to launch the same in India with us. We can't think of a better place than Goa to do the same."
In a short span, BLive has won numerous national and international awards. It has been the recipient of Gold Award Outlook Traveler 'Sustainable Leadership: Travel Enterprises'. It has been a finalist at the National Startup awards. It is also the only Indian enterprise to be a Distinguished Member of GCUK (Green Cross UK) which was founded by Nobel Laureate Mikhail Gorbachev. BLive was also awarded at India's 'Top-15' Trailblazers by Travel & Leisure Asia.
BLive has been at the forefront of leading dialogue on 'Sustainability' and has led multiple such initiatives in Goa. They have conducted numerous beach clean-ups and brought Adidas 'Run for the Oceans' initiative to India. They launched a unique initiative called H.O.P.E (Humans of Planet Earth) to appreciate efforts of individuals towards saving the environment. Actor, Abhay Deol was the first ambassador of the same.
On the personal front, Samarth is married to Navreet who is an HR Professional at Intuit India and they have a son, Rivaan. Sandeep is married to Rituparna who is an independent HR consultant, and they have a son, Ujaan. Both emphatically acknowledge the support and encouragement that they receive from their families, which push them to do better.
Speaking on their future plans, the duo says they have unique projects in the pipeline. "When it comes to our Funding Plans we plan to raise our Series A in the next 2-3 months, and as far as expansion plans are concerned we are planning to open 50 new EV Experience Stores by the end of 2022. Regarding our product portfolio, we plan to introduce some unique experiences to make the EV buying experience more immersive. We plan to continue being the biggest EV platform. We are adding more e3Ws, charging partners, and finance partners on a daily basis. We should have at least 100 partners by the end of the year on our platform. We have been doubling our sales on a monthly basis consistently. Plan to create 5000 new EV users by the end of this FY. In the next 5 years, one in every ten EVs in India will be sold on BLive EV platform," says Sandeep and Samarth with a glint of promise and pride
BLive's first EV multi-brand store opens in Goa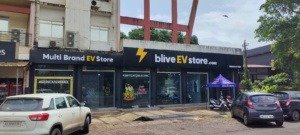 BLive has opened its first multi-brand experience store in Arlem, Margao. Former Chief Minister and MLA of Margao, Digambar Kamat, was in attendance for the store's inauguration.
Key brands such as Kinetic Green, Hero Lectro, LML – Detel, Batt:RE Gemopai, Techo Electra, E-Motorad, and others are currently available in all BLive store locations. Customers can experience the latest Batt:RE store in stores which is the most awaited high-speed EV with stylish looks. This smart and innovative e-bike is the first of its kind in the Batt:RE range.
Samarth Kholkar, CEO and co-founder of BLive, said "We are excited to launch our first store in Goa which allows our customers to 'try and buy' EVs, experience home demos and avail great offers with easy finance options. We are looking to setup 3-4 more franchisee stores across Goa to educate and enable ownership of electric vehicles."
With this new store in Goa, BLive is bringing clean tech closer to customers, thus joining the global vision of bringing down carbon emissions to zero. The store is not only going to give the customers a hands-on EV experience but a variety of brands and designs of vehicles to choose from at their convenience. The new location will include an in-store quick service kiosk, battery swapping facilities, and EV charging infrastructure. It will also serve as the brand's customer experience center. In addition to these amenities, the store will also provide extensive after-sales EV care experience, including roadside assistance, easy finance options, comprehensive service packages, and e-mobility spare parts. Through the experience stores, BLive brings the unique 'phygital' experience to help consumers experience EVs and understand EVs before purchase.
Commenting on the launch, Digambar Kamat, said, "The opening of this new BLive multi-brand store is a proud declaration of our commitment to lowering national carbon emissions and moving toward a more sustainable future. Goa, with its high literacy rate, diverse population, and its gradual steps toward becoming the tourism capital of India, is an ideal location to generate more interest in adopting EV as an alternate mode of transportation."
Sandeep Mukherjee, co-founder of Blive added, "While EVs are gaining momentum, there is apprehension due to a lack of information amongst consumers. We aim to bridge this gap by providing the consumers with a holistic 'touch and try' experience and allay any apprehensions about switching to electric. With every store that we open, we are taking a step closer to our mission of: EV in every home in India."
Persevering with the idea of a sustainable nation, BLive has opened 20 EV stores throughout the country and the brand further aims to make sustainable transportation accessible to all