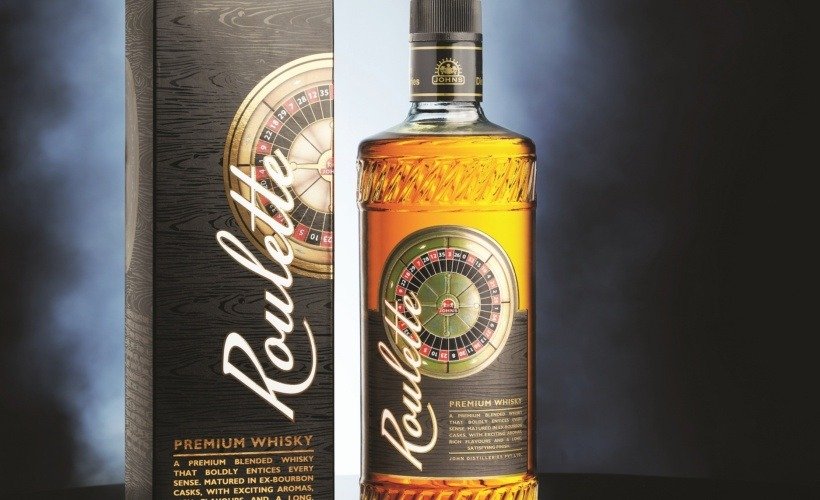 John Distilleries launches Roulette Premium Whisky in the Indian alco-bev premium IMFL segment
Makers of Original Choice, one of the largest selling whisky brands in the world, and of the internationally acclaimed Paul John Indian Single Malts, John Distilleries has now ventured into the premium IMFL segment with Roulette Premium Whisky.
Bottled at 42.8% ABV, Roulette whisky is a blended whisky of high quality Indian grain matured in exbourbon casks, and a balanced blend of peated and unpeated malt spirit to enhance the drinking experience of consumers seeking premium and memorable experiences.
With rich fruity aromas, deep flavours of vibrant fruit, hints of smoke and a lingering creamy finish, Roulette whisky is now available in Goa in 750ml and 180ml, and will soon be available across Telangana, Maharashtra, Haryana and Karnataka, as well. "We wanted to introduce a whisky that was a true game-changer, to the popular premium blended whisky segment in India. Roulette whisky is completely different from other whiskies in its segment, and offers flavours that are unheard unseen and untasted in this category," says Paul P John, Chairman, John Distilleries.
Established in 1996, under the guidance of Paul P John, John Distilleries grew to be a leading spirit company in less than a decade, not just in India but also across the globe. With a dedicated team of nearly 2000 employees working across 10 manufacturing units spread over seven states across India, John Distilleries has a strong portfolio of brands in various liquor categories including whiskies, brandy, and wines.
The flagship brand of the company is 'Original Choice', one of the top selling brands in India's popular whisky segment and one of the top 10 selling whiskies in the world with sales exceeding 11 million cases a year.
Other brands owned by the company include Mont Castle and Roulette brandy, Big Banyan, Ampersand and L'angoor wines, and the globally renowned, award winning Paul John Single Malts.