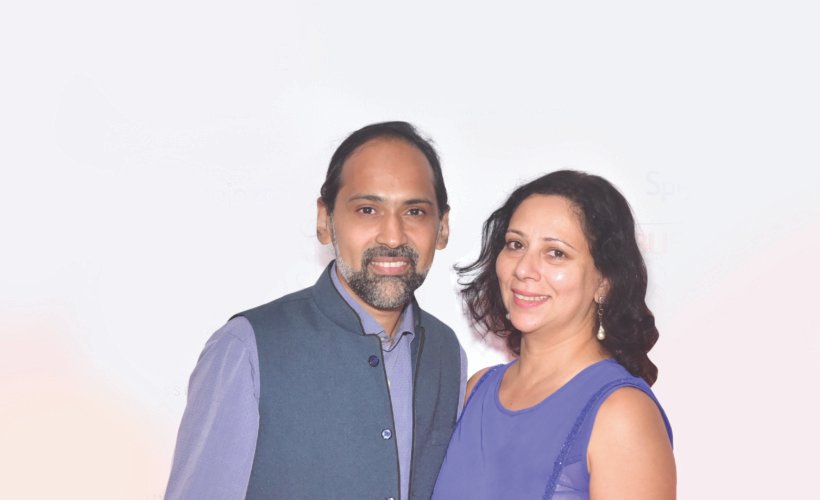 Rina Barreto Shankar along with Shankar Ramachandran elaborate on Cheree Tree Concepts and working together by combining a skill set with a market need, to serve and deliver value to clients.
When Rina Barreto Shankar got back to her home state of Goa in 2014 after 15 years in Mumbai, the promise of being an entrepreneur loomed large and tempting. Three years later and metaphorically many years wiser, after closing down her very promising but untenable playschool business in Colva, Rina was at a crossroad. Multi-passionate though she was, it was a moment of truth – that required her to pick her next business.
"Well into my forties, I was not really a budding youngster in the grove of entrepreneurship," Rina says with a chuckle. "It was important to choose well. I decided to go back to my focus area; my strength for the past 2 decades. What had taken me to the great city of Mumbai and kept me there; branding and marketing communication!"
Startup Rooting Stage
Thus, she started Cheree Tree Concepts. It was created as a branding agency; purposefully crafted to cater to the requirements of startups. Design, brand assets, and marketing collateral were what the business specialised in. Goa's fledgling startup ecosystem was the perfect marketplace for her to create early success. Some small adaptations were made to the model to incorporate startup requirements like website design and content, pitch decks, go-to-market strategies, etc. These were what startup clients needed and the company – with a growing network of connections in Goa – was able to connect those dots. Early in the journey, the lesson was learned that expanding the service bouquet to fulfill each client's unique brand growth needs was the way ahead. The strategy was rewarded with loyalty, referrals, reputation building, and revenues.
Finding wings
By 2019, the business was self-sustaining and generating surpluses. Clients require diverse services from a brand agency. Websites, content, collaterals, design, 30 sec pitches, communication crafting; even radio scripts, hoardings, newspaper ads, and magazine articles. For a boot-strapped startup, it was impractical to hire/in- source, for all these resource requirements. Cheree Tree Concepts played the inspired move of having resources on board – but remote and not full-time. Leveraging the gig economy youngsters, Rina developed this model as a differentiator – it helped with great economies and diversity in services to clients. It also helped the business use the services of experts, who were otherwise unemployable for a startup.
In 2020, with the rest of the world, online/digital opportunities started kicking in. Cheree Tree Concepts, already well-oiled with the remote working model wasbrilliantly poised to capitalise. While digital had not been the strength thus far, this is what clients now required and Rina was again happy to be led by the market. New skill-sets were developed. Online prowess was acquired. The remote resource pool was a huge strength.
"We had 20-year-old stable businesses that were suddenly required to go online 100%. They relied on us to help them with this journey; resulting in a tremendous trust factor," says Rina. Once again, feeding off the ecosystem requirement had helped the business to repurpose and grow stronger. While digital was now booming, the classical design strengths continued to be leveraged.
Soaring Higher: Adding Business Growth to Brand
2022-23 has seen another stage in the evolution of the business. Shankar Ramachandran, a product and proposition expert joined the business. His repertoire included strategy, proposition management and people development and this complemented what Cheree Tree Concepts had already built. Rina realised local, national, and global businesses were seeking different areas of expertise. Metaphorically a pot rice – perfectly blended to deliver value. Brand management coupled with business growth added a newer dimension to the business – and added tremendous value to businesses. Shankar with his two decades of experience in banking, investments, and insurance, is also a wealth expert. He advises his business clients on areas of personal finance management and wealth creation. "Entrepreneurs typically are so consumed with making the business tick, that all surpluses are plowed back into the business and the entrepreneur does not see himself as a resource who needs to be paid for his time and efforts – apart from the business profits." This is the realisation that Shankar now brings to his clients as he helps them with a wealth creation mindset. Again we see combining a skill set with a market need to serve and deliver value to clients. "It was indeed a Better Together phase in our busines," says Rina.
Today, Rina is seamlessly able to combine this set of expertise with her communication mastery coaching and personal branding propositions to deliver unique value to professionals, businesses, startup founders and leaders.
Rina adds "I strongly believe that our company has grown by experiencing the Better Together. While we provide a service to clients, they have added hugely to our knowledge – the areas that they ask our help on, we now adopt for our own brand and business growth – from building a coaching vertical to train and groom entrepreneurship among women and youth, to working on our own social media presence and content creation. It is a wonderful relationship as we along with our clients build something to be proud of "
Quoting a business growth concept, Rina suggests that classically there are 2 models to growing a venture:
Spiral Growth: where we identify the core strength of the business and then gradually and surely build around it.
Viral Growth: where pockets of opportunity are seen and served, and the business strategy is developed in this viral manner.
Rina attributes their growth to a mix of both these models. Building on the core of brand management but constantly repurposing virally to serve client requirements. Shankar says "We started with three main areas within brand management. But clients took us to 30 more areas virally. We followed swiftly and nimbly; and TOGETHER with client segments and service segments, the business has been able to move FURTHER."
Today, Cheree Tree Concepts has a Communication Coaching and Personal Branding Studio that
helps leaders, professionals, businesses, and founders to increase their impact and influence.