BNI offers its members opportunities to network, share contacts; besides giving and gaining business referrals
PARAG LOLIYENKAR – ARCHITECT OF MISSION TEJAS
The year 2022 saw BNI starting the in-person meetings after a long period of online meetings due to the pandemic. Deputy Area Director Parag Loliyenkar who was keen in catapulting BNI Goa into the next trajectory, did not waste any time. He went through specialised national trainings, discussed with mentor Ayush Bansal and immediately put into Operation MISSION TEJAS aimed at hitting substantial growth on membership and business growth.
More than 70 members volunteered for the mission. Formation of seven teams at regional level, coffee meetings by each of the teams, identifying vacancies in different chapters, and inducting into the right chapter followed. The systematic daily huddle – inspiring and monitoring the inductions in each group was a mind-blowing effort.
And what an achievement…
Against 2021-22 the year 2022-23, saw net growth of new members cross 250 plus and business of 351 crores, nearly 45% increase in member growth and 68% in business growth. A remarkable feat which unveiled the extremely result oriented leadership of Parag Loliyenkar, the architect of MISSION TEJAS, which has transformed BNI Goa completely; as he takes on his role as Area Director Operations for the region. BNI Goa is destined to create history on the entrepreneurial growth front through his incredible leadership.
EMERGING MINDS ACADEMY
EMERGING MINDS ACADEMY, GOA – SUSHANT M. SURLAKAR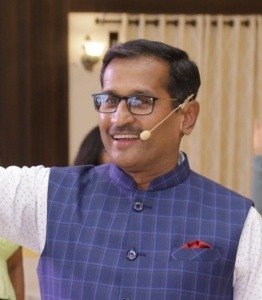 Personality development is a process of developing and enhancing one's personality. It helps an individual gain confidence and high self-esteem. It is said to have a positive impact on one's communication skills and the way s/he sees the world.
The key to success in an organisation is team work and leadership skills. It is team work that has the ultimate advantage because it is powerful and rare. Team building helps you to build relationships and emerge over time.
At Emerging Minds Academy they help one guide, motivate, enhance, develop, gain confidence, build self-esteem, polish and garnish an employer's /employee's communication skills so as to keep them happy, loyal to the company, committed to a job, increase productivity, maximise their value, self-improvement, create a vision, develop a plan, improve work ethics, track your progress and more.
Apart from their communication skills, their personality development also influences many other areas of our lives like time management skills, presentation skills, decision making skills, etc. Therefore, it is important that we invest time in personality development training programs which can give deeper insights into our personalities and open doors for making appropriate changes.
Most importantly, personality development trainings also give us an opportunity to work on and change our inner qualities. Factors like our attitude, motivation, fears, and complexes which directly and indirectly affect our lives all form our inner world. The fact is, not everyone is born with a positive attitude, healthy self-esteem, and confident personality. But there are areas that can be worked upon and enhanced. That's exactly why so many organisations are arranging corporate personality development trainings for their employees.
The goal of learning and development is to align employee goals and performance with that of the organisation. Those responsible for learning and development within an organisation must identify skill gaps among employees and teams then develop and deliver training to bridge those gaps. Corporate training is the process of training employees through a system of activities that educate employees by using various forms of learning programs. It acts as a catalyst to success for employees, which, in turn, means the success of your business/organisation as a whole. It is the strategy of providing stakeholders with the skills and knowledge they need to be successful.
Subsequently, their success contributes to the success of the organisation. A personal development day is a tool you can use to embrace a learning culture. At Emerging Minds Academy, they cater to your needs and are committed in providing you with your overall usability in the best of the employees capabilities.
From being combat officers in the Indian Navy to becoming entrepreneurs
Cdr Skandan Warrier outlines his journey from an officer in the navy to becoming an entrepreneur and part of BNI Goa
That one-liner describes our journey of founding and running a successful business, of scuba diving adventure sports training, after 20+ years of being in uniform. It is not an easy shift and there is of course a lot to adapt to after hanging up the uniform and returning the keys to the armory!
That's where becoming a member of BNI made a world of difference to me. I attended one meeting as a visitor in September 2018 and it was 'hook line and sinker' for me. Why is the obvious question in the mind of the reader and the answer, in the most simplistic way, is that there is nothing quite like BNI anywhere else. A structured, measurable, goal-oriented method of creating, growing and then using a very effective business network, to develop and grow one's business. It has been 5 years in BNI for me and it has been a great journey of business as well as personal growth.
Scuba Evolution India is Goa's only PADI 5-Star, Instructor Development Dive Resort and Tec Diving school, and India's only ISO-certified diving company
Today I am part of the regional team of BNI Goa; I am supporting another chapter and managing the regional training team. And if there is one thing that I can call my favourite aspect of being in BNI is the continuous education. This continuous education aligns perfectly with my business too, as scuba diving (the sport) and Scuba Evolution India (my company) are also about the continuity of learning. In today's world of business, if one is not learning and growing constantly, one will be out of business soon.
The BNI system is based on referral marketing and that means it is about people and so is scuba diving. BNI has helped me enhance my own and my company's visibility and credibility, not just in India, but globally and that allows me to align my membership with my business as that is also very much global. Scuba Evolution India is Goa's only PADI 5-Star, Instructor Development Dive Resort and Tec Diving school, and India's only ISO-certified diving company. BNI is truly changing the way the world does business.