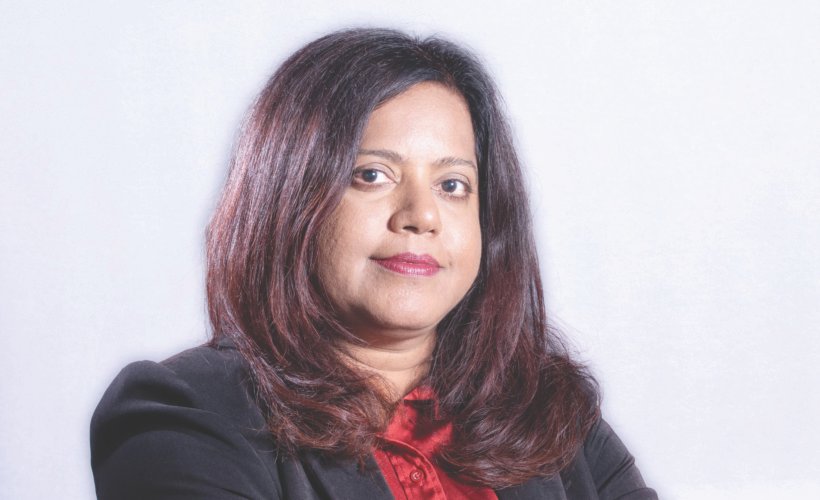 BNI offers its members opportunities to network, share contacts; besides giving and gaining business referrals
MAKING A SPLASH
With over 22 years of expertise, Alpha Aqua Pools and Spa Pvt. Ltd. has earned a reputation as the foremost professional pool building and consultancy company in Goa. Their exquisite pools have adorned the finest residences and establishments across the region. Alpha Aqua's skilled design and build team, backed by decades of experience, can bring any pool vision to life, whether it is a lavish resort-style pool or a timeless and elegant design. They collaborate closely with clients, transforming spaces into luxurious oases that evoke a vacation-like ambience every day. Their unwavering commitment to excellence and attention to detail has made them the preferred choice for individuals seeking a customized, unparalleled pool experience.
As a member of BNI for the past 9 years, Diana, representing Alpha Aqua, attests that BNI has been instrumental in accelerating their business growth. She has not only excelled in various leadership roles but has also received numerous excellence awards, including the prestigious 'Best Director Award' for Goa at the national level. At Alpha Aqua, the customer always comes first. Their central working culture revolves around a 'customer-first' approach. With a steadfast commitment to delivering exceptional craftsmanship, their goal is to provide a truly personalised and unmatched experience, constructing pools that flawlessly reflect each client's unique style and preferences.
Offering comprehensive services that encompass every aspect of pools and spas, Alpha Aqua leaves no stone unturned in their pursuit of unrivaled magnificence. Their perfectionism and pride in their work ensure that clients receive nothing short of extraordinary value. Whether creating a serene sanctuary or an entertainer's paradise, Alpha Aqua is the trusted partner that exceeds expectations and delivers stunning pools, crafting lasting memories for families to indulge in luxurious experiences.
PROVIDING TOP NOTCH SECURITY SERVICES
Atmaram Desai, the founder of A Squad Security Co, boasts an impressive educational background, having completed both his LL.B. and his Bachelor of Commerce and Economics in 1995 and 1998, respectively. Before embarking on his entrepreneurial journey, he worked as an advocate attached to the chamber of Advocate Mahesh Sonak, who currently serves as the presiding Judge of the Hon. High Court of Bombay at Goa. Desai's last assignment was with the Dempo Group of Companies as a Senior Associate in Corporate Legal.
In February 2019, Atmaram Desai established his own Security Company, known as A Squad Security Co. and later started its sister concern, A Squad Plus, in September 2020. A Squad Security Co. has quickly emerged as one of the fastest-growing security firms in Goa. Renowned for their professionalism, the company provides top-notch security services that ensure safety and protection during times of crisis. By intelligently managing human, process, physical, and technical aspects, they offer smart and customised security solutions that cater to the specific needs of businesses, individuals, and properties.
A Squad Security Co. aspires to become the most preferred security firm in India and is a fully compliant Security Agency licensed under the PSARA (Private Security Agencies [Regulation] Act, 2005). Currently, they boast a team of 300+ well-trained security personnel and serve 90+ esteemed clients, including top industries, automobile companies, supermarkets, hospitals, hotels, commercial establishments, event security, religious institutes, educational institutes, and gated housing complexes.
Their mission is to prioritise the safety and security of their clients by delivering tailored services that protect their staff, premises, assets, and the general public. With a vision to constantly improve and exceed client's expectations, A Squad Security Co. invests in their staff's development and aims to be the most valued and respected private security service agency in India. The company's core values include honesty, integrity, unselfishness, professionalism, and mutual respect, creating a rewarding and challenging environment for their employees' personal growth.
Desai joined BNI three years ago and served as the President of BNI Mandovi chapter. Leveraging networking opportunities at BNI, A Squad Security Co. has successfully expanded its business.Apart from his professional endeavors, he has a strong passion for sports and has represented the State of Goa in over 30 national basketball tournaments, often as the team captain. He has also earned medals in powerlifting and table tennis at the intercollegiate level. Married to Dr. Deepa Desai (MDS), Atmaram Desai is the proud father of Aadhya Desai, who is currently pursuing her studies.