Four years since its inception, GOA TECHNOLOGY ASSOCIATION, under the leadership of Mangirish Salelkar, has become the voice of IT entrepreneurs in Goa and has played a stellar role to bring the Startup Policy and IT Policy to light

Goans have made confident strides in the space of information technology over the years. As programmers and tech professionals, Goans have been placed across the globe in IT and ITES business ventures. There are a significant bunch of techpreneurs who have been catering to a global market from Goa for a well over two decades. Many of them felt the need to formally come together as an umbrella organisation on an individual level, but it took a spirited effort of a handful of them to come together in 2017 to start Goa Technology Association.
The Need to Start GTA
"Back in 2010, when I was a couple of years old in the business, I understood that there are many IT entrepreneurs in Goa struggling to find a common platform to meet and discuss their business problems. There were various meets held trying to get everybody together and discuss various IT related issues, but the discussions barely got converted into action," says Mangirish Salelkar, Founder- President of GTA, whose term will end this July.
Within 4 years of its inception, Goa Technology Association has done an excellent job in supporting IT, ITeS companies and startups. The efforts of GTA's leadership team and founder members to build the IT Ecosystem and bridge gaps between the industry, academia and the government bodies in these initial years, will give best results for future. I will be happy to support GTA in all ways to uplift the IT Industry and mark Goa on the World IT Map" Dr. PRAMOD SAWANT, Chief Minister, Goa
A deep need was felt to find a common platform where IT and tech companies had a common voice that would voice their pain points, share their views and suggestions for the effective functioning of the industry. The Goa Technology Association was constituted purely to unite IT business owners – entrepreneurs as well as intrapreneurs (business heads of various IT organisations); to be the interface between the Government and other entities such as National Association of Software and Services Companies (NASSCOM), Software Technology Parks of India (STPI), Confederation of Indian Industry (CII), Goa Chamber of Commerce & Industry (GCCI), other such business-oriented forums and the industry.
 The IT Industry
Gets Its Flagbearer
GTA's journey since 2017 has been eventful, to put it mildly. The organisation has been instrumental in providing exposure to its members and has been a springboard from which many interesting business decisions and events have ensued. The organisation has been instrumental across spectrum – from legislation to policy making; and from hosting events to bringing the academia in its fold.
"When we started GTA, we wanted to make IT Better in Goa, pin Goa on the world map and boost the IT ecosystem in the State. We had a strong desire to make the change and we had lots of hope that things would change for the better. Over the years, we have continued to be a focused association and have worked strategically towards increasing our presence locally, nationally and globally in the process of building an IT ecosystem in Goa. This success would not have been possible without the efforts and commitment of each member of the Association. I am glad that we could get the IT Policy finalised and notified during the first two years and Policy implementation during the current term. Rolling out of the IT policy benefits by the Government to the IT companies and startups will be major game changer in attracting more IT companies, jobs and investment in Goa," says Milind Anvekar, Vice President – Projects and Customer Services, Open Destinations and President Elect of GTA.
 Going Beyond the Call of Duty
"GTA is more than an Association; it is an embodiment of the dreams and aspirations of software entrepreneurs from Goa to make a mark on the global technology stage. We at Tangentia are proud to be members right from inception and foresee a brilliant future for the GTA and technology and start up enterprises in Goa," exclaims Vijay Thomas, President, Indo-Canadian Chamber of Commerce; and whose company Tangentia runs its business from Canada and Goa.
"The energy and enthusiasm which I have seen from the GTA team is immense. I am sure these founders will revolutionise the IT industry in Goa. Software Technology Parks of India has always supported every positive step taken by GTA towards supporting companies in exports and conducting workshops and events"  SANJAY KUMAR GUPTA, Director, Software Technology Parks of India
Salelkar expresses his satisfaction with the kind of exposure and gravitas that the GTA has achieved in a short spell of nearly five years. "GTA's presence was felt at every step by the stakeholders and the IT ecosystem since it was established. We became a voice of the industry from the word go. As a group of entrepreneurs and IT professionals, we offered our expertise to the Government on many occasions – from helping to host the IT and Startup Day, to having a Goa's IT Pavilion for the first time in Hyderabad, to hosting insightful interactive sessions with eminent speakers from NASSCOM. GTA was involved in drafting some labour related legislation. We were also part of the team that conceptualised the curriculum for the Computer IT Engineering course for the Goa University. Yes, we have done it all; and that too in such a short span of four years," says Salelkar.
Not stopping at being a policy enabler, GTA was also one of the key industry-linked components of the Vibrant Goa event held in October 2019, where many members of the Association were involved – either in showcasing their businesses or being technology partners to many of the constituents and exhibitors. GTA itself came on board as an industry body for the mega event.
Academia-Industry Connect
One of the more satisfying engagements that GTA has built over the last few years include the establishment of its Student Chapter which has flowered due to the vision of the organisation to build a bridge between industry and academia. "Students in the IT domain is the insurance of the IT businesses for the future. Supporting colleges with workshops and having our Student Chapter is also a start to a strong relationship between academia and industry," adds Salelkar.
A Peer to Peer Support Group
The camaraderie and bonhomie of GTA members is famous in the industry. Known for their work in their domain expertise and well beyond, like hosting cricket tournaments and other events has added to the vibrancy of the organisation. "I think GTA members have learned to work in collaboration and have ignored competition," says Rohan Warty, treasurer of GTA.
With the onslaught of the coronavirus, the organisation is facing the brunt of delayed payments from clients and disruption of the earlier orchestrated office systems with WFH. Add to it, Goa's technology infrastructure which is abysmally archaic and needs to up its ante to support a growing bunch of techpreneurs, whose tribe only seems to be growing. Nitin Kuncolienker, former Goa Chamber president and the current President of Manufacturers' Association for Information Technology (MAIT), New Delhi makes an interesting observation and says "It is lamentable that the political leadership in Goa is not very focussed and serious about tapping the potential of Goa's technology talent."
Challenges apart, members of GTA don't have an option but to surge ahead. With business and clients spread across the world, their pitch and resolve to make Goa a model IT business destination only keeps growing. "People definitely have big expectations from GTA, as we are the only formal body representing IT companies in the State. We have got a vibrant and dynamic founding committee. Every member has put in lot of efforts to build this brand and the Association" adds Salelkar.
As an organisation that has been cohesive and forward looking, battling the challenge of business continuity in a Covid-hit world has been tough. But the members of GTA march ahead with their motto of 'Making IT Better in Goa'
Milind Anvekar elected President of GTA for 2021-23
Milind Anvekar has been elected as the next President of the Goa Technology Association for the year 2021-23.
GTA concluded its election process in March this year by electing the office bearers from the nine elected members for the next term. GTA Managing Committee for 2021-23 will comprise of the following well-known names from the IT ecosystem in Goa: President: Milind Anvekar (Open Destinations), Vice President: Sujeet Shetty (Team Inertia), Secretary: Rohan Warty (Xerviz Wlobal), Treasurer: Gajanan Kerkar (Best Tourism Deals), Immediate Past President: Mangirish Salelkar (Umang), Members: Prasad Sawant (Buoyancy Consultants), Jervis Pereira (Digital Kwills), Mayur Virkar (Codemax), Chinmay Kamat (Coppercodes).
"Milind has been one of the founding team members of Goa Technology Association and considering all the valuable contributions that he has made to the growth of the association, I am very pleased that he will head GTA in the coming term," said President Mangirish Salelkar.
Anvekar thanked the members for the trust and honour to lead the association.
"I am honoured to be the incoming President of GTA – an association that has provided me with so many positive opportunities, allowing me to create wonderful relationships with the most creative, passionate and innovative business leaders. Our IT success stories will continue to inspire and motivate the youth. We plan to reach out to the every Global Goan through our events," he said.
Anvekar takes the mantle to alleviate the challenges posed to the IT industry in Goa. "The immediate objectives of the Association will continue with key focus on the ease of doing IT business in Goa, implementation of the IT Policy and better manpower and infrastructure availability in the State. I am pleased to lead the Association in the next term and I am going to do everything I can to strengthen GTA. I am thankful to our current President Mangirish for a solid foundation and looking forward to his continued support," Anvekar added.
The GTA annual event is scheduled in June this year and Anvekar will take office from July this year
Business Continuity is our top priority during the pandemic
Founder-President of Goa Technology Association, Mangirish Salelkar speaks about the Covid challenge; and what the government can do to help tech businesses in Goa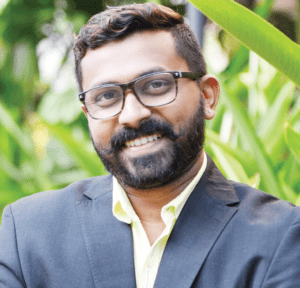 Tell us about GTA's journey over the last few months?
2019 was a wonderful year for GTA and we thought will make 2020 'grand'. In 2020, we started with 'Tech-Fridays' and planned to make it as a quarterly event, However after the session we couldn't implement it due to the lockdown. We had lot of other events planned for this year which also couldn't be held due to lockdown.
What are the challenges faced by tech companies during this pandemic?
The Covid situation left all of us in shock. Multiple industries were hit very badly. Initially, many felt that IT businesses would weather the Covid blow; however like the ripple effect, we too were directly or indirectly affected. Every week we are revalutating our Business Continuity Plans. Most of the time it has gone for a toss. Because things are still unpredicatable.
Shifting to 100% WFH mode was a complete new phenomena for all of us. It has been a nightmare to a number of companies. I know some companies, who had to deliver not just laptops but also desktops to their team members home. Some of the team members staying in villages across Goa have serious internet issues and some don't even get internet or good telephone reception.
Team-communication and productivity was an issue due to the poor last mile internet connectivity.
What has been the contribution of GTA during the Covid crisis to uplift the morale of your members?
During the pandemic, GTA donated a sum of `1,00,000/- towards Chief Minister's Relief Fund to provide a helping hand to the Government in tackling Covid-19 issues.
During the Lockdown 1.0 period, we tried to have, the lockdown talk series – to discuss and educate IT professionals and business owners about changing patterns of work and business; how to manage WFH; how to manage legalities, compliances and finances; and about internet connectivity issues.
I appreciate some members who have managed themselves very well and survived thus far. But, this pandemic has hit the industry hard and it has affected some of our members badly. There may have been pay cuts, jobs losses and defered payments from clients and this has affected our members. As President of the Association I have been actively interacting with the members who have been hit and wanted guidance from me or GTA to handle these difficulties. During the annual fee renewal process too, we thought of defering the renewals by 3 months, as some of our members are struggling with finances, and have chosen to take a back
Can you elaborate on the Industry-Academia connect that you have initiated?
We completed signing MOUs with all the engineering colleges in Goa last year along with few BSc, BCA colleges, as well. Many of our members have been resource persons at webinars conducted by these educational institutes. We have tried our level best to support them in all possible ways. I am sure, like companies facing a challenge with Work from Home; colleges, teachers and students must be having a tough time with online classes. Colleges are ensuring that they are doing their level best for smooth functioning of the lectures. I understand principals and TPOs will have a tough time with job placements this year. Placements this year may be a challenge, We will will try our best to support and accommodate the most deserving candidates. I also know of many companies that have already started hiring in the last few weeks. Things will get back to normal for sure. And we have all been introduced to a new education policy which will change India's education system. I hope that to will get into force soon.
How has been your interaction with the government with regards to the Covid crises and the challenges of business continuity of your members?
In April 2020, we conducted a survey which gave us a complete insight about many companies and entrepreneurs who have been affected by Covid. We listed out companies who were expecting some help from the government for their business continuity. This survey was later presented to the Chief Minister and the Information Technology Minister. We also raised problems faced by our members due to internet issues and demanded support for business continuity in an open forum with the Chief Minister. We have also had a video conference with the Information Technology Minister and Director, Information Technology, wherein we put forward our issues and presented suggestions for the industry revival.
We have tried to have sessions with Internet Services Providers (ISPs) to make sure we understand their issues and take it to the government
—————————————————————————————————————————————–
True Representative of the IT Fraternity

5 years of GTA has been an interesting journey. From being a Secretary in its first term to being elected the current Vice President of GTA has been a proud moment.

The much-needed representation of the IT community had made its mark in Goa by GTA. The ball was set rolling for collaborations within the fraternity as well as lobbying with the Government for all its initiatives and policy making and with the academia for all its objectives for students, making it big in IT.

SUJEET SHETTY, Co-founder, Team Inertia Technologies

—————————————————————————————————————————-

Explore Tech Business Opportunities

In last few years, GTA has been able to bring the Goan IT Industry together, our members serve national and international clients and have a global footprint via their own business presence. Add to it, the inherent unique characteristics of Goa which can support knowledge-based economy on a much larger global scale. However, a lot needs to done to explore technological opportunities in various emerging industry sectors on continual basis. GTA can continue to play a vital role in this journey. I feel IT and ITeS industry will continue to build its global presence and at the same time provide a lot back to the Goan society by creating new jobs, skill sets and highly green and efficient living standard for the local community.

PRASAD P. SAWANT, CEO, Buoyancy Consultants & Engineering LLP

—————————————————————————————————————————-

A BRILLIANT FUTURE AHEAD FOR GTA

GTA is more than an Association; it is an embodiment of the dreams and aspirations of software entrepreneurs from Goa to make a mark on the global technology stage.

We at Tangentia are proud to be members right from inception and foresee a brilliant future for the GTA and technology and startup enterprises in Goa.

VIJAY THOMAS, President, Indo-Canadian Chamber of Commerce; Founder-CEO, Tangentia

—————————————————————————————————————————-

Hub for Tech Advancement

Goa and IT have gone hand in hand for a long time. From having some notable 'Sons of the Soil' in the IT arena to the environment for innovation that is naturally found here, Goa is often an unsung destination for IT.

Goan IT companies service 6 continents and around 60+ countries worldwide. It was only a matter of time for a body like the GTA to materialise. Since its establishment, it has formalised the sector, by representing IT companies in the State. IT companies across the State now can become part of the only business body representing them specifically. GTA serves as a signal to the world that there is an IT industry!

Over time we hope that it will become the hub for technological advancement, research and education, and the home of an unparalleled IT niche. GTA has set this in its sights for the years to follow.

JERVIS PEREIRA, Partner and CEO , Digital Kwills L.L.P

—————————————————————————————————————————-

GTA supports IT business aspirations

After all these years, it's good to have an organisation that helps support, organise, direct and showcase the needs, wants, aspirations and achievements of the IT Industry in Goa. It's been too long that we been literally functioning in the dark. Doing our own thing and making IT work.

RICKY NORONHA, Director, Online Productivity Solutions Pvt Ltd

—————————————————————————————————————————-

Collaborations galore at GTA

GTA has brought the Goan IT ecosystem together! Before GTA, many member companies did not even have the knowledge of each other's existence.

The Goan IT industry employs thousands of engineers and technology professionals, offering services to almost every developed and developing country in the world. However, such a statement seems highly improbable and unheard of given that Goa is largely known for being a tourist destination.

Hence, the primary objective of GTA has been to provide visibility to member companies and to showcase their products and services and offer a platform for collaborations.

YASHVIT NAIK, Co-founder & CTO, Teknorix Systems Pvt Ltd

—————————————————————————————————————————-

A platform to network with peers

I am fortunate to be part of GTA since its inception. GTA has done fantastic work of bringing together Goan IT,

ITES companies to boost the industry. GTA has provided me a platform to connect with my prospective clients which has helped in my business. Also being on the Managing Committee of GTA for the last two terms, connecting and networking with industry leaders has been an amazing experience.

ROHAN WARTY, Managing Director, Xerviz Wlobal; and GTA Treasurer

—————————————————————————————————————————-

GTA has made strong efforts to connect with ISPs

GTA's involvement in taking up suggestions and addressing Internet Service Providers (ISP) since 2017 has been excellent. The bonding between Digital Networks Associates and GTA is very strong. Thanks to the President Mangirish Salelkar and his team members who have been working tirelessly to voice out opinions from every member and section of the IT ecosystem. Today, Internet is the basic necessity and we at DNA are determined and will always be ready to support to give the last mile connectivity to all Goans.

RAGHU SHETIYE, Director, DNA Goa

—————————————————————————————————————————-

At the forefront to create Goa's IT Policy

GTA has been at the forefront for formulation of the IT Policy with the Government and is currently liasoning to get the various schemes for tech businesses implemented.

A forum of this kind was needed to collectively put forward our demands with the powers that be. GTA has also opened up informal collaborations between the IT fraternity leading to sharing of resources, knowledge transfer and generated a general camaraderie between its members.

NILESH NAYAK, Director, Sapna Group

—————————————————————————————————————————-

Bridging the Academia-Industry gap

I feel great to mention that we have been Academic Partners of Goa Technology Association (GTA) since last 4 years. We have also organised our Industry-Academia meet 'Colloquium 2018' in association with GTA.

GTA through its member companies has been also helping us with recruitments, expert lectures and workshops. GTA is also helping our college in creating industry tie-ups with its member companies. Their dedicated attempt in bridging the academia and industry gap is simply phenomenal. Overall I feel that progress done on the academic front by Mangirish and his team is truly commendable and I wish GTA will continue doing more for the academic fraternity in the years to come. It's a great and unique contribution to Goa and the IT field.

DR. V. MARIAPPAN, Principal, Agnel Institute of Technology and Design

—————————————————————————————————————————-

GTA understands the industry pain-points

I signed up with the GTA as a member in 2017. At that time there was no formal association of IT companies in Goa. And we needed to have a body that was able to represent us. In 2019, while serving on the MC board, I realized that there was so much one could do for IT companies in Goa. From bridging the gap between industry and institutions to creating more connections with the Government, the GTA was the right platform to focus on building up the industry. From a personal standpoint, GTA has been able to identify the pain points of individual businesses and aggregate them to solve many problems at once.

While the GTA is young, it is also dynamic and can make a lot of positive changes for the IT industry in Goa. In the future, I see that the GTA will be the nodal point of IT companies in Goa.

MAYUR VIRKAR, EO, Codemax

—————————————————————————————————————————-

Voice of the IT industry

GTA under the leadership of Mangirish has worked hard over the last four years to bring the nascent IT industry together and act as the voice of the industry in Goa. GTA's contribution has ensured that the Startup and IT Policies are now in place. Best wishes to the new committee under Milind.

GIRISH BHARNE, VP-Engineering, Persistent Systems

—————————————————————————————————————————-

A PLATFORM FOR STRONG ADVOCACY

GTA deserves compliments for creating a platform for strong advocacy role to all the new startups as well as all budding entrepreneurs.

Prior to emergence of GTA, most of the trade bodies like GCCI, CII Goa, GSIA, had a will to help

entrepreneurs, but they could not give focussed attention to the startup and technology sector. This created a need to create a strong trade body which can provide confidence and support to startups.

Kudos to GTA leadership a dynamic team led by Mangirish Salelkar. Their perseverance has led to creation as well as sustenance of many startups.

It is lamentable that the political leadership is not very focussed and serious about tapping the potential of Goa's technology talent.

NITIN KUNKOLIENKER, President, Manufacturers' Association for Information Technology, New Delhi

—————————————————————————————————————————-

A 'Unified Voice'

GTA was founded to be a unified voice of the entire IT ecosystem in Goa; and comprises a healthy mix of core IT companies, academia and other entities involved with startups or tech-led entrepreneurship. The unified voice has helped push forth policies for the ecosystem in Goa with the help of the Department of Information Technology. Here's wishing Milind Anvekar all the best in leading GTA here on.

GAJANAN NAGARSEKAR, Founding Member GTA