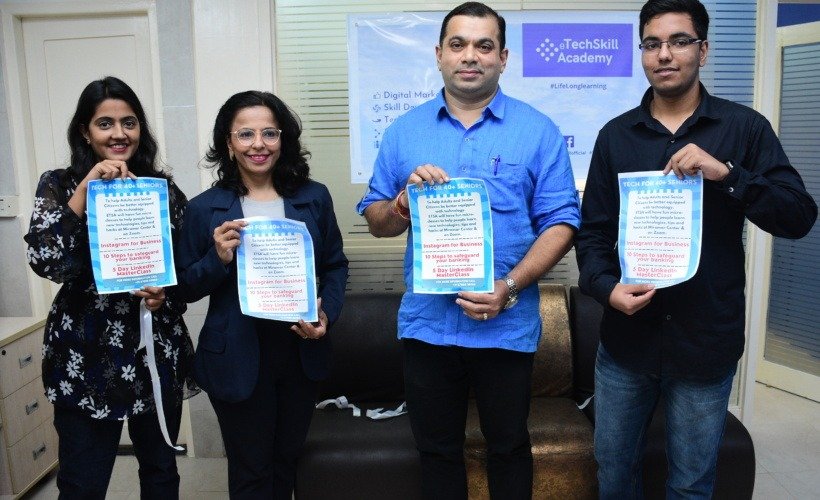 eTechSkill Academy by Parvish Andani Kamat, an online and in person centre at Miramar, Panjim, Goa was launched by  Rohan Khaunte, Minister of Information and Technology, Governmentt of Goa. It was also the birth anniversary of Parvish's late mother, Kulsum Andani.
Rohan Khaunte, stated that his department was looking to promote digital services especially in remote areas and rural segments of society for economic benefits.
Parvish would like to connect with more colleges and academic institutions and offer short-term courses and have Goa's professionals and students be well prepared for careers. She also mentioned that  training will be done in English, Konkani and Hindi.
Parvish is an Advertising, Marketing and Media professional for more than two decades, eTechSkill Academy is in hybrid format, online and off line. At eTechSkill Academy learners experience modules like:
Upskilling Courses
Tech at 40+ and Senior' Citizens
Digital Marketing Modules
LinkedIn Courses
Study Academic Tours to Dubai and Singapore for Goa based students / colleges.
Technology Course like Amazon Web Services
eTechSkill Academy has impacted with over 500 learners already!
SHORT TERM COURSES:
Tech at 40+ and Senior 'Citizens
ü  Instagram for Business
ü  10 Steps to safeguard your banking
ü  5 Day LinkedIn Masterclass
Digital Marketing Modules for job seekers and students
Digital Marketing Advanced Modules
LinkedIn Courses, separate batches for professionals and Business Owners.
Study Academic Tours to Dubai and Singapore for Goa based students / colleges. Dempo College was the first to tie up with us in February 2020 for Dubai.
eTechSkill Academy in inviting other social and cultural organisations to help spread the world of IT to senior citizen's all around Goa. Connect with us on: 9823284750 / CALL +91 87888 08066
Parvish's experience stretches from local SME's to international companies. She has excelled in managing multidimensional projects concurrently with strong detail, problem solving and follow-through capabilities. She completed her post graduation in Advertising & Marketing from the award winning Xavier Institute of Communications, Mumbai.
Her career at The Times of India gave her a strong insight into the media world. This unique blend of experience and educational background has prepared her as a Marketer of 21st century. Besides, She is honest, hard-working, self-motivated, team player and possesses leadership qualities.
Two decades plus of experience, working with start-ups as well as big daddies of communications has enriched her exciting journey from a space selling executive to a founder of both her firms.
In 2012 she was awarded a full scholarship MBA from ISB Hyderabad under Goldman Sachs 10,000 Women  program. It fosters economic growth by providing women entrepreneurs, with significant turnovers business and management education.
In April 2019 she was certified Trainer by Bodhih Training Solutions Pvt Ltd, certificate number; BTSPLTTTC02112  In 2022, she was again awarded a full scholarship, after achieving significant business turnover, by GS10,000 Women Ambassadors Program.
Core Strength: Quick to grasp the pulse of clients and blessed with sharp consumer insight.
Parvish is a member of Goa Chamber of Commerce & Industry, Goa State Industries Association, Goa Management Association, Confederation of India Industry and CII- IWN (Indian Women Network) launch Chairperson.
Follow us on Instagram:
Instagram; etechskill
Facebook; etechskillofficial