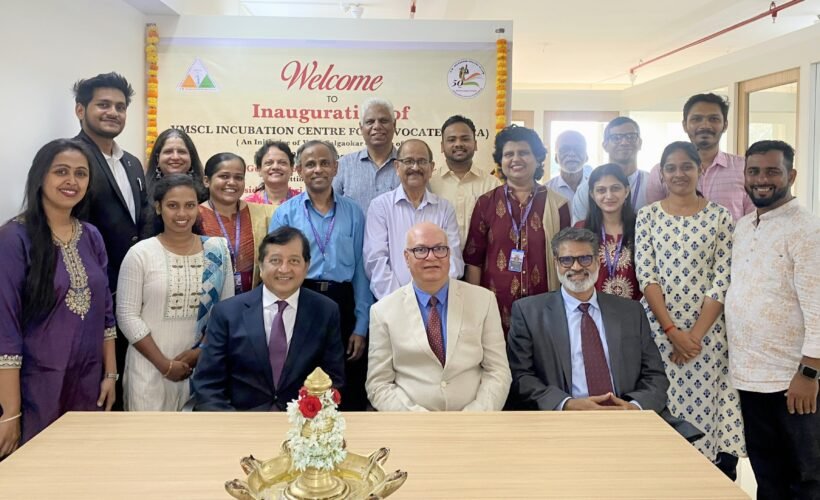 A first-of-its-kind initiative, the centre will aid young advocates to further their career in the legal world
Justice Mahesh Sonak inaugurated the VMSCL Incubation Centre for Advocates (VICA) at the Kamat Grand, Panaji. This initiative established by V. M. Salgaocar College of Law (VMSCL), with the support of Dattaraj Salgaocar, marks a significant milestone as it is the first of its kind for advocates in Goa.
VICA is a dedicated platform primarily aimed at VMSCL alumni, providing them with workspace facilities, mentoring, internet access, remote research materials, and extensive library resources. The Centre will also offer comprehensive advocacy training programs to equip alumni with the necessary skills for successful careers in litigation.
Justice Sonak, Chief Guest of the inaugural and former VMSCL student, expressed his belief that the VICA initiative from the Salgaocar Management and College will encourage and support young advocates in pursuing a better future in the legal world. He emphasised that this incubation centre will bridge the gap between theoretical knowledge and practical difficulties faced in legal practice.
The launch of VICA demonstrates VMSCL's commitment to excellence in legal education and its dedication to shaping the future of legal professionals. The event was also attended by Mr. Dattaraj Salgaocar – Chairperson of Devi Sharvani Education Society, Dr. Shaber Ali G – Principal of VMSCL, Dr Kim Couto – Vice Principal VMSCL, Adv Nitin Sardessai, Prof Anil Dinge, Prof Bhaskar Nayak, Prof MRK Prasad, other faculty members, alumni and students.
Dattaraj Salgaocar expressed his satisfaction with senior advocates and other legal professionals willingly taking on the responsibility of mentoring VMSCL Alumni as part of this incubation centre.
VICA is co-ordinated by Dr. K. S. Rao, senior professor at the VMSCL. Dr Kim Couto, in her vote of thanks, acknowledged the efforts of the management, principal, college faculty, and everyone involved in making this initiative possible. VMSCL Alumni interested in joining the incubation centre must visit the college website vmslaw.edu.in for more details and submit their application to the Principal by 11 November 2023.