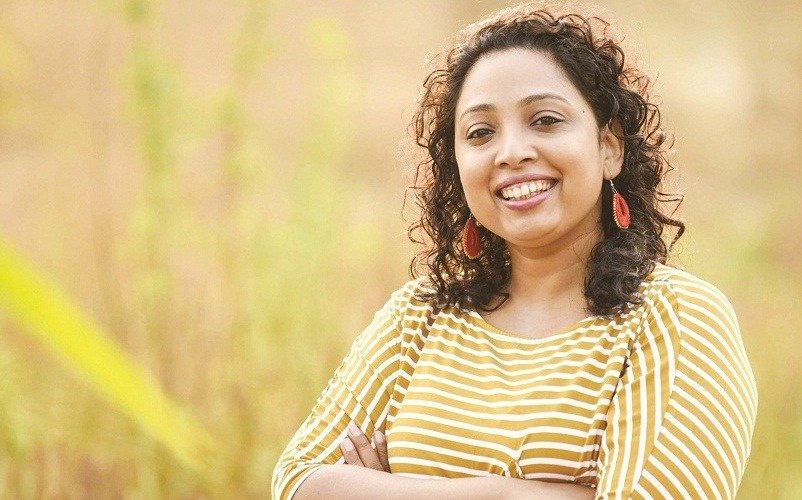 With a vision to provide nourishing, healthy, and natural solutions using local produce, Nilisha Ferrao, founder of 'Narla,' the coconut company, is blazing new trails
A marketing graduate from Symbiosis University, Pune, Nilisha having worked at Godrej as a management trainee in Mumbai and quickly rose the ranks to become Senior Marketing Manager – Brand and Communications. Before leaving Mumbai, Nilisha gave her colleague a small bottle of homemade coconut oil, and she was soon enamoured by the effects of the excellent quality oil on her hair and skin. This is what drove Nilisha into the idea of working with coconut oil; the next thing you know, she was researching cold-pressed virgin coconut oil and its benefits. "I traveled to Thailand and attended a conference on coconut oil as well and learned a lot which encouraged me to go into this line of business," she says. "I wanted to create and build something. I believed in the potential of cold-pressed virgin coconut oil from Goa, and with that, I jumped headlong into entrepreneurship and Founded Narla, The Coconut Company," says Nilisha.
The Konkani name for coconuts is 'Narl', Nilisha wanted to represent the Goan origin of her product within the company. After ideation sessions with her family, they came up with 'Narla.' Narla started with the idea to highlight the health benefits of using local produce and making it accessible to the domestic market on par with international standards.
Inspite of the existing brands that sell coconut oil, Nilisha noticed that cold-pressed virgin coconut oil from Goa was far superior and distinct in terms of aroma, taste, and texture. She wanted to create a Goan brand that exclusively used Goan Benaulim coconuts to create a unique product, "In today's market, where adulteration is rampant, consumers want a trusted source for quality natural products. Measures such as tamper-proof sealing, sterilized glass bottles, and consistent packaging provide customers with the quality they seek. "But today, we are so much more than just a coconut oil brand." Besides coconut oil, Narla has various products like gluten-free coconut flour, desiccated coconut, Goan coconut vinegar, Goan coconut jaggery, handcrafted coconut oil soaps, and handmade coconut bowls. In 2020, due to the pandemic, there was a growing need for products to help improve immunity; this is when then introduced dry ginger powder (Soont).
With the digital world moving forward, Nilisha is mainly focused on digital, e-commerce, and social media as a means of marketing. They are trying to build engagement through their coconut community by collaborating with social media influencers, nutritionists, and other wellness brands.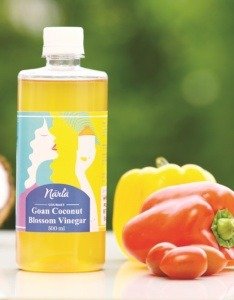 "Narla has grown over the last few years, continuously adding products and distribution. Currently, Narla products are sold at retail stores in Goa like Delfino's, Saukhyam, Oscar's Junction (Majorda), and boutique outlets like Beanmeup (Anjuna), O.M.O. (Panaji), Goa Chitra (Benaulim). We also retail in Kolkata, Bangalore, Mumbai, and Kashmir. Narla's online retail presence is growing as well," said Nilisha. They are also available on Amazon and Flipkart and have their website. Keeping marketing in mind, Narla has unique packaging options for corporate gifts, wedding favours, travel giveaways, and personalized gifts. The brand is also present in 5-star hotels in Goa like Planet Hollywood and Cabo Serai.
A big challenge that Nilisha faced in the beginning, was logistics and distribution. She said, "The pandemic taught us that we need to reassess our business and quickly pivot. Narla focused on marketing digitally. We introduced several new products like Goan coconut vinegar, Goan coconut jaggery, and immunity-boosting dried ginger powder. We also increased engagement with our 'coconut community' through social media. All these efforts resulted in a 50% increase in sales approximately over last year." Nilisha bagged a third place at the 'Business Diva 2021' competition hosted by the GCCI Women's Wing. "The Business Diva Competition was held to identify and encourage women with innovative businesses or startup ideas. The competition was challenging. With over 121 participants in two categories, we were narrowed down to 10 finalists in the scaling up category. I presented Narla, its journey, future plans, and our scope of operation. We were judged on innovation, sustainability, employment, turnover, and scalability", she said; it was a gratifying and enriching experience for her in terms of networking and interacting with industry veterans and experienced mentors.
Looking into the future, Nilisha plans to expand to 'Narla – Coconut and Spice' and increase the product portfolio with a range of select spices from India, especially from Goa. She also plans to increase the brick-and-mortar distribution by expanding their team, tying up with various distributors, and exploring the export market. She said, "We will be focusing on brand-building through engaging community activities and creating awareness amongst our customers on well-being which is the need of the hour. Post the award, we also got a seed investment from a Singapore entity that shares our vision. We are seeking strategic investors who will help grow our business in the near future."