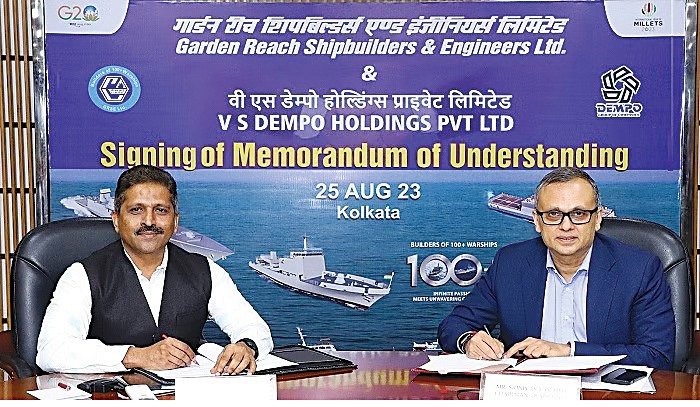 The Garden Reach Shipbuilders and Engineers (GRSE) Ltd, the Kolkata-based premier warship builder, and the Dempo Group, the leading business house of Goa, have signed a Memorandum of Understanding (MoU) to launch a collaboration model to build commercial vessels in three premier shipyards of Dempo at Goa and Bhavnagar.
This is GRSE's maiden attempt to diversify in a big way in commercial shipbuilding to capture a large market share in the construction of commercial vessels, both domestic as well as international.
Among the many firsts, GRSE took the maiden initiative in the country to make the public-private collaboration model a success story in warship building. Aligning this concept with the emerging commercial shipbuilding market, GRSE is now partnering with M/s V S Dempo Holdings Private Ltd to share their shipbuilding resources with GRSE to build commercial vessels on the West Coast.
According to research, India's shipbuilding market is estimated to be USD 7.1 billion in 2023 and is expected to reach USD 8.76 billion in 2028. The global shipbuilding market on the other hand is estimated to grow from USD 170 billion to 230 billion by 2028 at a CAGR of 5.45 billion.
A report also stated that India's contribution to commercial shipbuilding globally is less than 1 percent today which is far lower than 3.5 percent achieved during 2007. It also stated that even with the subsidy the private shipyards are not competitive and state-owned shipyards are content to available defence orders.
GRSE took the onus of breaking this glass ceiling and actively engaged itself to use its technology and resources to compete with countries like China, Vietnam and Turkey – the low-cost shipbuilders to win contracts from European, Middle Eastern and African markets.
Commodore P R Hari, Chairman and Managing Director, GRSE brought out that in spite of challenges, there is a positive outlook in the global commercial shipbuilding sector.
The rise of Chinese competition in recent years and stricter environmental regulations are making it difficult for Indian shipbuilders to meet the global demand. However, he assured that the shipbuilding and repair industry is undergoing rapid technological change which is creating new opportunities for companies that can keep up with the latest trends.
To avail the business opportunity of growing demand in the commercial vessel sector, GRSE has identified a suitable partner for progressing with commercial shipbuilding. He explained that most of the export clients are from Europe and the Middle East.
The shipyards of the Dempo Group give a positional advantage to these clients for shifting the delivered vessels from India in comparison to China, Vietnam and Turkey.
Shrinivas Dempo, Chairman of the Dempo Group of Companies, emphasised that shipbuilding is a strategically important industry due to its role in energy security, national defence, and development of the heavy engineering industry.
Shipbuilding, due to its huge dependence on the infrastructure and services sectors of the economy, has the potential to strengthen the mission of an 'Aatmanirbhar Bharat'. Among manufacturing activities, shipbuilding has one of the highest employment multipliers of 6.48 and is capable of generating mass employment in the manufacturing facilities established by shipyards in remote, coastal and rural areas
Dempo expressed confidence that the collaboration between GRSE and Dempo will generate a very productive ecosystem, deriving strengths from each other's expertise and leveraging capacities towards bagging more domestic and foreign shipbuilding orders.
He also articulated about tremendous business potential in green shipbuilding which can be tapped by this collaboration and contribute towards achieving a sustainable and safer environment.