Nanbai is a café offering novel fare with a touch of local flavour
Situated in a quiet lane in Miramar, is Nanbai, a cosy little café specialising in bakes, desserts, patisserie and coffee.
Ujjwal Tripathi is the face and brain behind Nanbai. Having graduated from V.M. Salgaocar Institute of International Hospitality Education (VMSIIHE), he completed his MBA from Goa Institute of Management (GIM).
As someone who was always interested in the food industry for the longest time, Ujjwal explains how Nanbai came about. "I always had a keen interest in baking and would spend a lot of time making different kind of breads at the places I worked. I worked at The Grand Hyatt and The Hilton UAE and even at college; I would be making most of the breads for breakfast service at my institute. There is something special about handmade bread versus industrial/mass produced stuff, you can taste and feel it."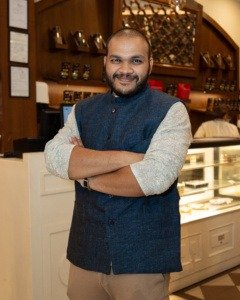 The unique aspect of the product line at Nanbai is on their display shelf as well as on their menu. Boasting of a wide variety of sandwiches and patisserie items, these are goodies one would not find in other bakeries. "I think what is important is the familiar flavours in a unique format. For example, our Jackfruit Bahn Mi, or the Cafreal Chicken Baguette. We use pure butter when making our products which ensures that our customers are consuming tasty food that is not detrimental to their health."
Keeping the target audience of the locals in mind, Ujjwal has had to change his menu thrice. "We opened our doors in 2021 when we were going through a bad phase of covid and have had to deal with lockdowns and various other restrictions. Even at the beginning of 2022, the situation was not very stable. At that point, we curated the menu with the aim of targeting local population. It was a local bakery in a local area for local people with locally sourced and produced products." With the opening up of markets and influx of tourists, the menu and format had to undergo a sea change. Ujjwal adds, "With regards to favourable business and my target audience, I think it all comes down to the business person and how they run their business." He goes on to mention that Nanbhai relies mostly on word of mouth to acquire new customers, while retaining old ones.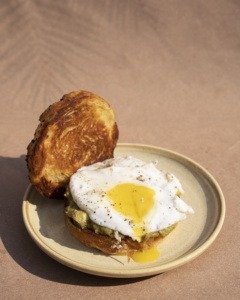 Known for a variety of puffs with all sorts of savoury fillings, sandwiches, confectionery items and coffees, Ujjwal points out to some of their best selling products at the café. "Our sandwiches and coffee are some of our best selling products. People really like the cafreal chicken stuffed in our baguette, while the cappuccino and the mocha is a hit amongst our customers when it comes to beverages. In December 2021, I had gone to Coorg and met a person who grows coffee beans and today he is our main supplier of coffee."
At Nanbai, Ujjwal says, there is an element of Indian-ness in the sourcing, flavours and techniques used while making their products. "I think India is a fantastic country where people are very resourceful and have a lot to offer in terms of food and everything else.
Nanbai dishes out seasonal products depending on the flavour of the season. "We had a nice strawberry tart with custard, a chocolate croissant with a strawberry gelee during the strawberry season and now we are looking at mango flavoured items in the coming months," he says.
Apart from their sandwiches and other delicacies, Nanbai is famed for their croissants. They have a Butter Croissant, Chocolate Croissant, Stuffed Cheese Croissant and the famed Almond Croissant, which consists of a creamy almond frangipane filling in their homemade flaky, buttery croissant.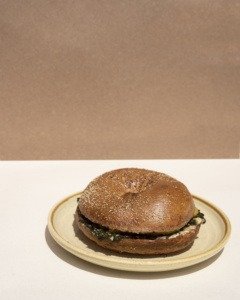 Ujjwal elaborates on the process of making a good
croissant. "I never thought that our croissants would be in demand with people. There is a certain method to making a croissant. You make the dough which has to be laminated with butter and there is one very specific French method which is traditional as well as time consuming. During my hotel management days, I learnt that a lot of bakers are
from Kolkata, because of the English influence there. They have a very interesting way of laminating the dough and it is not as complex and tough as the traditional French method. It is very simple and effective, and that's the way we make our croissant, where the butter is slathered on and then we laminate the dough. I am sure the customer does not bother much with preparation details as long as the croissant tastes good. The Indian aspect in our kitchen is our bakers who are from Kolkata and their talent just shines through."
Having opened up a café during covid, a lot of things had to be done differently. "When we started out, we had a very
simplistic menu. The restaurant scene has exploded in Goa which has contributed to high expectations from the people, both locals as well as tourists. I feel keeping up with that has been the biggest challenge so far."
Ujjwal speaks on his future plans. "We have opened an outlet in Margao and we are not looking to expand with many outlets right now. The market is on the verge of over saturation and just because we are not opening new outlets, does not mean we can't sell our products through other avenues. What we are interested in doing is making our fresh products available through Tinto, a supermarket which is also our sister concern," he concludes with a smile.