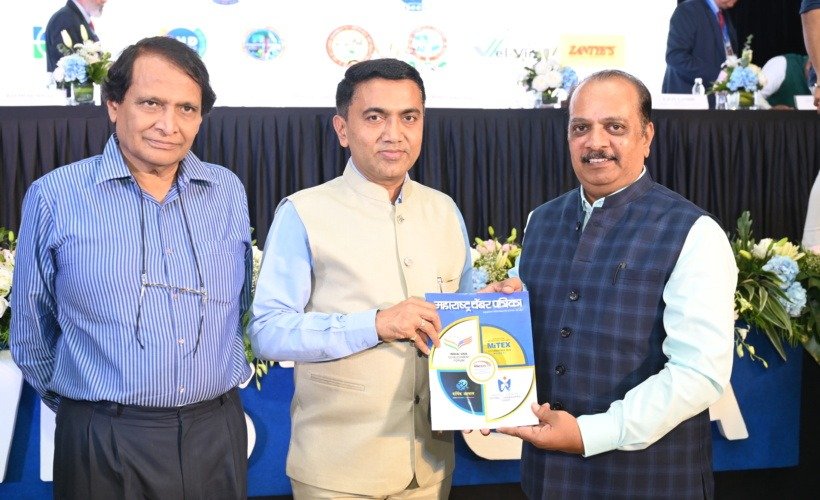 As two-days of engaging interaction and business pitches at Invest Goa Summit 2022 comes to a close, the state says that it has received offers from 19 companies with around 14000 jobs in the pipeline
The Government of Goa, FICCI, a premiere business organisation, and Invest India, in association with the Goa Chamber of Commerce & Industry (GCCI) organised Invest Goa Summit to kick-start fresh investments in Goa in certain key focus sectors such as IT/ITES/Electronics, Logistics, Start-ups and R&D Centres, Agro and Food Processing, Tourism and Allied Sectors, Education & Entertainment.
(L to R) Sanjay Amonkar, Pratima Dhond, Manoj Caculo, Pathik Patwari (President, Gujarat Chamber), Dr Candavelou (Principal Secretary, Finance & Industry, Govt of Goa),
Ralph de Sousa (President, Goa Chamber), former Union Minister Suresh Prabhu, Chief Minister Dr Pramod Sawant, Industries Minister Mauvin Godinho, IT and Tourism Minister Rohan Khaunte, Manguirish Pai Raiker, Lalit Gandhi (President, Maharashtra Chamber) and Hemendra Porwal (President, Belgaum Chamber)
Chief Minister Dr. Pramod Sawant was the Chief Guest for the summit. Industries Minister Mauvin Godinho and IT Minister Rohan Khaunte were the Guests of Honour for the function. Lalit Gandhi, President Maharashtra Chamber of Commerce, Industry and Agriculture; Patik Patwari, President, Gujarat Chamber of Commerce & Industry; Hemendra Porwal, President Belgaum Chamber; Ralph de Sousa, President, GCCI; Manoj Caculo, Past President, GCCI; Pratima Dhond, Vice President, GCCI, Dr. V Candevelou, IAS, Principal Secretary; were also present. The event was also attended by some of the foreign consulates, a team from Bellary Chambers, Ernst & Young and Invest India, heads of various Government Departments, Government Secretaries and many others.
The summit aimed at providing prospective investors a focused platform to meet policy and opinion makers.
Invest Goa also focussed on outlining measures taken by Government of Goa to improve connectivity, ease of doing business and also to showcase the tremendous investment opportunities in the state. The prospective investors were provided an opportunity to discuss on a one to one basis with the Government authorities and the experts from various sectors. These investors were able to interact with heads of various departments so that doubts, queries, and hurdles could be cleared. 
The program was organised in two phases. The first day, 6th October 2022 was a networking session with prospective investors followed by a fashion show depicting the six focus sectors identified and found suitable to Goa.
The main event was held on 7th October. The summit got wide attention and was attended by 250+ business delegates, industry captains, policy makers and other related stakeholders.
Twenty four investors were handed over a Letter of Intent during the event at the hands of Chief Minister Dr Pramod Sawant. Further, many new and existing investors showed keen interest to take up their proposals further. The new Goa Industrial Growth & Investment Promotion Policy which is harping on EoDB was made available during the summit and is expected to further boost investments in Goa.
The proceedings of the event were compered by Dr Dattesh Parulekar. Round table discussions were held on 7th evening for the sectors and the compering for the round tables was done by the teams from Ernst & Young and Invest India. The speakers for the round table discussions were the HODs of concerned department, secretaries and experts from the field. Professors and students from GIM and BITS Goa also helped in conducting the sessions smoothly.
State to attract investments worth 5000 crore with 14000 jobs in the pipeline
State Industries Minister, Mauvin Godinho stated that around 19 companies, through the Invest Goa Summit 2022, have approached the Investment Promotion and Facilitation Board (IPB) with proposals. These 19 companies have projects involving investments of around 5000 crores with an employment potential of around 14000 jobs. "The actual investment proposals from the event are sure to be higher since the proposals were received during the run-up to the event," Godinho explained. 
More than 280 delegates – businessmen, startup founders, members of industry associations, diplomats from foreign embassies and global investors – signed up for the investor summit.
A huge chunk of the investment is expected to come from the `3000 crore theme park that Delta Corp Ltd intends to set up on private land at Dhargalim. The State has already declared the 3.76 lakh sqm land at Dhargalim as an investment area with the Goa Investment Promotion Board granting in-principle approval for the project in December 2020.
"Outside interest in doing business in Goa is presently high. Many companies are eager to set up shop in the state. From our side, we are pushing the concept of business with pleasure. Businessmen can always enjoy the uniqueness of the state as they establish industrial projects," Godinho said. "Even if a company identifies private land, the
IPB will give single window clearance to it," the Industry Minister emphasised, adding that the constant complaint of
lack of industrial activity in the state is no longer true. "Goa is a happening place now for doing business," Godinho said, adding that citizens must be happy about the fact that Goa, despite its small size, is the hub for pharma exports and has units producing sophisticated components for NASA and Apple phone at the Verna Industrial Estate.
Godinho further affirmed that although the new industrial policy does not provide any reservation in private jobs for locals, the state will provide incentives to firms that recruit Goans. Of the 19 tangible proposals received, two are from U.S. companies, while one is from Dutch firm. Among these investment proposals is CMM Group's logistics park at Dharbandora, which is still awaiting key approvals.