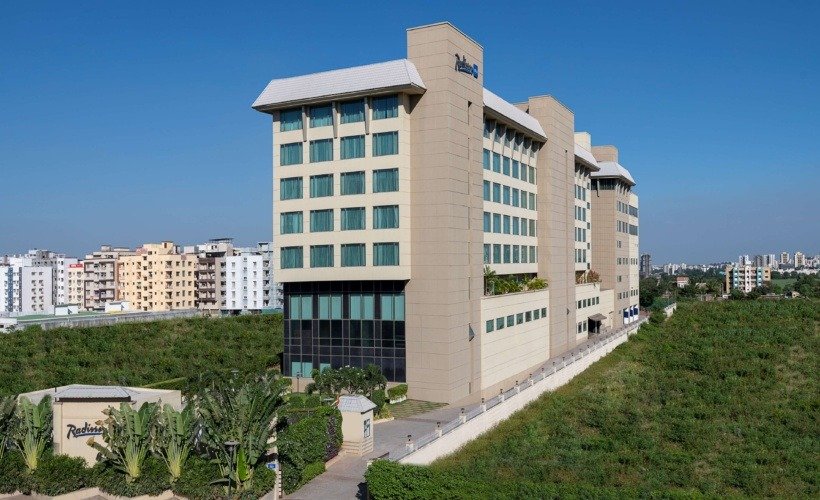 The Radisson Blu Pune Hinjawadi is an ambitious hospitality statement by Goa's Alcon Victor Group 
Radisson Blu Pune Hinjawadi, is a sprawling 170 suite and room hotel that also features 3 great restaurants and bars, 2 banquet halls, and a large banquet lawn.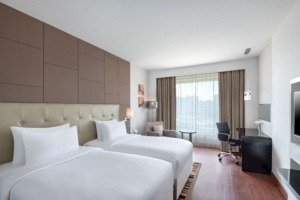 The Alcon Victor Group, the leader in Hospitality and healthcare which owns and operates a large number of resorts in Goa is thrilled to announce its franchise with Radisson Hotels to open its first hotel outside Goa by the name of Radisson Blu Pune Hinjawadi. This exquisite hotel is set to redefine luxury and provide an exceptional guest experience in the vibrant city of Pune.
Nestled in the heart of Hinjawadi, one of Pune's most sought-after business districts, Radisson Blu Pune Hinjawadi will serve as a gateway to the city's thriving business and entertainment hubs. The hotel's strategic location, set amidst lush green surroundings and in close proximity to major corporate parks, positions itself as the ideal choice for discerning business and leisure travellers seeking a sophisticated and convenient stay.
Radisson Blu Pune Hinjawadi aims to create an unforgettable impression with its impeccable design and unrivalled amenities. With a wide selection of elegantly appointed rooms and suites, adorned with contemporary furnishings and state-of-the-art technology, the hotel ensures a serene and comfortable retreat for every guest. 
At Radisson Blu Pune Hinjawadi, guests will indulge in an extraordinary culinary journey, with a variety of dining options at Café Blu – The World Cuisine Restaurant, The Dragonfly – Pan Asian Restaurant, Bar & Grill , and 5IVE—The Sky Bar- a Mediterranean Rooftop Restaurant & Bar—cuisine curated by world-class chefs. From sophisticated fine dining to casual all-day eateries, the hotel will offer an array of culinary delights to satisfy diverse palates and create memorable dining experiences.
The hotel will also feature a comprehensive range of leisure and wellness facilities, including a modern fitness centre, a rejuvenating spa, and a picturesque rooftop swimming pool. For corporate events and social gatherings, Radisson Blu Pune Hinjawadi will provide versatile event spaces equipped with advanced technology and exceptional service to ensure seamless and successful gatherings.
The Remarkable Journey of Alcon Victor Group: Pioneering Excellence in Diverse Industries
Since its establishment in 1971, the Alcon Victor Group has steadily risen as a beacon of success across various industries. From its humble beginnings, the group has surged ahead, leaving an indelible mark in the realms of Construction, Real Estate, Travel & Tourism, Hospitality, Healthcare, and Ayurveda/Nature Cure. With a dynamic presence in these sectors, the group has become synonymous with reliability and innovation, earning the trust of countless patrons over the years.
At the heart of this conglomerate lies its home base in the vibrant land of Goa, where it has become a trusted brand deeply ingrained in the community. Through unwavering commitment and an unrelenting pursuit of excellence, the Alcon Victor Group has carved its path to success, distinguishing itself in both domestic and international markets.
With a rich portfolio comprising diverse ventures, the Alcon Victor Group has demonstrated its prowess across various sectors. The group's experience in hospitality and healthcare is particularly noteworthy, boasting a significant presence in the tranquil haven of Goa. The promise of unparalleled service and top-tier healthcare is emblematic of the group's commitment to providing the best to its customers.
As the leading hospitality and healthcare conglomerate in Goa, the Alcon Victor Group proudly showcases a collection of award-winning properties spanning the entire state. The list of distinguished establishments under their banner is indeed impressive:
Novotel Goa Dona Sylvia Resort, Cavelossim Beach: A luxurious retreat that offers a perfect blend of elegance and relaxation, situated on the pristine sands of Cavelossim Beach.
RADISSON BLU RESORT GOA CAVELOSSIM BEACH: An exquisite property known for its opulence, offering a truly immersive experience.
RADISSON GOA CANDOLIM: Located in the vibrant Candolim area, this resort is a testament to the group's dedication to creating memorable experiences.
Mercure Goa Devaaya Retreat: A haven for wellness and rejuvenation, this retreat seamlessly combines traditional healing practices with modern comforts.
VIVA HOTEL MARGAO GOA: A hospitality gem in the heart of Margao, this hotel provides a warm and inviting atmosphere, reflecting the group's commitment to customer satisfaction.
VICTOR HOSPITAL, MARGAO, GOA: A flagship healthcare institution that stands as a symbol of quality medical care and compassionate service.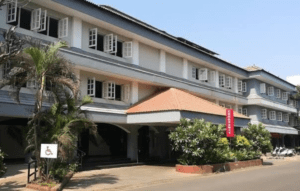 The Alcon Victor Group has now extended its sphere of influence beyond Goa, venturing into Pune to continue its legacy of warm hospitality. The latest addition to their offering is the Radisson Blu Hotel Pune Hinjawadi, an embodiment of luxury and comfort that mirrors the group's dedication to excellence.
The Alcon Victor Group's journey from its inception in 1971 to its current standing as a dominant force in various industries is a testament to its commitment, vision, and relentless pursuit of excellence. The group's enduring success, marked by its esteemed properties and services, reflects the dedication to innovation and customer satisfaction that has been at its core for over five decades.
Working on the Radisson Blu Pune Hinjawadi project was indeed an endeavour full of energy, fun and success: VARUN ALBUQUERQUE 
Varun Albuquerque, Director, Alcon Victor Group speaks on the journey of creating a signature hospitality offering in Pune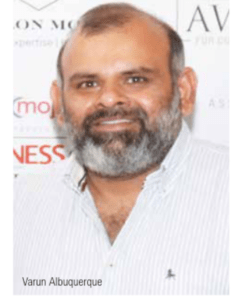 What made you look at exploring avenues outside Goa for your Group's hospitality vertical?
The decision to explore avenues outside Goa for the hospitality vertical was likely driven by a combination of strategic, business, and market factors.
It also stemmed from the fact that operating six resorts and hotels in Goa made us a very regional player, and the absence of a resort or hotel outside Goa made us susceptible to various risks inherent to Goa. Since India itself is a booming market and Pune is close to Goa, we decided to take this opportunity.
Overall, the decision to explore avenues outside Goa for the hospitality vertical likely stems from a combination of seeking new growth opportunities, minimizing risks, leveraging its brand strength, and capitalizing on its expertise in the hospitality industry. It's a strategic move aimed at positioning the group for long-term success and sustainability.
What were the various challenges you faced to see the dream of Radisson Blue Pune Hinjawadi come to fruition?
Undertaking a project to expand the hospitality vertical outside of Goa for the first time undoubtedly presented the Alcon Victor Group with a range of challenges. However, the group's ability to overcome these challenges speaks of our resilience, strategic planning, and commitment to success.
The Alcon Victor Group drew on decades of experience and built a dedicated team committed to our core values. Our success in overcoming these obstacles likely contributes to our reputation as a reliable and respected player in the hospitality industry, not only in Goa but also in Pune.
Setting up the Radisson Blu Pune Hinjawadi project was indeed an endeavour full of energy, fun, and success. However, it was not without its fair share of challenges that the team had to conquer along the way.
The project team drew upon the expertise of experienced professionals, collaborated closely with the Radisson Blu Pune Hinjawadi team, implemented best practices from the hospitality industry. 
With the enthusiasm and dedication of the team, each challenge was met head-on, transforming the project into an exciting and rewarding journey. The result was not just a successful establishment but a hub of energy, fun, and success that continues to shine brightly as the Radisson Blu Pune Hinjawadi.