With the acquisition of GI tags for many Goan products, it will provide recognition and protection to unique products, highlighting their distinctiveness and origin
Goa, regarded as the top tourist destination in India, is well-known for its resonant beaches, ornate churches and temples, and softly swinging coconut trees. However, with its seasonal and year-round delicacies that have Goans and visitors enthralled, the State's distinctive cuisine cannot be overlooked. These local products are best enjoyed in their complete authenticity, a topic that has been visited and revisited time and again given the effects of commercialisation, which have led to the loss of the delicacies' unique flavour. Understanding the importance of retaining this original taste, efforts were made to acquire Geographical Indication (GI) tags for the local Goan products; and it is thanks to these initiatives that a variety of Goa's beloved delicacies have been officially recognized by the Geographical Indication Registry located in Chennai.
GI tags are special as they are bestowed in order to protect and highlight the traditional knowledge, craftsmanship as well as distinct characteristics of products that owe their quality, reputation or other attributes to their geographical location. This accomplishment not only boosts local economies and promotes traditional artisans and growers but also fosters a sense of pride among the communities associated with these products. They are usually awarded for ten years and can be renewed periodically.
Cashew Feni
Goan cashew feni, a liquor made from the local cashew apples, is a drink much enjoyed by both Goans and visitors alike. Similar to how the title 'champagne' only applies to sparkling wines produced in the French region of Champagne, cashew feni created from the native cashew apples of Goa can only be called such. However, due to commercialisation and the large industry behind this liquor, imitations of the beloved beverage have become
widespread, and stores all across have started labelling non-Goan cashew liquor as feni. The Goa Cashew Feni Distillers & Bottlers Association submitted the spirit for GI recognition in 2007, and the request was approved in 2009. This made the spirit the first of its kind in the county to receive the honour. The GI tag classified the hard liquor as 'country liquor,' thereby preventing the sale of cashew feni outside of the State. In 2016, the State Government classified the Goan cashew feni as the 'Heritage Spirit of Goa' further giving it its unique identity.
Bebinca
Every Goan occasion feels incomplete without a mouthful of delicious bebinca, known as the 'Queen of Desserts.' The All Goa Bakers and Confectioners Association, in 2021, applied for GI status for Bebinca in efforts to preserve its
originality, its cultural heritage, as well as establish recognition for the same. A traditional Indo-Portuguese dessert, Bebinca is a type of layered pudding made of flour, coconut milk, egg yolks, ghee, palm jaggery and more. It is baked precisely, a layer at a time, and has a specific process that requires age-old experience. Having received the GI status, plans are in progress for bringing the Bebinca to the market stamped with the GI logo.
Khola Chilli 
The popular Khola chillies received the GI Tag in January 2020. The characteristic feature of this crop is its bright red colour and its medium spice levels. It is also commonly known as Canacona chillies or 'Kholchi Mirchi,' as most crops are grown and harvested on the hills of Khola village by the Canacona Farmers Association. The crop is entirely organic as green manure is used as a protective cover against soil erosion that occurs during the monsoons and as part of the horticultural practice of mulching which serves as an organic fertiliser. The crops are usually harvested during the months of August and September and in October the chilli production culminates after a period of six
months. Its shelf-life is extended as a result of its thick skin and the powder produced can be stocked for a long period as it does not draw in insects and the like.Raw mango pickle, green chilli pickle, red chilli sauce, 'Recheado' masala, Khola chilli powder, and chilli flakes are some of the local products prepared from this chilli crop. Moreover, because of its moderate spice levels, the powder is also used to make 'Papad,' the popular side dish. To prepare the GI registration roadmap for the Khola Chillies, the Goa State Council of Science and Technology and the Khola Chilli cultivators' group had collaborated with the Central Coastal Agricultural Research Institute (CCARI) scientists based in Old Goa in September 2018.
Mancurad Mango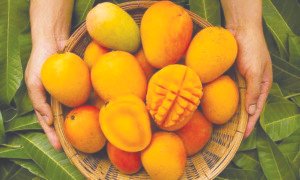 The Mancurad mango, also known as Malcorada, Cardozo Mankurad, Corado, and Goa Mankur, is a locally produced fruit that carries along with it Goa's agricultural and culinary heritage. Hence, acquiring the Geographical Indication (GI) tag was a need in order to officially grant the fruit its unique identity. In December 2020, the All Goa Mango Growers Association filed the mango for GI status and the same was granted in August 2023. This accomplishment allows Goa to showcase its rich cultural heritage, offering to the world its unique and diverse cuisine. That is not all. The GI recognition will facilitate a boost in the cultivation of Mancurad mangoes and farmers themselves can now quote higher prices for the same. "The GI certificate is given for the uniqueness of a particular produce mainly attributed to geographical conditions such as soil, climate and water of its origin or geographical area. With a GI certification for the Mancurad, we are expecting three things which are selection of quality Mancurad (without fibre, the long-staying variety and tolerance to climate change) for its seed bank and propagation. The second thing we are expecting to do is make available quality grafts available to our Goan farmers with promotional schemes; and lastly, technical and logistical support to initiate its export with the GI tag," adds Deepak Parab, State Nodal Officer, GI Cell, Goa State Council for Science & Technology.
Agassaim Brinjal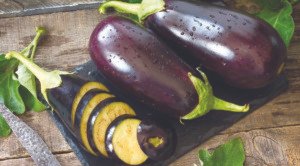 On the list of GI-approved products lies the Agassaim brinjal or Agsechi Vayingim which means brinjals from Agassaim in Konkani. The Agassaim Brinjal Growers and Sellers Association applied for the Geographical Indication (GI) status of the vegetable in June 2021 to the Geographical Indication Registry located in Chennai. The registry then granted the Agassaim Brinjal its unique status in July 2023, thereby officially recognising its agricultural and cultural significance in the State. Additionally, the vegetable faced no objections during this process which enabled it to receive swift approval for the acquiring of the GI tag.
Goan Khaje 
Khaje, the traditional Goan sweet staple at every temple zatra and church fair across the state originated centuries ago in Goa.
It is available in three different colours; golden covered with jaggery, orange with a layer of sweet coloured coat and white frosted with sugar. The khaje is a fried sweet prepared with chickpea flour, ginger, jaggery and sesame seeds. This sweet is shaped into finger sized sticks, encrusted with jaggery, infused with ginger and sprinkled with sesame seeds. It is crunchy, tasty and a healthy snack which is traditionally prepared only in Goa. The authentic version is soft on the outside and crunchy when one bites into it and is often eaten as a snack as well as a dessert. The Goan khaje is also referred to as kaddio-boddio due to its thin, long shape.
The Goan Khaje received the Geographical Indication Tag (GI) in 2020, thanks to the efforts of the Bicholim- based All Goa Khaje Producers Association (AGKPA).
Harmal Chilli 
The famed Harmal chili also known as Harmal Mirsang in Konkani, was granted the Geographical Indication Tag (GI) in 2020. This reddish brown chilli, derives its name from its area of cultivation which is a coastal village in the Pernem taluka in North Goa. The chili is unique in its size, pungency, colour and has a non-wrinkly skin texture; thanks to the unique character of the soil that it is grown in and hot, humid climatic conditions.
Each farmer follows a seed conservation system, by individually selecting chillis in terms of size, colour and appearance. These selected chillis are then sun-dried, wrapped in plastic wrappers which are then stored in air-tight copper vessels. These are then opened only when the seed sowing begins in the next season.
Harmal chili is grown during the months of October and November, has a thin outer skin with a good quantity of seeds and therefore contributes to a good quantity of chili powder. The chili has an excellent shelf life and can be stored for long durations. It is rich in minerals like potassium, magnesium, calcium and sodium with an average pungency of 28,200 Scoville Heat Units (SHU) with an American Spice Trade Association (ASTA) colour value of 18.8 ASTA units.
The chilli known for its medium to high pungency is used in almost all Goan food preparations like the Chicken Xacuti, Vindaloo and Recheado masala.
Myndoli Banana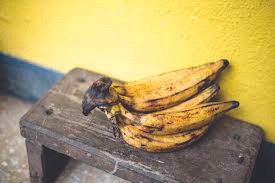 In August 2020 the Myndoli Banana attained the GI tag along with Harmal Chilli and Goan Khaje.
They are also commonly known as Moira Bananas, are very nutritious and are high in energy, vitamins, and minerals. The single banana fruit is long with a tusk-like shape, that is a length of 45 cm and weighs about 200 grams. A bunch of the Myndoli bananas consists of 85-98 fruits and weighs about 50 kilograms. This variety is believed to have medicinal properties that could aid in the prevention of certain illnesses, according to some locals, thus making it a go-to fruit to be consumed in order to avoid the same. The Myndoli Bananas are grown in sandy loam or clay soil.
This fruit crop is used to make the 'Myndolya Kelyacho Halvo', which is a popular dessert prepared as a halwa-fry, in ghee and sugar syrup. It is also used to make juices and shakes because it has a medium thick skin, contains a lesser number of seeds and is also sweeter.
The Myndoli Banana Growers Association from Ibrampur, Pernem had made an application to register this fruit in 2019. They are known as Moira Bananas as it is maintained that the crop was first introduced or was first to exist in the village of Moira, Bardez. However, the bananas are also grown in the talukas of Bicholim and Pernem.
Cashew nut (Kernel) 
The Goa cashew (Kernel) which is recognized worldwide for its unique taste, has successfully secured the Geographical Indication (GI) tag, making it the 10th product of the state to get the coveted GI tag. The GI registration is for Goa's cashew kernels obtained from processing raw cashew nut sold commercially in shops, which fetches a premium in the international market. The state government has made a special logo for GI-marked Goa cashew kernel. A GI tag will ensure that local cashew farmers receive recognition for their hardwork and will boost the Goan cashew industry, ensuring its continued growth and prosperity. Goa cashew nuts are an integral part of Goan identity and over the years have become synonymous with Goa. Tourists travelling to the state make it a point to carry Goan cashews back to their home towns and use them for gifting. Cashew was native to northeast Brazil in Latin America and was introduced to Goa by the Portuguese in the 16th century (1570). At the time of its introduction on Indian coasts, a crop for afforestation and soil conservation. Historical records cited by the GCMA in its GI application state that Christian missionaries imported high yielding varieties from Latin American countries and cultivated them extensively in Goa. However, the economic value of cashew nuts became known about a century after its introduction.
Saat Shiro Bheno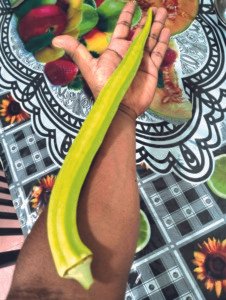 In March 2019, The ICAR- Central Coastal Agricultural Research Institute, Goa (CCARI) had released the Saat Shiro Bheno (seven rinds), Seven-ridged okra or Goa Bhindi 1, to be the first type of okra, and was given the GI tag early this year. What's unique about this variety is that it is tender even after it has grown up to the length of a foot. In addition, it is sold at a higher price, as this variety is more fibrous in nature.
The first cultivation of Okra began in Africa which then made its way to America and South Asia. The vegetable supplies all necessary nutrients and minerals such as Vitamin C, K, A, B6, potassium, magnesium, calcium, and iron. This variety also consist of antioxidants that protect heart health. Moreover, adding the seven ridged okra to the diet aids to balance cholesterol levels, weight, strengthens the immune system and assists with maintaining eyesight and body tissues to the optimum.
"FARMERS WILL BE ABLE TO GET A BETTER PRICE THAN WHAT THEY ARE GETTING TODAY"
Rohit Zantye, President of the Goa Cashew Manufacturers Association (GCMA) speaks on the benefits of a GI tag for the Goan cashew (Kernel)
How do you think the GI tag will be beneficial to the GCMA and the cashew industry as a whole?
In order to help the industry and members of the Association to safeguard the identity of Goan cashews, an application was made for the GI tag. Now with a GI tag no one other than members of the GCMA will be able to use the Goa Cashew brand name. The cashew nut is very popular in Goa and over the years, manufacturers of these nuts have provided to the locals as well as tourists, the real taste of cashews. The Goa cashew brand was created more than 50 years ago. In the last few years, there have been traders selling cashew nuts processed outside Goa, in the state, and passing them off as Goa cashews. Traders have been involved in illegally selling lower grade cashews, which were not compliant with food and safety standards and weights and measures, as Goa cashews – thereby affecting brand Goa and Goa as a whole.
What is unique about the Goa cashew kernel that differentiates it from the ones sourced from other regions?
In the 16th century, the Portuguese brought cashew trees with them from Brazil to Goa and from Goa; it has spread to the rest of the country. Goa was the first place to have a cashew processing factory and exports of these processed cashew nuts took place almost 100 years ago. Goa is the only place in the country where we make Feni. We follow a unique harvesting practice where farmers allow the fruit to mature fully and harvest only the fruit and nuts that have fallen on the ground. The nut having been fully mature lends the Goa cashew its sweet taste and that is what sets it apart from nuts of other origins. So it is not only about the trade that has to be protected but also our history and culture that represents the nut.
What was the process of applying for a GI tag like? What challenges did you face?
The GCMA in association with the Department of Science and Technology, Government of Goa made a joint application for the GI tag. This Department has been taking up the mission of getting GI for various other Goan products. In 2020, we made an application for the GI tag for cashew nuts. Before that we had a discussion with Deepak Parab, Nodal Officer of the Department of Science and Technology, who felt that Goa's cashew identity needed to be protected. We were then hit with Covid and plenty of resolutions had to be passed where we could not meet physically. GCMA had to get work done online and various queries had to be resolved. The members had to understand the benefits of applying for a GI tag and all members had to be brought on board. The process wherein the whole GI team came to Goa and evaluated the application was delayed due to the pandemic. It took around three years and we managed to answer all the queries of the team. There were a lot of tests to be carried out which substantiated our claims as to how Goan cashews were different from those of other regions. There were no difficulties in getting the tag, just the delay in getting the process underway.
With GI certification for cashew kernels, what can the local Goan expect?
Cashew is the biggest crop in Goa. The total coverage of cashew crop under cultivation is more than 45000 hectares; and more than 25000 families are dependent on cashew crop as a source of income. By protecting the identity of the cashew we hope that our marketing of cashews to the tourists will help increase the demand for cashews. This will hopefully lead to the revival of cashew processing which is in a sad state right now. Years back, we had over 40 cashew processing industries and today we have hardly 20. Most of the industries have moved out of Goa. We also hope that people involved in the selling of non Goan cashews as Goan cashews will stop and that farmers will be able to get a better price than what they are getting today.
Now that the GI certification has been attained for the cashew kernel, what should be the role of government organisations like the FDA?
We have made various government departments like the FDA, Weights and Measures, Department of Agriculture a part of the monitoring team of GI. Both processors and farmers will benefit from the GI only when the illegal trade which is currently happening is stopped. When GCMA members sell Goan cashews with the GI mark and those involved in illegal selling of cashews are stopped, that is when the benefit will pass on to the industry and farmers. I request the FDA and other departments to be vigilant enough and see that unlawful practices are stopped. Now that we have the GI certification the government is in a position to take action against illegal traders
What Next?
There are several other applications for GI-tagging still pending. This includes the Taleigao Brinjal, Fish Curry, Korgut rice, Khatkhate (Mix Vegetable Stew), Manghillar mango, Mix Pav Bhaji, Coconut feni, Bangdyachi Uddamethi (mackerel curry), Mussarat mango, Goa cashew (nut and apple), Goa coconut carving and shell items, the Kunbi sari, Kaavi art, Urrack, the Ghumot, and Goan sausages.
Goa is keen on expanding its offerings of GI-tagged products so as to strengthen the visibility, guarantee and authenticity of the local products in domestic and international markets thus opening export avenues for them, while also being beneficial to those who produce such products.