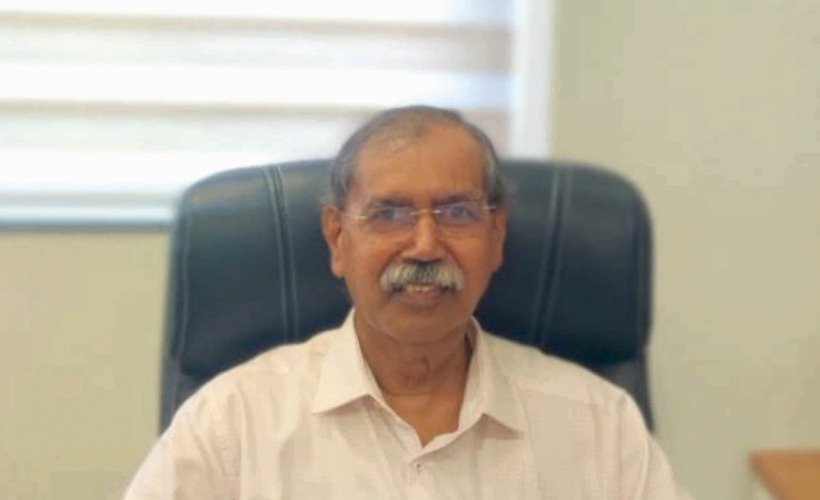 Dr Pradeep Naik highlights his journey as an ophthalmologist and his passion for serving the community
Dr. Pradeep Naik, the former Dean and Professor of Ophthalmology at Goa Medical College has 37 years of medical teaching and service behind him. His academic contributions include his stint as Chairman of Board of Studies in Surgery and Allied Subjects, Chairman of the Board of Studies, Allied Health Science Courses, Dean of the Faculty of Medicine at Goa University, Chairman of AIC – Goa University and examiner for Undergraduate and Post-Graduate degrees at various universities in Goa, Karnataka, Maharashtra, and Gujarat.
As a life member of the Indian Medical Association (IMA) Tiswadi Branch, Dr. Naik has been a faculty for the CME programs at all IMA branches, and conducted community eye camps for IMA Tiswadi. At the State level he was the State coordinator for the Netra Deep Project and a guest faculty at State level CMEs.
Dr. Naik spent his childhood in Betul where he attended the Government Primary School upto the fourth standard and later joined Mother Perpetual Succor High School in Cuncolim. He completed his graduation from Parvatibai Chowgule College of Arts & Science after which he joined Goa Medical College in 1975 and went on to complete his MBBS.
He goes on to elaborate on what inspired him to become a doctor. "There are two reasons why I became a doctor. I was impressed by the work of our family doctor, Dr. Shivram Usgaonkar, who was practicing in our village. I liked his attitude towards his patients and the dedication with which he treated them. The second reason was that I had inspiring teachers, especially my physics and French teacher who were meticulous in teaching their students. When I took up medicine, I realised that I could practice as a doctor as well as teach students and that is how I ended up as a doctor and a teacher."
When Dr Naik graduated in his MBBS exams he had two choices before him, of either taking up gynecology or ophthalmology. "In the merit list I was at the seventh position and those before me filled up the gynecology seats. I went in for ophthalmology and I don't regret it one bit."
Speaking about his early years in the profession, Dr Naik says, "I started my career as a doctor in ophthalmology in 1981 and was a junior resident till 1984. This was the most wonderful phase of my life as I had Dr A. K. Mukherjee as my professor and guide, and our department was given the responsibility of handling the National Program for Control of Blindness. I was posted for the first camp as Dr Mukherjee saw my potential and inclination towards serving the community and put me in charge. This would go on to shape my social work in the later years. Henceforth, I was always in charge of the camps behind held by GMC. After becoming senior resident I would hold camps throughout the year especially in villages. I also joined the Lion Club and Rotary Club and was always part of the medical camps hosted by them. I would usually go on Sundays or holidays thus making community service my passion." Dr Naik began teaching when he was a resident in the second year.
When Dr Naik completed his post graduation there were no super specialisation courses or fellowship and during MS they were paid for doing cataract surgeries and all anterior segment surgeries.
In 2012-13, Dr Naik was given an opportunity by the Government of Goa to commence para-medical courses. "We had just four and a half months to put everything in place. Right up from framing the ordinances, laying down the rules for the courses, getting the approvals from the government and university to crafting the syllabus and other miscellaneous groundwork, I did it all."
Dr Naik speaks on his time as dean of GMC. "As dean of GMC I had plenty of opportunities to enhance the academic side of medicine. Simultaneously I was also the dean, faculty of medicine at Goa University. I had to monitor the academic programs of all colleges under the medicine department. I would go periodically to all these colleges and check on their progress on behalf of the university. I had the opportunity to participate in some of the first post-graduate courses at Ayurvedic Colleges."
Dr Naik says control of blindness is the most challenging thing about his profession. "During my time the facilities at the grassroots level was non-existent. We didn't have many ophthalmologists or centers all over the state. Detecting patients with eye problems, encouraging them to come to hospitals to get treated was a huge challenge for us. The camps conducted by various clubs and social organisations were instrumental in helping us. We would stay at small villages along with our teams for a number of days. We went to various Primary Health Centers, and gathered patients; gave them health talks as people were not aware of various procedures that could help them. We would then conduct surgeries, check these patients on a daily basis, do their dressings and discharge the patients after ten days. This procedure would take us a fortnight at least, after which we would move to the next village. Though it was challenging it was extremely satisfying," he says.
Dr Naik speaks highly of his wife, Dr. Pritam who is the Chief Medical Officer, Directorate of Health Services. "She has been a big support to me and took care of the family which allowed me to give more time to my Department and social activities."
Dr Naik has been a recipient of various awards like the WHO Fellowship at ICEH London, Best Medical Teacher by Lions Club of Panjim, 'Knight of the Blind' award by Lions District 317D, Dr. Sharat Chandra Endowment ACOIN Award at ACOIN International Conference, Pehalgam, J&K, and 'Sushrut Samman' Award as one of the distinguished professors in Ophthalmology, to name a few.
Speaking on his future plans Dr Naik adds that he would like to keep himself abreast of all the latest technology as far as eye care is concerned and do more of community service. "I have retired and have set up my private practice which leaves me with more free time. When I first started my clinic most of my patients were students. I realised that thanks to online classes and other digital usage, eyesight was affected badly which is not desirable at a young age. I had a discussion with the IMA office bearers and we decided to do an eye checkup of students at every school. We launched a program on Doctors Day and along with two of my students, I have volunteered to treat school students for free. We have included four optometrists in our team who visit schools regularly and whenever any child is detected with poor vision they get referred to me. Every Saturday afternoon, I run a free clinic for school students. I am also a part of regular camps conducted by the Rotary Clubs and Lion Clubs. I also visit old age homes to check on the senior citizens there. This is what I enjoy doing and hope to continue as long as I can"