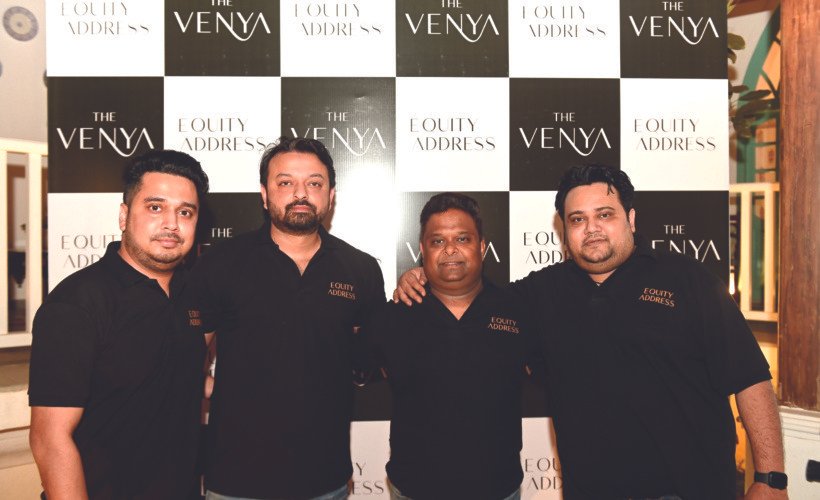 Equity Address launches an innovative technology platform for holiday home co-ownership in Goa. Venya, its holiday home vertical plans to disrupt the space
Equity Address (EA) is a fin-tech company that modernises real estate co-ownership of owning holiday home hassle-free and enjoyable experience along with returns. Millions of people dream of owning a holiday home but considering the capital requirement as well as the procedural complexity, only a fraction of this number end up buying a second home. Four friends, who recognised this need among others, created Equity Address, a platform designed to simplify the process of second home ownership.
Founders
EA is led by a multinational team of seasoned entrepreneurs who are driven by their shared passion for international travel, technology, design, and real estate innovation. The team is made up of Puneet Gupta, CEO; Aashish Raj, COO; Abhishek Madhukar, CFO; and Mohit Gupta, CMO.  The founders have invested in a beautiful Portuguese holiday home in Goa and are looking to invest in more homes in the State and other markets.
Partner opportunities at EA
In order to strengthen the real estate ecosystem, EA seeks to develop partnerships with builders, home-owners and real estate agents, as well as create an ecosystem of individuals and groups like friends and family interested in co-owning or leasing their homes to earn passive income. The EA platform and ecosystem comprises of Global Technology Architecture and local innovation which is easy to use for those looking out to network with like minded individuals. It is consumer friendly and helps in enriching lives through technology.
The EA platform makes fractional investments in holiday homes accessible to more people and also investment in real estate an easy liquidable asset.
It is designed to make the investing experience as seamless as possible for its members with three simple steps:
•Members can browse the marketplace to find properties that fit their investment criteria.
•Members decide how many shares to purchase and invest in.
•The Venya, a hospitality arm of EA manages the property, taking care of bookings, house-keeping and maintenance. Members earn monthly income and potential property appreciation.
EA + The Venya – Holiday home experience company The mission is to disrupt this space worldwide and help as many people as possible who aspire to own a second home or already own a holiday home and wish to convert it into a financial asset.
EA's hospitality arm, The Venya, which is a luxury holiday villa rental platform with 320+ bespoke curated properties. The platform allows visitors to book luxury villas for rent in top tourist locations across India, South East Asia, Europe and other prime locations in the world. The Venya is already helping hundreds of property owners to earn a strong return on investments by leveraging its reach and promotions. Closing the loop on the ecosystem, The Venya will help provide returns to the investors on their homes purchased through EA.
Business Plan for Goa and other markets in India
EA is planning to explore several second home real estate options to meet the demands of millions of people aspiring to own a second home-from apartments to condominiums and villas, ranging from INR 2 crores to INR 8 crores with investments starting as low as INR 20 lacs per investor. EA is targeting 200 retail investors by end of 2023. EA has a target of acquiring worth INR 100 crores of properties by the end of 2023 in holiday homes markets in India like Goa, Alibag, Lonavala and other second home destinations.
EA – International Expansion
With their headquarters and holding company in Dubai International Financial Centre (DIFC), Dubai – the company has aggressive plans to expand in Middle East/North Africa (MENA), South-East Asia (SEA), and Europe in the next 2 years.
EA Residence Fund
The company also plans to launch a luxury residence fund of 60mn USD for the co-ownership of luxury holiday homes globally in 2023 for elite travellers and investors.
The global residence fund would have 20-24 luxury holiday homes across the globe spread across Greece, Italy, Spain, London and Dubai to name a few. The ticket size of investment in the fund is around USD 160,000 which will give consumers global access to the portfolio of homes in the fund. "Our platform enables multiple people to own and enjoy a luxury holiday home and split all the costs amongst them without the fuss and hassle normally involved," explained CFO and co-founder Abhishek Madhukar. "We call this the smarter way to own a home. Buying a house for just a few weeks a year is more hassle than it is worth, while spending money on a rental is a waste and an expense, not an asset."
"EA manages all the legal and administrative processes that come with home acquisition and ownership", said co-founder and COO Aashish Raj. "For example, EA purchases the home through a Limited Liability Company (LLC), finds and vets qualified co-owners, allocates time equitably among co-owners and performs all services necessary to manage and maintain the home over time. It even deals with managing utilities, landscaping and preventive maintenance."