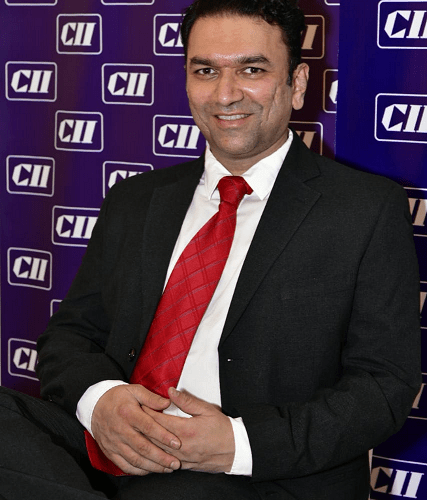 Business Goa catches up with Anirudh Agrawal, newly elected Chairperson of CII-Goa State Council, as he elaborates on plans for the organisation
What can you tell us about CII-Goa chapter?
Under the CII's central theme framework of collaborative and participative approach, CII Goa is constantly working towards creating and sustaining an environment conducive to the development of Goa by partnering with industry, government and civil society, through advisory and consultative processes. Our key objective is to recommend policy matters to the Government and bring the Government initiatives to industry. We hope to be the bridge.
Your experience in the industry
I joined the family business in 2003 and spent the initial years in every department. My first project was reviving our ship building facility. In 2004-2005, I started with renewable energy by setting up our first 3 windmills in Karnataka. From then on till 2011, we grew our wind portfolio to over 100MW. In 2012, we began manufacturing solar panels and setting up solar projects pan-India. We started with a semi-automated production line of 15MW, manufacturing 220W panels and from then till now we have grown to a robotic manufacturing capacity of 160MW manufacturing 610W panels, having our own power plants of 150+ MW and participated in more than 300MW of installations. We have also installed several solar water pumping systems in various states and have started manufacturing of electric 3 wheelers in Goa.
What are your views about the last few years at CII?
CII, in last few years, has made significant contribution towards the development of Goa especially in the key focus sectors such as tourism, logistics, renewable energy/environment, ship-building, defense and startups by supporting the key stakeholders in interfacing with thought leaders and enhancing efficiency, competitiveness and business opportunities through a range of specialised services and strategic global linkages.
What is the primary focus of CII during your term as Chairperson?
Working on the CII National theme of "Beyond India@75: Competitiveness, Growth, Sustainability, Internationalisation", CII Goa state council has chosen to be working on following key focus areas: energy security, digital transformation, tourism, skilling and employability, corporate governance.
What legacy programs do you plan to continue with, from your predecessors?
Apart from the flagship initiative of CII Goa like the Tourism Conclave, Clean and Renewable Energy Conference and Logistics Conclave, we are also working upon taking new initiatives in the real estate, defense, human resource, industrial relations and advanced technologies sectors.
What projects will you be undertaking during your term as Chairperson?
CII has recently hosted the Government of Goa delegation to New Delhi wherein Rohan Khaunte, IT Minister, Government of Goa interacted with CII members with an aim to attract investment in the state and detailed upon the Goa's IT policy and the state government's plan to set up an electronics manufacturing cluster in Goa. We intend to scale up this engagement to other important cities of the country and overseas, as well in the upcoming year. Given the state's focus on Tourism, CII has initiated first of its kind 'Regional Culinary Institute' in partnership with a world-renowned hospitality institute of Switzerland to train and skill the state's youth. We would also work upon scaling up the institutes activities and promoting it amongst all its stakeholders, especially Government, for making the optimal use of the Institute.
We will aim for a sustainable, open-access power policy which will help Goa generate renewable energy and attract investment in that segment.
We have several areas to improve in ease of doing business and CII at national and western region levels has been advising the Governments on these. I wish to bring these good practices to Goa.
Who feature in your team at CII and what strengths do they bring to the table?
CII Goa State has 11 State Panels convened and co- convened by various members of state. Most conveners from the last year will continue to head their panels for the sake of continuity and opportunity to execute what they have started.
Where do you see CII in a year from now?
CII Goa would step up its engagement with various stakeholders, especially the State Government and members, and would work towards augmenting their efforts by syncing its plans for focus sectors and providing a platform for consensus-building and networking on key issues. We plan to have several programs which are informative to the industry which will help growth and investments in Goa.
Goa's ranking in EoDB is a matter of concern. Please share your views on the same.
Goa is a state with the best law and order situation in the country along with being a leading state on Human Development Index (HDI) in the country which is one of the most important pre-requisite for having a conducive business environment. However, there are some challenges over licenses and clearances for industries to establish and operate in state and there is a need to enhance the industrial infrastructure of state. While the state government is working in a committed manner to address them and their efforts in the past have also reaped in positive results, CII is also committed in extending our full support to the state government in their initiatives and enhancing the EODB in Goa. A lot of benefit and change has been observed in other states by following some practices suggested by CII, we have been in dialogue with various agencies of Government of Goa and they have shown an interest in adapting these measures. We will work on trying to get these implemented.