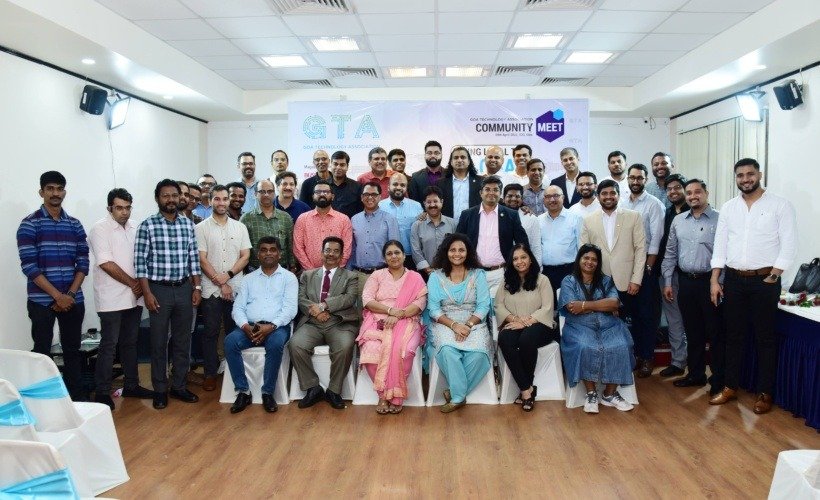 Goa Technology Association brings the state's eminent techpreneurs to share their ideas and vision for the industry
Goa Technology Association, organised the GTA community meet for its members, recently.
Two panel discussions were held with Goa's eminent techpreneurs who shared their inputs on how to boost Goa's IT ecosystem.
The first panel discussion was on the topic, 'Decoding Goa's Tech Industry' where the panelists were DS Prashant (CEO of FiiRE), Dr. Mariappan (Advisor of AITD), Amit Tamba (CTO of Freethink), Kapil Nair (CTO of Conexao Technology Solutions) and the session was moderated by Harshvardhan Bhatkuly, Editor, Business Goa. 
Amit Tamba spoke on the challenges faced during covid and shifting to work from home which was a whole different ball game for them. D S Prashant said that as startups began coming to Goa, they began supporting these startups and mentioned that the Government came up with plenty of funding strategies.
Kapil Nair, meanwhile, stated that they fared a lot better since they could all work from home inspite of the uncertainty.
Dr V Mariappan said, "In our college we started having pedagogy of teaching students using smart boards from the beginning. We did not restrict ourselves only to the blackboard and chalk discussion. We could also easily turn our discussions into Google Classroom, where we could put all our materials and assess the students' performance in the form of tests. The problem that we faced was that we couldn't see the way in which the students were learning. We found a solution through an aid known as the Digital Pen. Using it, we could bring back the blackboard on the screen and all analytical issues could be done via the Digital Pen."
The Second Panel Discussion was on the Topic 'Boosting IT Exports' and the panelists were Ricky Norohna (Director of OPSPL), Milind Anvekar (President of GTA and VP, Open Destinations), Nilesh Nayak (Founder of Sapna Group), Milind Prabhu (CEO of Genora) and the session was moderated by Rohan Warty, Managing Director of Xerviz Wlobal. The panelists shared their IT vision and spoke about marketing strategies that they deploy for IT Exports.
Speaking on the pandemic and its effects on the business Milind Anvekar said that they ensured that their employees were able to work from home and that there was productivity. "During this time, we launched a new product called 'Rail Studio' because the top rail tour operators in the world are actually using our products to manage their entire business operations and services. So we launched a separate suite of products during this time and also introduced a learning management system which helped us stay afloat. Though there were a number of lows, there were also a lot of positives for our company.
Nilesh Nayak shared his ideas on the basics required to start export in software. "You should have a business partner who is based in the country. As much as we talk about online networking, auctions, reverse auctions, the fact remains that a lot of deals happen on a face to face basis. So if you have anybody who is based in the country you want to get into it really helps. It is also a good idea to start a networking forum in order to increase your business."
Meanwhile Milind Anvekar spoke on marketing strategies saying that it is important to stay focused. "We are only catering to the travel sector and only a particular section in that sector. We make sure that the product evolves and is robust, relevant, updated, and competitive. This helps you position yourself in the market at any given point of time. When you have a product like this, it is really easy to market."
While sharing tips and tricks on boosting the IT sector in Goa, Americo (Ricky) Noronha mentioned that as part of the GTA it is important to have a small sub-committee which can put up the skills of the GTA members and try to get business in for the members.
Milind Prabhu said that it was important to support local companies. "If we have a good vibrant industry which is completely supported by the government, there will be more local talent available in Goa. Today, the IT industry needs resources. We also need to pull in skills from outside the state into Goa and have major Developer Summit Programmes in the state."
After the panel discussions, seven new members were inducted in the Goa Technology Association by GTA President, Milind Anvekar. He then addressed the gathering and highlighted the GTA plans saying, "We have already presented a road map for IT ecosystem for 2022-2023 to the Chief Minister and we expect that under the able leadership of the new IT Minister, Rohan Khaunte, Goa's IT industry will be back on track'. Mangirish Salelkar, Founder President of GTA proposed the vote of thanks.
The event was attended by 70 technology entrepreneurs, academicians and other IT stakeholders from the state.