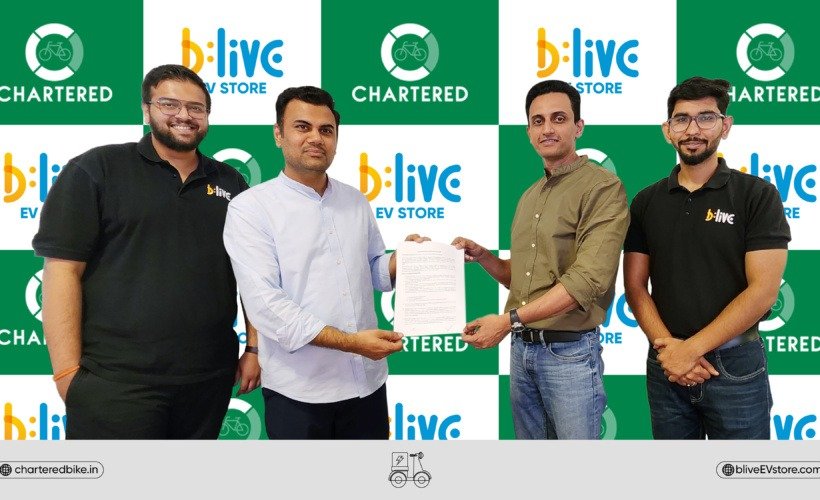 ~ The MoU between BLive and CBPL will target nationwide deployment of 10,000 2-wheeler EVs and 1000 3-wheeler EVs over the next three years ~
~ The collaboration aims to help last-mile delivery companies such as Zomato, Swiggy, Amazon, Flipkart, Delhivery, Porter and many more to resolve the supply gap of electric vehicles in the market ~
BLive, India's fastest-growing multi-brand electric vehicle platform, has teamed up with Chartered Bike Pvt Ltd (CBPL) – India's leading provider of electric mobility solutions, specialising in public bike sharing, in-campus mobility, e-commerce delivery, and last-mile delivery services. As per the MoU signed between BLive and CBPL, the collaboration will target the nationwide deployment of 10,000 2-wheeler EVs and 1000 3-wheeler EVs over the next 3 years. The total MoU is worth approximately INR 120 Cr with estimated deployment in three phases – INR 30 Cr in the first year, INR 40 Cr in the second, and INR 50 Cr in the third year.
The partnership between BLive and CBPL is aimed at helping last-mile delivery companies, such as Zomato, Swiggy, Amazon, Flipkart, Delhivery, Porter, and many more, to resolve the supply gap of electric vehicles in the market. The MoU between BLive and CBPL will resolve this issue by helping these organisations deploy vehicles nationwide, with a focus on Tier II cities.
Chartered Bike Pvt Ltd is a leading provider of electric mobility solutions, specialising in public bike sharing, in-campus mobility, e-commerce delivery, and last-mile delivery services. CBPL is committed to delivering sustainable transportation options that are both cost-effective and environmentally friendly. CBPL's public bike-sharing programme offers convenient, affordable, and healthy transportation options to commuters and city-dwellers alike. Thanks to CBPL's fleet of state-of-the-art electric bicycles, riders can easily navigate the urban landscape, while reducing their carbon footprint. In addition to public bike sharing, CBPL also offers in-campus mobility solutions that help students, faculty, and staff move around their campuses efficiently and sustainably. Their electric vehicles are perfect for short trips between buildings, or for running errands around campus.
Speaking about the collaboration, Samarth Kholkar, CEO and Co-Founder, BLive, said "We are excited to partner with Chartered Bike Pvt Ltd to further our cause for greater adoption of EVs in the country. With a focus on electric vehicles for their delivery fleet, last-mile delivery service providers have been a major accelerator of India's electric mobility revolution. The use of electric vehicles will significantly reduce the cost of operation and energy expenses. The lower operating costs, simple mechanism and low maintenance make EVs a winning proposition for the last-mile delivery service providers."
Commenting on the partnership, Param Mandloi, Co-Founder of CBPL said, "Our e-commerce and last-mile delivery services are designed to meet the needs of modern consumers who demand fast, reliable, and eco-friendly delivery options. Our electric delivery vehicles make it easy for businesses to meet their customers' needs while minimising their impact on the environment. In Blive, we have an able partner to drive this mission forward while making mobility cleaner and greener."
CBPL's proven expertise in operations and managing after-sales-service, coupled with its strong presence across 15 cities, especially Tier II cities, helps CBPL manage its operations efficiently. As part of the deal, CBPL will be responsible to ensure the same on-ground post deployment of EVs. Blive – as one of the largest and growing electric EV platforms in the country – will add value through marketing activities and provide end-to-end tech solutions to help the deployment of EVs while parallelly driving high return on investment for its partner – Chartered Bike Private Limited.
About BLive
BLive is India's first Multi-brand EV platform offering a wide range of EV products and services on a digital platform www.bliveEVstore.com With over 40 brands listed on its platform, BLive offers an omnichannel experience to its buyers – an online E-commerce store and Premium experience stores pan India. Driving its vision to accelerate the adoption of EVs – BLive is rapidly expanding its presence pan India to 100 premium Multi-brand Stores by '24 offering E-Scooters/ E-cycles/ Delivery Ebikes and many more unique form factors.  BLive facilitates EV adoption for personal usage as well as businesses by providing seamless Charging infrastructure, Post sales service as well as easy finance options to its customers.