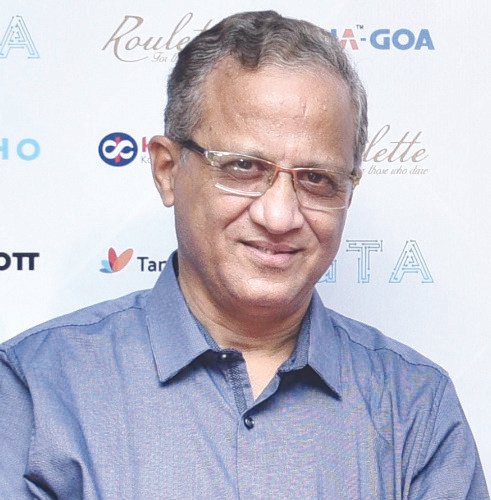 Santosh Kenkre highlights the journey of Anil Counto, who has made a mark for himself in the business world
I have met hundreds of fine entrepreneurs in my life. Hence, to pick and choose a few of them is not easy.
My earliest recollection of Anil (Nanda) Counto (Khaunte) goes to the year 1968. My uncle Eng. Anant K. Tamba was close friends with him.
Counto established the Alcon Group of Companies with Victor Albuquerque, partner and co-founder. Counto was and is always full of energy and ideas, which he was and is very vocal and expressive about. In 1973, his Alcon group started the business of real estate/ construction and made big strides in the same. Later, they started their ventures in the hospitality sector in a big way by constructing hotels and resorts. Much later, the Alcon Group went through a seperation and Counto went solo and continued to make a big mark for himself and his enterprise.
Today his Group is one of the most diversified groups in Goa, with interests in real estate and construction, manufacturing, services, hospitality, exports, trading, electronics, automobiles and logistics. The group has a joint venture with ACC Ltd. for manufacture of cement and ready mix concrete.
For niche special products for construction industry Alcon Anil Counto Enterprise has a joint venture manufacturing unit with Ambuja Cement Ltd. Their product was developed in the in-house lab. Further, the Group has ventured into ready mix plasters manufacture with special properties. In a separate unit, the company also manufactures special purpose machines catering to the ultrasonic cleaning application for industrial components, where all the auto and engineering Original Equipment Manufacturers (OEMS) are the main customers.
In the hospitality vertical, the Group has a presence in three segments of beach resort (Ronil Resort), business hotel property (Hotel Delmon) and a heritage restaurant (O Coqueiro), showcasing unique Goan cuisine.
Trading operation is in utomobiles – Mercedes Benz and Hyundai dealerships. Alcon also works in coastal logistics, and has its own mini port and constructs floating jetties.
The Group lays large emphasis on research and development in the fields of cement and concrete industries with its specialised laboratory.
What fascinates me is Counto's efforts in the educational and social sectors. In the educational sector he is one of the main drivers behind Mustifund Saunstha, and educational trust which is more than 100 years old and has its own buildings/campus in Panaji as well as Cujira Complex.
I believe that banks, etc. funded these two campuses chiefly on account of a strong, unstinted and selfless support pledged by Counto to Mustifund Saunstha. Thousands of parents and students have benefitted over decades in the schools etc. run by Mustifund Saunstha.
Counto is also the President of Aurobindo Society – Panaji Centre. He is founder settler and President of Disha Charitable Trust for special children, a truly salutary initiative. He is the founder and trustee of Vidya Vikas Mandal which imparts education from KG to Post Graduation to about 5,000 students in Margao. He is involved in a lot of social work and has been decorated with numerous awards at state level and national level.
Counto, a civil engineering graduate from VJTI Engineering College in Mumbai, has come a long way to change the educational and entrepreneurial face of Goa. But, what amazes me the most is his energy and enthusiasm and zest for life. This combination seems unbeatable.
The columnist is a senior chartered accountant. He is Chairman of Indo-American Chamber of Commerce, Goa; and Director of EDC, Goa. Email: srkgoa@gmail.com