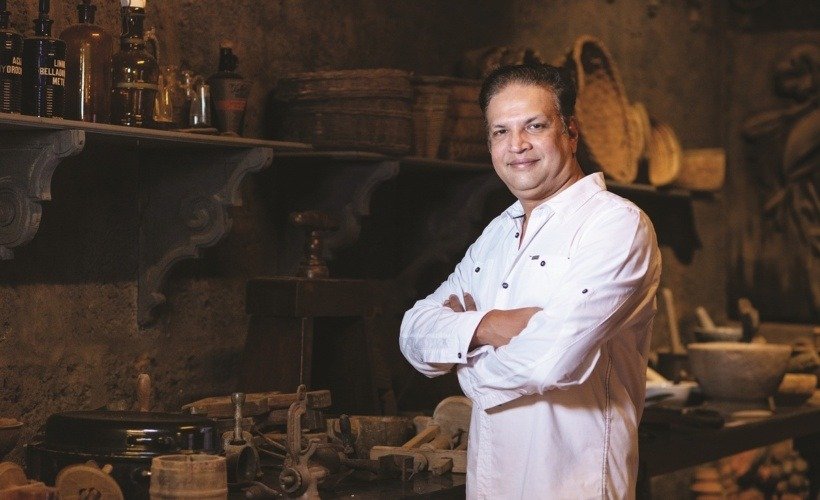 Nandan Kudchadkar has opened the doors of 'All About Alcohol' to narrate the story of Goa's tryst with the alcohol industry
Nandan Kudchadkar is a man who dons many hats. Businessman, social media influencer, collector of antiques, Nandan's heart beats for Goa. His love for Goa's culture and heritage, beauty and natural resources, rich history and traditions, has paved the way for his varied entrepreneurial ventures like LPK Waterfront, Calizz museum, Cheap Charlie pub and Personal Treasure, an art and curio gallery.
Born in a business family with interests in mining, Nandan's journey began with Zincal Metalloys Pvt Ltd. His foray into the world of entertainment and tourism related business began with Club Paradiso and later, he created LPK Waterfront, his passion project and a labour of his love for Goa.
An avid collector of antiques and Goan artefacts since the age of 14, Nandan has a vast collection of pens, altars, inkpots, glasses, cooking utensils and more, enough to fill up many museums.
His particular affinity for Goa's traditional drink, Feni, both cashew and coconut, and the responsible drinking culture prevalent amongst Goans, led him to open a museum in Goa, with the aim of preserving the legacy of Feni.
Located in the beach village of Candolim, the All About Alcohol (AAA) museum, aims to be the first of its kind "encyclopedia of alcohol" and has been getting a stream of visitors since it opened two months ago.
Barely a week since its opening, the museum caught the attention of some of the
most renowned news media across the country, who termed AAA as "Louvre of Goa".
"When I thought of creating a concept like this, the first thought that came to my mind was whether there is an alcohol museum in the world. There is absolutely no place in the world where you can see this kind of stuff pertaining to alcohol. If you go to Scotland, they are very happy about their waters, about their drinks etc. Similarly, in Russia, the people feel happy to showcase the drinks they have," Nandan said.
"When we come to India, we project alcohol differently. Following my instincts, I decided to set up India's first museum dedicated to alcohol here in Goa," he said
Nandan states that the drinking culture in Goa is far removed from the typically depicted ones in movies and pop culture, with Goans knowing their alcohol, appreciating it and drinking mainly to be happy.
For Nandan, alcohol is much more than just a social lubricant, elegantly sipped from identical long-stemmed glasses at an intimate dinner party, or guzzled straight from the bottle at a packed nightclub. At his museum, he seeks to move the spotlight from the beverage itself, to the story behind it.
"The problem is that nobody really tells you what alcohol is, or how intoxication starts," he explains. "This is the place where we show you what is what. We show you the beauty of sipping a drink from a glass made in the 1500s. We show you how some of the finest glass factories of yesterday were destroyed."
Ironically, it was during the pandemic – when businesses across the country were shutting and people were confined to their homes – that the idea first struck Nandan. "Drinking during the pandemic shifted from restaurants to homes," he explains. "Even if you're just calling a couple of friends home for a drink, the euphoria of enjoying a drink was a good way to get your mind off the tensions of the world."
AAA has the distinction of being one of the first museums dedicated to alcohol, in the State and in the country.
AAA's focus is the pride that Goans take in Feni, the colourless alcohol that has been part of the Goan culture for centuries. It comes across in the passion with which Nandan talks about this drink that is made on his family's estate in Neturlim, South Goa, and stored in garrafões (hand blown glass containers) since 1946. The family does not retail Feni. It comes across in the display, which features implements, and a dummy version of a rustic set that displays how Feni is distilled, measured and stored. It also comes across at the tasting at the end, which dips into the collection to offer visitors a taste of Feni in cocktails as well as in its "pure" and undiluted form.
Nandan said that they do not promote the habit of liquor consumption, but the gallery has been set up to showcase the unique and rich legacy of brewing Feni in the coastal State.
"Amongst the 1001 things that I have here in the museum, I love to say that I am more keen on promoting the fruit of the soil. Feni is also used for medicinal purposes, as a recreational drink during social gatherings, for cooking and I have to say that Feni exists in various parts of a Goan's life."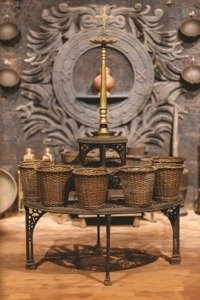 Nandan's objective behind creating AAA is to make the world aware of Goa's rich heritage, especially the story of Feni and the legacy of the alcohol trail from Brazil to Goa.
The cashew nut plant was first believed to be imported into Goa by its colonial rulers, the Portuguese, from Brazil in the 1700s. Both Brazil and Goa share a common Lusophonian colonial influence. After the plant was brought to the shores of Goa, cashew has taken root in Goa and so has Feni.
Cashew Feni is distilled from fermented juice extracted from the cashew apple and is a popular alcoholic beverage in Goa. Farmers, who lease the tracts from the government every season, harvest the cashew apple from orchards. The juice from the apples is then fermented and distilled using traditional equipment. Distilled once, the fermented juice transforms into a popular mildly intoxicating summer drink called urrak, while once double distilled, the drink is referred to as Feni. Feni is also blended with spices like clove, pepper, nutmeg, and cinnamon to make another variation called 'masala Feni'.
A similar process is also used to distill coconut Feni from palm toddy. Cashew Feni is also the country's first indigenous liquor to obtain the Geographical Indication tag, a process, which was initiated by local manufacturers of the brew in 2009. In 2013, the traditionally distilled cashew Feni, with its astringent smell and powerful fruity flavour, earned the Geographical Indication (GI tag). The Goa Excise Duty (Amendment) Bill 2016 removed the country's liquor status and declared Feni as the 'heritage spirit of Goa' to bring it at par with world famous liquors such as Champagne and Scotch Whiskey.
"We have glass garrafōes (vats) which date back to centuries, from an era where the Portuguese ruled Goa. There are hundreds of exhibits, each made with love and the very act of seeing them in their glory makes us feel passionate about our heritage," Nandan says.
Once manufactured, the Feni was stored and aged in the large vats for years, in order to mature it. Nandan added that the alcohol museum would serve as a repository which preserves alcohol-making implements such as utensils, glass, bottles and more from yesteryears when Goa was regarded as the 'Rome of the East'.
Speaking about his inspiration behind starting the museum, Nandan said: "The inspiration was simple, it was the sheer pleasure of showcasing Goa as something different as usual. The cosmopolitan world traveller visits Goa and what better place is there in India other than Goa, where you can show to the world the history, respect and flavours of our colonial drink".
AAA, spread across 13,000 sq. ft, has five sections, four rooms and an outdoor area showing the Feni stills for cashew and coconut. Nearby is a 'cellar' stacked with garrafōes, some filled with Feni and kodem (earthen pots in which the cashew juice was fermented). These earthen pots are not as common anymore.
While the first room has a collection of glasses, and old measuring equipment, the other three rooms are packed with items from Nandan's collection. The alcohol paraphernalia – glasses, bottles, manufacturing and distilling equipment – is spread throughout the museum. Of note is a sugar-cane crusher, a wooden shot dispenser, and a grav (a scale used to measure the potency of Feni). Most of these objects are over 50 years old at least.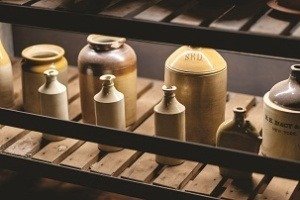 An old-style Goan tavern has been created with bottles and glassware from Portugal as well as a Feni cellar, that houses more than a thousand bottles of coconut and cashew Feni that dates back to 1946. In the cellar, visitors can sample some of this aged Feni, from Nandan's private family collection; and be a part of an in-house Feni tasting and pairing session. "Feni is a uniquely Goan spirit and it has such an interesting story that is linked to the history and culture of the State as a whole," explains Nandan.
The collection of glassware includes cocktail and beer glasses, chalices, snifters, inclined wine glasses, the world's tallest shot glass from Poland, a Queen Elizabeth II June 1953 coronation glass with gold trimmings, and crystal glasses that give out the most melodious ring when clinked.
There are non-alcohol items too. One room offers the vibe of Goan kitchens, with an old stove, spoons, mortar-and-pestles, measures, grinders, packing trunks, old graters, and more.
Visitors to the museum's tavern can enjoy their three signature concoctions. Besides Feni, the museum also offers antiques sourced from all over the world such as ancient beakers and mud pots, antique wooden shot dispenser, 16th century measuring equipment and glassware and a rare Austrian beer horn. The crystal beer horn was sourced from Russia while other antique glassware are from Nandan's own collection.
Visitors are able to navigate the museum with the help of in-house guides who will explain the stories behind some of these unique pieces.
Armando Duarte, CEO, AAA says, "Feni has been declared as the heritage drink of Goa and we take great pride in it. Just like how France takes pride in Champagne, we take pride in Feni. Feni-based cocktails are becoming very popular in the market and here is where we are going to change the mindset. We want to take cashew Feni both to places within the country and worldwide. From a drink for the masses to the toast of the glasses."
Further, Armando adds that different countries have embraced their cultural heritage along with their cultural brew and Goa too should do the same.
The entire museum is stocked with artifacts from Nandan's personal collection, built over roughly 30 years. "About 25 years ago, many locals began to sell their land and with that, antique bar curios, cutlery and all kinds of paraphernalia were sold at dirt cheap rates," Nandan explains. Not many people knew the worth of these items back then, and Nandan is simply thrilled that he can finally share these treasures with the public.
The displays are irregular and they blend different beverage categories. The items do not have tags and descriptors and have five guides who carry with them pride in Goan culture, coupled with years of experience working as guides in Goa. The bartender pairs Feni with strong flavours like mustard, Tabasco and ginger to showcase its versatility for tastings. To mellow the Feni's bite, he recommends some food pairings, like pickles, and strong citrus flavours.
At the end of the half-hour tour, people get the chance to sample some Feni cocktails, crafted by in-house mixologist Lionel Gomes.
For Nandan, the potent local brew is "the greatest Goan product" and "an ode" to his motherland. While he admits that the taste and scent of Feni can be a bit too much for newcomers, Nandan has spent months with Gomes to come up with the perfect cocktail that would ease visitors about the spirit. The cocktail recipes are available to any visitor who wants them. Through all this, he is clear that he wants to promote responsible drinking. "With AAA, I want to tell tourists that there are pleasures to be found on the beach and away from it too."
Nandan has ambitious plans for the future. First on the agenda is an app, where visitors can select an item at the museum and learn about its history and use. He has burnt the midnight oil doing research and gathering data about the collection in order to get started on the app.
An upcoming section will focus exclusively on glassware, another will talk about wine (including a glimpse of Goan sacramental wine). Nandan also wants to start selling his own Feni sourced from his family's cashew plantations. He has the bottle and label and name picked out – Salazar, named after the Portuguese dictator Antonio Salazar "who enjoyed his Feni". The Feni will be bottled, sealed and sold exclusively on site.
Nandan concludes by saying that the museum is not a profit-making venture for him, but "a tribute to my motherland."