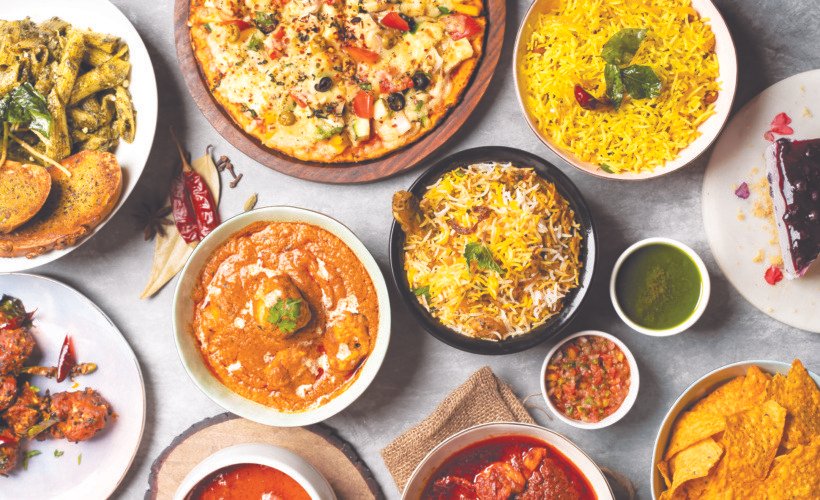 Qmin at Ginger Goa, Panjim has come out with a brand new menu that has plenty of options to choose from
Qmin at Ginger Goa, Panjim, is a space that is both versatile and functional. The space has been designed to cater to the diverse needs of its patrons. With a focus on providing a comfortable and inviting environment, Qmin offers a range of amenities and services that are sure to make every visit a memorable experience.
Qmin began its journey in the culinary world as a mobile app, offering customers the convenience of ordering gourmet meals from IHCL's iconic restaurants to their doorstep. Soon the gourmet Qmin Cafe was launched, providing a wide range of culinary delights in a space open to people of all ages, including working individuals. The space also features a broad selection of coffees, sauces, chocolates, and nuts at the Grab and Go, Local and Global and On the Run sections. It also displays the finest artisanal produce that has been locally sourced. Qmin seamlessly embodies the reimagined essence of the Ginger brand, offering a perfect fusion of lean luxe design and exceptional service.
One can choose from their extensive Qurated, Quality, Quisine menu right from beers, fries, parathas, pastas, quesadillas, and pizzas and so on. Customers looking for an on-the-go meal are spoilt for choice – from popular snacks such as Dahi Bhalle, PavBhaji and Kathi Rolls, to quick meals like Butter Chicken, Chole Kulche, Puff Pizza and Dum Biryani, to munchies like cookies and energy bars and a wide range of beverages including coffee, bubblers, smoothies, teas and more, there is an abundance of options to choose from.
Qmin has a dedicated juice bar that serves a myriad of healthy and fresh juices. You can even pop open and enjoy a chilled beer, best enjoyed with Qmin's range of chips and dips. If you are in the mood to indulge in Goan cuisine, you can opt for Chicken Cafreal, Mutton Vindaloo, Xacutti with Poie (traditional Goan bread) or Ros Omelette with Poie. You can also choose from a variety of Indian and Oriental dishes like stuffed parathas, curries with rice or roti or veg chilli for a sit-down meal with your choice of beverage.
The tastefully designed gourmet store-cum-cafe also offers an exquisite assortment of delectable desserts, pastries, and croissants, undoubtedly concluding your meal on a satisfyingly sweet note. Bringing you convenience and a welcomed deviation from routine life, you'll find a diverse range of dining options to cater to every preference at Qmin. Whether you are looking to connect with friends and family, your work colleagues, or even treat yourself to some delectable delights, this charming gourmet space located at Ginger in Patto on the outskirts of Panjim, is a great place to explore. Head on over to the outdoor patio or several of the seating options to indulge in a delicious meal and engaging conversations. You can also opt to lounge on the couches or booths and enjoy the music. For working individuals, the wooden table and bench booths can be converted into a makeshift workstation to conduct those important work calls or meetings whilst working remotely. The whole space has fast-speed Wi-Fi connectivity for uninterrupted online engagements.
Qmin recognizes the importance of a comfortable environment for families, which is why there is a dedicated kids' area that is well-equipped with a variety of fun toys and activities. The space is furnished with bean bags, building blocks, books, toys and more. While the little ones are entertained and occupied, attend to your work or social obligations stress free with ease. The space is also equipped with a large screen to watch cricket or football matches with friends, making it the perfect party and hangout spot as well. In addition to all these offerings, the space is also furnished with a well-maintained gym for fitness enthusiasts.
Qmin is designed to cater to an on-the-go yet luxurious lifestyle associated with modern urban living and individuals who value efficiency, convenience, and quality. A friendly and expert staff, in tandem with great food and ambience, will surely elevate your working, dining experience or shopping experience. Elevate your dining journey and immerse yourself in the vibrant and flavourful world of Qmin at Ginger Goa, Panaji. Discover a delightful culinary experience that will leave a lasting impression.