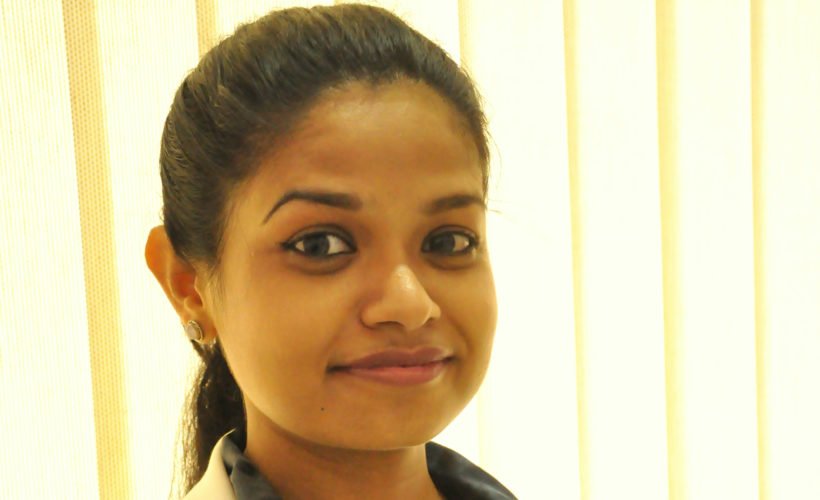 Kanan Tandi
With a view to improve interpersonal relationships and spread awareness on the power of body language, Kanan Tandi conceptualised the idea of 'Body Speaks Better'
By SAMAY SHETTI
Imagine a life without misunderstandings or manipulations, lies or ambiguous statements – it would be so much simpler wouldn't it? The biggest problem that most of us face in our daily life, be it on a personal or professional front, is in understanding one another. When it comes to interpersonal communication, words often form a very small part it – most of our communication happens non-verbally through body language, expressions and micro expressions.
Kanan Tandi, a Behavioral Consultant based in Margao took this idea forward and started a business with a vision of creating awareness about this very aspect named 'Body Speaks Better'. Starting from scratch in 2014, the company has made commendable progress under Kanan with its profile covering a wide array of clients ranging from individuals, educational institutes to government departments. The client list of Body Speaks Better presently include CISF (Central Industrial Security Force), Civil Aviation Security, NISA (National Industrial Security Academy), Air India, SAIL (Steel Authority of India Ltd), Colorcon, Deltin, NIT Rourkela, BIT Sindri, NICMAR Ponda, PCCE, AITD, DBCE, Alva's Institute of Engineering and Technology, Saraswat College, Utkal University (Psychology Department) and Government High Schools across Goa.
Hailing from Odisha, Kanan obtained her Bachelor's degree in Arts in and an MBA from Symbiosis International Pune in 2013. "It all started when my marriage was fixed by my parents, in a traditional 'arranged' way. A ten minutes meet is all you have to gauge your compatibility," says Kanan, "The instinct just grew stronger with the lack of compatibility later," she added. In the year 2009 she was introduced to the concept of body language reading and decoding through a Tarot Reading course, "The instructor told me that before giving out any readings, it is important to understand and decide what to say and what not to."
Starting her research on the field from that point on, in the year 2014, she completed a course in the domain of body language through a distance program.  Soon after, she started working out of her home in Mumbai where she started with small sessions and lectures on the subject. Later that year itself, she moved to Goa and had her company registered.
"A person may use words which are not in sync with what is in his mind, but the body involuntarily responds only to what the person really feels, therefore we decided to name the firm Body Speaks Better," shares Kanan. "The vision of starting it was to improve interpersonal relationships," she adds. Being a unique and fairly different domain from the mainstream in the state, establishing a presence while garnering a much required recognition with a stable revenue was quite a challenge initially, recalls Kanan – especially so, when revenue inflow is necessary for survival in a new place. The firm started as a body language training firm, but hardly anyone understood it, let alone wanting to pay for it. "Nobody got the concept clearly, there were times when we were mistaken to be part of the fitness sector and sometimes even a massage parlour," laughs Kanan. Owing to the misunderstandings about the field, making a living on this core subject became a challenge for Kanan.
Therefore, to go ahead with it, the subject was rationalised to a personality development program. Around that time in 2015, she joined BNI, which enabled an increase of her network and also gave her a clear idea about the Goan business landscape. Meanwhile, in the same year she developed over 13 courses for teens, tweens and adolescents, specifically addressing the problems and challenges they face in present times.
In 2016, Kanan delivered a number of public lectures on the subject of Body Language decoding, including three TEDx talks at Government College of Technology, Coimbatore; GGDSD, Chandigarh; and Goa College of Engineering, Farmagudi. It was then that the growth trajectory of the business started showing a gradual upward incline at this point as tie-ups with various educational institutes and businesses like Deltin and Colorcon Pharma and so on got sealed – reaching a pivotal point in 2017. 'Body Speaks Better' that year conducted a lecture on threat detection through observation of body language for the Central Industrial Security Force which is responsible for the Airport Security. Impressed by the lecture, the Chief Commandant of CISF recommended Kanan for a workshop to be conducted at National Industrial Security Academy, Hyderabad. The presentation saw over 40 Senior Government Officers in attendance; moreover it was live streamed across 29 states of the country. Overnight, Body Speaks Better got a platform and a presence on the national scale. "From that moment on, there was no looking back," says Kanan.
The services offered presently by Body Speaks Better include specific customised courses as per the requirement of an organisation as well as one-on-one sessions. Individual sessions offered are goal-oriented and spread over a minimum of five sessions extendable as per need to achieve required results at the end of each session. Specific tasks are assigned based on individual personality traits. "There is no better feeling than seeing a person coming out of long standing inhibitions and living freely," says Kanan.
Body Speaks Better has also started a new service of 'Credibility Assessment' designed for companies. Here they use a statement analyser and speech analyser to evaluate the patterns in words and tone used by a candidate respectively, coupled with body language decoding – which is put into play during the final round of interviews of hiring process to test the integrity of a candidate. Moving ahead from this point, Body Speaks Better now looks forward to expand its services to the city of Bengaluru and Delhi in the near future