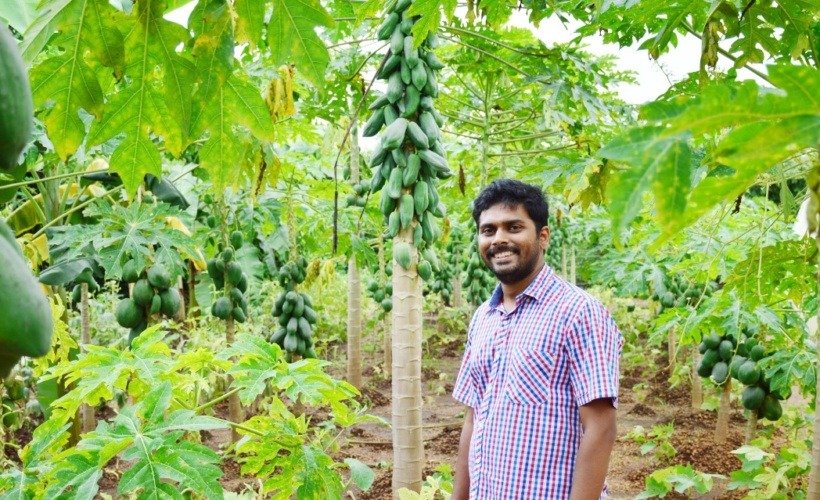 A look at the journey of an engineer-turned-farmer
By Samay Shetti
Dr Malik's Farm, a venture started by Chaitanya Malik, are a group of sprawling farmyards spread in the village of Hasapur in Pedne Goa. Chaitanya, a young lad still in his twenties, has built this enterprise already to occupy a formidable place in the small time frame since its inception. Like a tree, his enterprise too has grown and branched out with time. Having started operations in February of 2016, Dr. Malik's Farm currently has a strong presence in the dairy industry and in February 2018, has also launched a new brand named 'Asi Panchagavya' under which they have a range of 'Panchagavya' based products.
Chaitanya Malik, an engineer by qualification, graduated from Goa Engineering College in July 2014. After graduation, he worked for 6 months as an OSD in ESG Goa. "Over time I felt that a routine job is not my thing,"  says Chaitanya. Owing to that feeling of being tied up, he started flirting with an idea of venturing into the organic fruits and vegetable domain. In December 2014, he quit his job and immediately in January 2015, along with two other partners, launched his first entrepreneurial venture named 'Fruits, Roots and Shoots'. Under this, they worked on a model of sourcing organic produce from the farmers and supplying it in the market. Hasty as it was, the venture soon ran into rough weather due to lack of coordination and miscommunication between partners. By the end of September 2015, it came to a halt. "That experience taught many valuable lessons," says Chaitanya. What followed was the toughest period in his entrepreneurial journey, he recalls – a period defined by a complete lack of direction; but the experience gathered led him to concentrate his efforts of reviving an old farm and making a sustainable business out of it. With this in mind, he went back to his native village and developed farms on the ancestral lands there, which laid overgrown with wild vegetation for years. Naming it after his father, Chaitanya started the operations of Dr. Malik's Farms in February 2016.
"Engineering teaches one the skill of application," says Chaitanya, using the latest techniques in the book and seamlessly implementing it, they enriched the land with manure and organic materials; and started with the cultivation of that land. Going with sturdy crops and fruits in the beginning, they followed a crop rotation system, so that the balance of nutrients and minerals in the soil is maintained and enhanced. They also expanded into the segment of exotic vegetables with the construction of a polyhouse where they grew crops like broccoli and lettuce.
The produce of the farm presently covers a wide range of crops, which includes vegetables like ladyfingers, chilli, lettuce, bottle gourd, yam, 'tendli', spices, cinnamon, turmeric and ginger; and fruits like papaya, banana, 'jaam', mango with exotics like avocado and soursop, too. The produce of Dr. Malik's Farm is sourced chiefly by Delfino's and Horticultural Department of Goa, who procure the goods in batches.
"Farming cannot happen without cows," says Chaitanya, "and when it comes to cows, there is nothing better than indigenous breeds," he adds. Soon after starting, Dr. Malik's Farm procured three Gir cows from Gujrat. "I had no prior experience of 'Goseva', but know its importance nonetheless," he said, adding further, "the person employed for rearing them taught me everything." As time would have it, the 'Goshala' presently contributes the biggest chunk of revenue to the farm. Starting with three cows and honing the required skill set with them, the farm presently has fourteen cows and six heifers of and two breeding bulls of Gir breed.
Dr. Malik's Farm was the first in Goa to start pure A2 milk delivery service says Chaitanya, having started with a home delivery model of the milk in June 2016. Servicing a niche market, the milk is priced at ₹90 per litre and presently has a sale of 120 litres per day, other than that they also provide 'Ghee' on demand, which is priced at ₹2500 a kilogram. Having seen a considerable growth in demands over time, the delivery system covers Mapusa, Porvorim, Panaji and Merces. Having seen a growth of 500% since inception, the Dairy vertical itself generates a turnover of over ₹30 lakhs per annum.
"The most important aspects of dairy farming are the Feed and Breed" points out Chaitanya. "Unfortunately, these are the very areas where most farmers try to cut costs," he adds. By ensuring an optimum level of these two, Dr. Malik's Farm ensures the quality of their dairy products which happens to be their USP. Moreover, under the recently started brand 'Asi Panchagavya' they also have started with manufacture and sales of many cow based products, like soap, shampoo, tooth powder, hair oil, massage oil, dhoop sticks, phenyl, 'gomutra ark', 'ghanvati'. Already having a presence in the markets of Goa, Pune, Nasik and Gujarat, they look to enter Mumbai in the new year.
Currently, Dr. Malik's Farm has an annual turnover of over ₹36 lakhs which is projected to go up as they are in process of building a 'Goshala' sprawled over an area of 2 acres along with a manufacturing unit. The project is expected to be ready by April 2019, he shares.
In the words of Chaitanya Malik, "Cows have given me a lot, and with the blessings of our customers and 'Goumata', we shall keep marching ahead"