AD Singh
He is the man that has been at the forefront of the food and lifestyle revolution sweeping the country. A pioneer of international cuisines and restaurant concepts that, until then, India had never seen. With almost three decades as a restaurateur and 18 years in the Olive Group – which consists of Olive Bar & Kitchen, Olive Bistro, SodaBottleOpenerWala, among other eateries, AD Singh has been cooking up a storm across the length and breadth of India. This year, Olive has finally arrived along with the monsoon storm to shake up the dining experience in Goa.
In a delightful tête-à-tête with Business Goa, AD Singh waxes eloquent about his career as a restaurateur, picking a profession where work and passion go hand in hand and Olive's arrival in our sunshine state.
In conversation with ANNA FERNANDES
How and when did you start your career as an entrepreneur?
Entrepreneurship is something that I just happened to stumble into. I actually started as an engineer in the '80s, studying at Lafayette College, Pennsylvania. After returning from the US, I worked with Cadbury. Then I forayed into the NGO sector. In those days, it was hard being a 28 year old professional. You were paid a meagre amount of around ₹400 per month, there were a lot of sacrifices that you had to make. I knew I couldn't survive like that. That's when I decided that I wanted to be an entrepreneur… and there was no looking back.
It actually all started while I planned a boat party for my sister that was a huge hit. It also got me thinking why isn't there a company doing that? So, with a little help from my mother, I launched Party Lines – a company that organised parties at sea. I really enjoyed that stint. I've been an entrepreneur since then. It has been 30 years now.
The Olive brand has been headlining the country's food culture for years. How did it all begin?
In 1990, I started my first restaurant – Just Desserts, a jazz cafe that served coffee and desserts. It was a sensation. I've always had a sweet tooth. I realised that my career had to be in something I was passionate about. I had to love my work. And quite simply I loved food.In those days, there weren't any "cool" dining places. So, I wanted to set up a place where people could just go to chill out. In Bombay, there were a lot of lovely Parsi ladies who crafted amazing desserts and sold the whole quantity for about 300 bucks. For a young college student, this was quite expensive. So, I wanted to set up a place where you would get all of these items by the slice at affordable rates. We started Just Desserts as an evenings-only set-up. Most businesses then shut at 6 o' clock. So, we would take over these spaces at about 7 in the evenings.
Gradually, we decided to set up something bigger. At that time, Mediterranean cuisine was somewhat unknown and hadn't been introduced to India. it was something fresh, new ingredients, different concoctions – it was exciting. In 2000, Olive Bar and Kitchen was born. And that's how it all came together. It started as a one-off… I never would have imagined it to be the company that it has grown to be today. We slowly got going and looking for more growth opportunities – one thing led to another and now we have 35 restaurants across the country.
Since the Olive brand is fairly at a certain price positioning – there are very few cities that I feel are right for the Olive Bar & Kitchen. So, under the Olive brand, we have set up casual fine dining restaurants, bistros, and delis that can grow in other markets as well.
And about five years ago I set up a subsidiary company with two of our best guys Chef Manu and Chetan Rampal – we opened a set of casual dining restaurants, like Monkey Bar, Fatty Bao, Toast and Tonic, and many others, which have all grown tremendously. We also set up another strong F&B concept SodaBottleOpenerWala, that was my tribute to the dying Iranian cafes in Bombay. SodaBottleOpenerWala caters to all kinds of audiences, and it has the largest scope to grow. We are now in nine locations across India.
What's the story behind Olive Goa?
Olive turns 18 this November – and I've been coming down to Goa for longer than that. I love Goa. There's something about getting off a plane here and just kicking back and relaxing. And, over the years, we have often looked at setting up a branch in Goa – should we, should we not?
There's a good audience here, and so many good restaurants here as well, and we love it. We were finally approached by people we liked who had a lovely location, I came down here to check out the place. And then I just decided, "Chalo, it's time." Olive is synonymous with Goa in many ways and we had to make the two meet. And that's how it happened. It took us, from that day, a year to get ready. Setting up, there were a few ups and downs – but it has all been so worth it. And here we are now. Olive in Goa – it completely fits with the whole laid back vibe of the state. It has a touch of the old-world charm that's very chilled out, not banging DJs.
We opened in May, before the rains, when every other place shuts down. So far, we have got a tremendous response. Everyone has been so happy. It has been great.
What is the main focus of Olive Goa?
At Olive Goa, there's a strong focus on the food. The Mediterranean-themed menu is created by chef Evan Gwynne, with Chef Manu Chandra. It builds on Olive's reputation for taste, but also incorporates Goa's culinary heritage. The bread basket features local poi with olives and brown butter and obviously, there's a strong focus on seafood.
We are really working towards making our food spot on. And with this setting, with our warm service, you can't go wrong.
What has been your take on the Goan market so far?
Well, according to my team, in Goa, it's a very different scene than other states. In Goa, customers will sit for hours, converse with the staff, the manager. In cities like Bombay and Delhi, everyone's in a rush – they will just eat and leave.
Olive has always embodied the spirit of "la dolce vita" (Italian for "the sweet life"). That's the mood of everyone who visits Olive, here in Goa. Even if the food takes a little longer to be served, they don't mind. That's one of our main observation here.
In an industry as unpredictable as the restaurant business, what has kept you going?
I guess I'm kind of lucky in a way, that I found a career in something that I'm very passionate about. Even when I'm retired – what will I do? I'll probably open more restaurants. It's what I love and what I know. So that's what keeps me motivated. It's a job, yes – but at the end of the day, even when it gets hard, you do it because you love it.
The restaurant industry in India is one of the hardest there is in the world. Along the way, we've had so many ups and downs. The last couple of years have been some of the worst years we've had.
The demonetisation fiasco that took a lot of cash out of the systems, all that confusion about the highway liquor ban which resulted in some of our restaurants and cafes being shut down. Then there was a lot of confusion over GST and what it meant – we faced a lot of setbacks then. And then again there was the Kamala Mills fire, which really drove people away from restaurants. There were other restrictions placed on curfews and music being played. In Delhi, there was a law passed that if your restaurant was a certain size you had to get a fire clearance. And we couldn't get a fire clearance because the parameters were such, and so we had to close down. Somehow, we were able to bounce back. And now we are actively looking at opportunities overseas.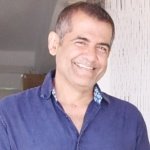 "I'm kind of lucky in a way, that I found a career in something that I'm very passionate about. Even when I'm retired – what will I do? I'll probably open more restaurants"
What would your advice be to youngsters who wish to venture into the F&B space?
There are a lot of young people today who want to venture into this space – for the money, for the glamour, or, you know, to meet girls… But it is a hard industry. It's very exciting, no doubt. But for people getting into it for the first time, it probably has the highest rate of failure. I keep telling young entrepreneurs – even though I know as I'm speaking they won't listen because they are so taken up by the glamour and their passion – but I always recommend that if you want to venture into this space, start with a franchise – an established company with a successful business model in place, or partner with seasoned and established players in the field, so that you learn easily. Otherwise, you're just going to end up with tremendous losses.
As a student of engineering, do you find any of those traits of an engineer reflected in your career as a restaurateur?
Well, I guess being an engineer, it makes you think, connect, stay disciplined. But other than that no. Looking back, all those years of studying math, science – was it all a waste? That's another thing I've always wondered, what if I studied hospitality – would I have done better, would I have started earlier? I believe that maybe because I didn't, I have had to work much harder to create stronger concepts that are fresh and innovative. Our products have been sharply detailed and conceptualised, and we've worked harder on our restaurants before they opened than anyone else. For me, it has always been about the food and the passion for food. Everything I've learnt has been on the job. When I ventured into this space, I wasn't thinking much about the business side – I didn't even have a business plan in place. So, it was more for the joy of it. I only understood the business side of it slowly over many years. You know the age-old adage "Customer is king"? Over the years, that shifted to the "employee is king" or the "staff is king". But for us, at Olive, we have always stood by the saying that the customer is king. For the past 18 years, warm service and a good meal have been our prime focus. And we hope to continue to bring the very best to our diners here in Goa as well