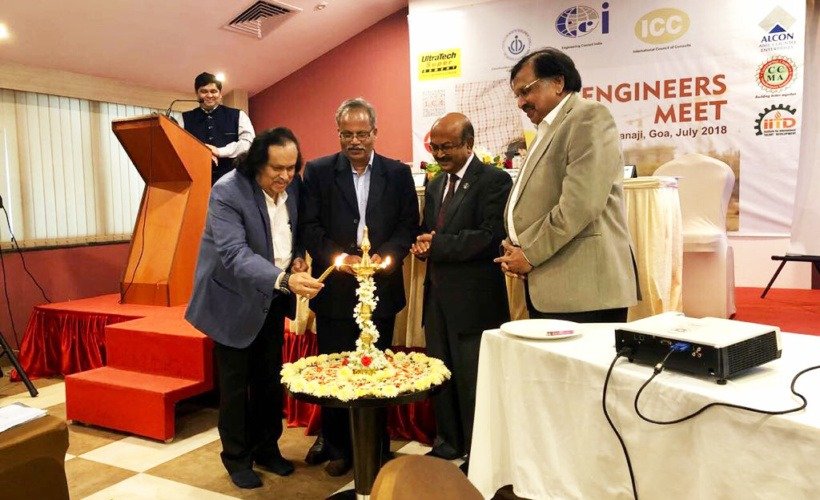 A pivotal and significant Engineers Meet was held in Goa under the aegis of the Engineering Council of India (ECI), Construction Industry Development Council (CIDC) and International Council of Consultants (ICC) on July 17, 2018 at Grande Delmon, Panaji, Goa.
Over 70 industry stakeholders and technical professionals responsible for construction in Goa discussed a roadmap to achieve quality improvement, technical up-skilling, improvements in technical education and in the fields of construction, repair and maintenance of concrete, as well as dispute resolution.
Dr P R Swarup, Member Secretary ECI, D G of CIDC and President of ICC represented the three bodies. Dr Swarup presided over the function and Gurunath M Naik Parrikar, Chief Engineer, PWD, Government of Goa, graced the event as the guest of honour. Er Anil Counto (Alcon Enterprises) and Er Samir Surlaker (Director, Institute of International Talent Development) ably conducted the programme as convenor and co-convenor, respectively.
The meeting opened with a welcome address by Samir Surlaker, which set the tone for the discussions ahead. Anil Counto elaborated on various issues, adversely affecting the quality of construction in Goa. These included inadequate skill and training for both engineers and tradesmen, lack of adoption of new technologies in construction, and the harsh weather and environmental conditions that lead to early deterioration of structures. Gurunath M Naik Parrikar provided statistics about the state of construction in Goa. He also mentioned the challenges in supplying water to all regions of Goa, despite adequate reserves, due to its unique geography and topography. He applauded the joint effort between ECI, CIDC, ICC and the professional fraternity in Goa to address the challenges of construction in Goa.
Dr P R Swarup spoke about various initiatives such as skill training for tradesmen, the internship initiative for graduating engineering students, introduced jointly by ECI and AICTE (All India Council of Technical Education), new lines of education and business in repair and maintenance of structures and application of the latest technologies such as the use of drones.
He also proposed to strengthen the institutional framework for construction by strengthening the specification and procurement practices by PWD in Goa. He opined that these initiatives would be easier to implement in Goa, which can then become a "model" state for other states to follow.
Dr Swarup also announced the appointment of Samir Surlaker as the chief co-ordinator of ECI, for the region of Goa. Er Surlaker was given the directive to further the chartered mandate of ECI in Goa. He also urged the attendees to join ECI as a professional engineer, to reinforce the engineering fraternity in Goa