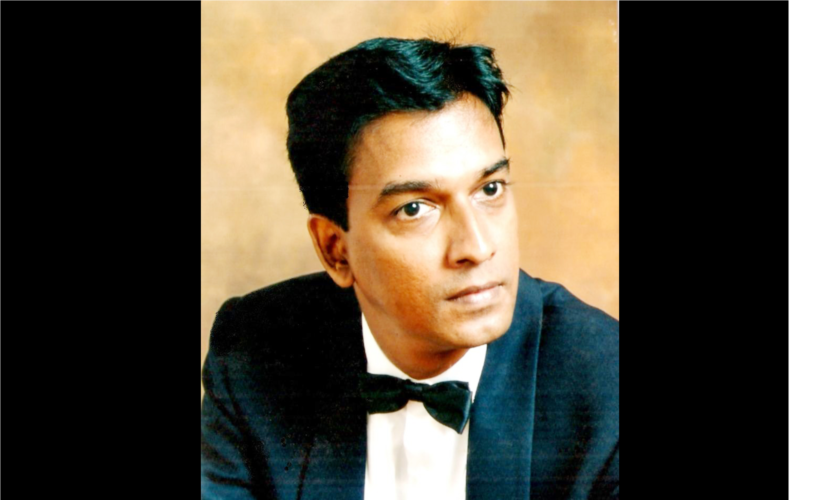 Lenny Barretto's Hammerelle is built out of a passion for creative design
By Maryann Lobo D'Mello
As a young student, I knew where I was heading. I loved doing house décor and wanted to do Interior Designing but there were other technical considerations." So, Lenny Barretto of Cansaulim did a year's technical training in carpentry from Agnel Polytechnic, Verna, which was helpful when he sought admission at the Sir J. J. School of Art, Bombay. "It was a trump card as no other student could do technical drawings like me." Successfully completing his three years course in interior designing, he concomitantly engaged in freelance work, designing houses. He would also draw designs for lampshades, complete with etching and would make chandeliers for hotels.
Though Lenny launched into professional work in Bombay, "The city was never meant for me". He was adamant on starting his workshop and in his words, "That's where my heart is." His enterprise bears the name 'Hammerelle' – iconically 'Hammer well', the fulfillment of a dream in college. The dream was not mainly to make this the source of a handsome income. "It was more – something I would enjoy doing," he affirms. In 1988, he commenced his work registering his enterprise with Small Scale Industries and Mines.
As an interior designer, Lenny's work encompasses designing, fabrication, making and manufacturing. He does space planning too, making drawings and getting them approved. He also consults professionals in the field when it comes to making a decision. He has competently designed interiors, though a special love has been designing kitchens. He has designed many houses in Goa and some in Mumbai, too.
Over the years, Lenny has specialised in sacred edifices and sacred furniture, working in over 110 churches and chapels in this State. "Every altar has a different design. I blend it with the architecture of the church, incorporating some details of the original architectural design," he says. Conservation and restoration are within the ambit of work at 'Hammerelle.' He was requested to do this work once, several years ago, "and I just took it from there," he shares. He has done this work in four churches and chapels, the most recent being work done at 'Our Lady of Guadalupe Church' in Hollant, Bogmalo. Focusing on conservation and restoration, his work encompasses enhancing the design while concomitantly restoring the missing parts. One marvel is his work at St. Andrews Church, Vasco-da-Gama, which together with the Prayer Room is his handiwork.
Conservation and restoration are very important in Portugal, Spain and some other countries of Europe. Church authorities are giving significant thought to this – an outcome of Vatican II. "Everyone is now conscious that the altar is an important part of the church, occupying a sanctified place at the Mass," he says. "Goa has provided me this wonderful opportunity to design all this, though there are a few others engaging in this specialised work in the State." Thus, many sacred edifices and icons have been conserved and restored with the expertise, competence and precision of 'Hammerelle'.  The first work undertaken was at 'Nossa Senhora de Remedios Church', Cansaulim, incorrectly termed 'Church of the Three Kings.' Lenny has also worked on the Church of Santa Monica, Old Goa. This was recommended by the Archbishop's House, the body responsible for permission when pertaining to work on sacred heritage structures being the Commission for Sacred Art. This is in consultation with an interior designer, an architect, an engineer and some priests at the Archbishop's Palace. All the churches, however, are not registered with the Archaelogical Survey of India. Lenny has restored a magnificent oratory and altar in a heritage house in Cansaulim, while he has also worked on the conservation and restoration of a chapel in a 200 years old house in the same village. Residing in a Portuguese-styled house too, affords him the unique and unparalleled first-hand experience of working with fine details – the hallmark of his specialised work.
When asked what does this work involve, Lenny elaborates, "The foremost job is inspection of the site which dovetails into writing a report on the condition of the internal structure including its features. Suggestions are made on the important jobs that have to be undertaken to restore the edifice. Suggestions are also given on enhancements, if necessary. There is a tremendous degree of complexity in this work." It could be anything from restoring the intricate copy of the original design including the missing parts, working at great heights with large sections and pest-control work to ensure that damage does not re-occur. One also has to ensure that the wood used is well-matured. So, Lenny uses good seasoned wood. Also, this work cannot be done in one stretch. It is time-consuming and the workmen need to be trained for the work and the intricate painting jobs. Restoration work involves repairs of the structure, replacement of the requirements, treatment of woodwork to prevent the attack of termites and painting by a professional painter who does the guilding. Lighting has to be considered as well, to give the desired appearance and effect. Chapels and churches that are declared as heritage sites have to procure the necessary permissions for this work. On Hammerelle's part, safety precautions for the working staff have to be adhered to, because of the heights they work at. Not all persons are used to doing this work or are skilled either. Special insurance covers for the staff have to be taken for the periods that they engage in this work  Specifying cost involvements is a complex operation. It depends on the size and condition of the structure, the intensity of damage, parts and images to be replaced et al. "You provide an evaluation on the basis of what you see. But when the work actually starts, you realise that something else has to be done and so on", Lenny explains. So the cost involved may be between three to five lakhs depending on the above considerations. This excludes the cost of painting and guilding. Good quality paint is required and the use of 28 carat gold is employed. All the materials are locally procured.
"I try and restore a piece that's falling apart. I realise that the icon is of value and has thus to be conserved and restored," Lenny explains. He endeavors to preserve original and traditional works because of heritage value. "Sometimes people just want a change of scene in the house. So they think nothing of wrecking the original elements which are of heritage value, with stories to recount". Six persons are employed at 'Hammerelle' but when more workmen are required, Lenny has a team ready for such assignments. He has trained these workers who understand the complexities of working in this field.
Lenny's special contribution to Goa is definitely churches. In his words, "I feel blessed and proud to be doing this work. It takes a lot of patience with the details I work with. Doing this work needs personal attention all the time. But it has given me immense satisfaction. I always choose something that is challenging and I like to be thinking and designing things." How is this work perceived when projected into the future? Conservation and restoration are works that will last for generations. Lenny himself focuses on restoring items and images for generations to come, enabling them to know the value of these heritage icons. The USP of 'Hammerelle' is expressed by Lenny Barretto, "It's definitely the quality and personal touch in designing. There are people who want only my work. I owe it to them for my projects. That's what gives me a high"