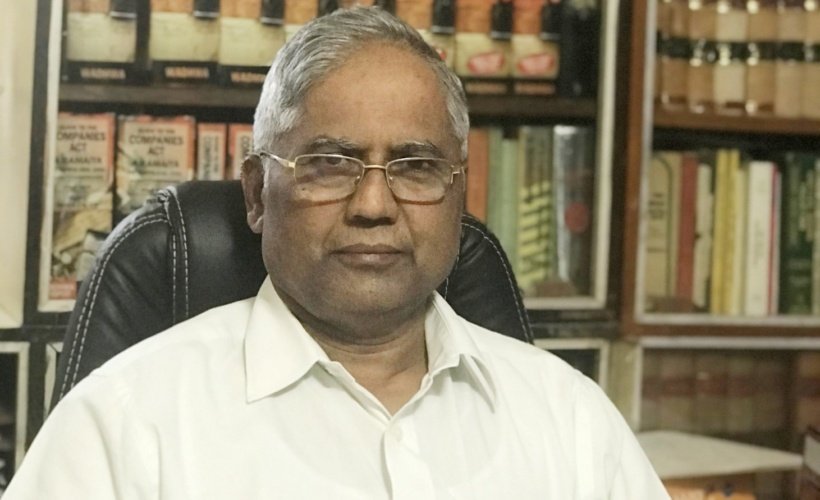 Raghu K Pikale is a Chartered Accountant on a mission to render professional services of the highest standard to clients
By ANNA FERNANDES
Armed with more than four decades of experience, Raghu K Pikale has made his presence felt in the highly competitive profession of chartered accountancy in the state. Born and brought up in Karnataka in an agriculturist's family, Pikale was among the first batch to graduate from Dr A V Baliga College of Commerce, Kumta in 1970, and later ventured into the highly-competitive and uncharted field of Chartered Accountancy.
A couple of years thereafter, Pikale moved to Goa. After clearing his final CA examination in 1977, he established a partnership firm under the name 'M/s R. K. Pikale & Co', offering services in taxation, auditing, finance, company law and more. For over 40 years, the firm's mission has been to render professional services of the highest standard to clients, upholding the code of conduct and ethics of the profession. Backed with years of credibility and trustworthiness; over the past four decades, the firm has grown considerably, and now comprises of six partners, ten employee chartered accountants; and large number of tax assistants providing services to individual clients, partnership firms, businesses, banks, public sector units and corporates. Pikale's daughter, son, daughter-in-law, nephew and nephew's wife are all chartered accountants, as well, who have been groomed in the profession.
In his long career, Pikale was met with a number of challenges. In the professional space, the demanding and highly competitive environment posed a number of professional barriers. However, what makes them stand apart according to Pikale is their strict adherence to transparency and sincerity. "As chartered accountants, it is our duty to serve. Honesty and sincerity are the pillars of our profession."
Pikale shares the same sentiment of the PM of the nation who stated that chartered accountants are a "big pillar" of Indian economy. Chartered accountants play an integral role in society and are instrumental in strengthening the economic health of the nation. The cornerstone of his philosophy has always been, "Stakeholders rely on the services of the chartered accountant. Our signature carries immense faith. It is our responsibility as Chartered Accountants to uphold the trust that is placed in us."
According to Pikale, "Chartered Accountancy is my worship. I am devoted to my profession." Indeed, Pikale's dedication and commitment have earned him a position of respect and prominence in his profession. Over the years, Pikale has earned many positions in various capacities. For example, in the 'Goa State Co-operative Housing Finance and Federation Ltd', he has served as Chairman for five terms, and Director for two terms. As Chairman of the 'Goa State Co-operative Housing Finance and Federation Ltd', Pikale was instrumental in financing many housing societies and individuals. As of July 31, Goa State Co-operative Housing Finance and Federation Ltd' is the only co-operative institution in Goa that is completely debt-free and this institution is paying dividend to shareholders including Goa Government for the last 32 years.
He also held the vice-chairman and director position at the National Co-op Housing Federation of India, New Delhi. Pikale has also played active roles in the Goa Chamber of Commerce and Industry, Goa Branch of Chartered Accountants, Goa Public Service Commission, Goa University – Finance Committee, Goa Red Cross Society, etc.
Four decades after graduating, Pikale is, today, the president of his alma mater – the Kanara College Society, Kumta. Established in 1949, today it runs six colleges with 5000 students, 255 teaching staff and 250 non-teaching staff.
In addition, Pikale continues to be an auditor and tax advisor to many government companies, banks, financial institutions, and an honorary auditor of temples, churches and social organisations. "Chartered Accountants contribute to the overall stability and progress of society," he says standing by the belief that Chartered Accountants should not lose sight of their purpose – the uncompromised support of the public interest.
To Pikale, "the future of Chartered Accountancy in the state is excellent!" From financing to investment, from income to expenditure, from subsidies to taxes, from businesses to start-ups, from corporates to professionals, the future belongs to Chartered Accountants. "As commerce, business and industry progress, the demand for accountants increases," he says.
However, as the core of all business, be it big or small, the field of Chartered Accountancy can be a very challenging yet highly rewarding job. Advising youngsters wishing to pursue a career in chartered accountancy, he says, "Career prospects in chartered accountancy are limitless. A student wishing to pursue a career in this field, however, needs to be dedicated, grounded, hardworking, willing to study fourteen hours a day, and sincere in his/her efforts to achieve their goals… only then can they succeed in this field." He concludes with a quote by Deepak Parekh, Chairman, HDFC, "The first 25 years of years is learning, the second 25 years is earning and the next 25 years is returning"